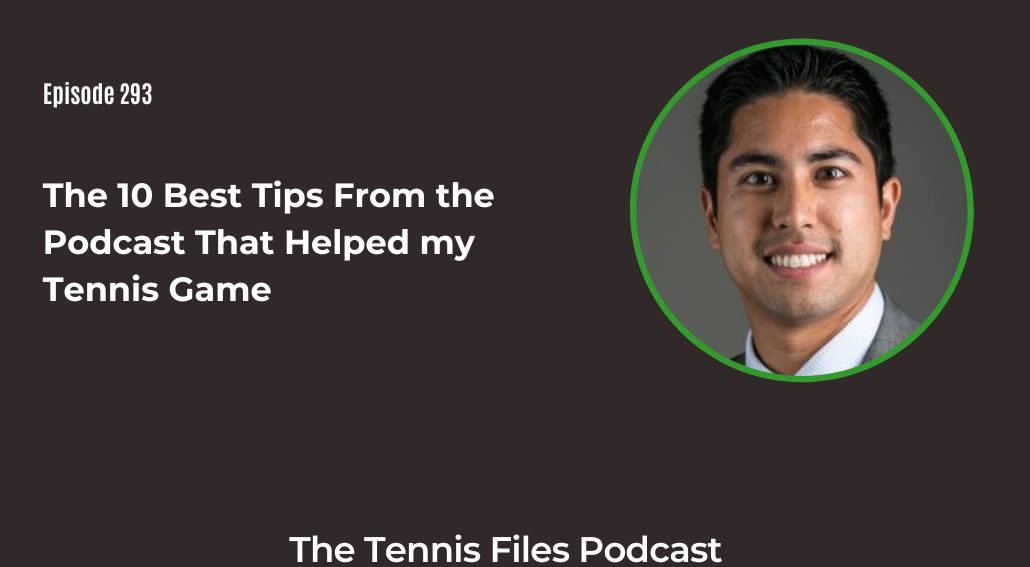 On Episode 293 of The Tennis Files Podcast, you'll learn the 10 best tips from the show that helped my tennis game.
I really hope you enjoy this episode! If you learned something useful from it, let me know in the comments below.
And be sure to subscribe to Tennis Files to receive the latest tennis content to improve your game straight to your inbox.
Subscribe to automatically download new episodes!

Click the icon above, click the blue "View in iTunes" button, then hit "Subscribe."

Or hit the subscribe button in your favorite podcast app!
Right Click Here to Download the MP3
Links Mentioned in the Show
TFP 140: World-Class Doubles Strategy with Louis Cayer
TFP 278: Doubles Strategy for Club Level Players with Will Boucek
TFP 143: Critical Singles Strategies and Tactics to Level Up Your Game with Rick Macci
TFP 270: Brad Gilbert — How to Become a Tough Competitor, Reduce Errors and Forget About Your Losses
TFP 198: Craig O'Shannessy – The First Four Shots
TFP 121: Michael Russell – The Grittiest Player In History
TFP 284: Nick Bollettieri — How to Achieve Your Dreams and Help Others Succeed: From the 2019 archive
TFP 061: How Ian Westermann Created One of the Biggest Online Tennis Instructional Sites in the World
TFP 216: Why the Contact Point Determines Your Success in Tennis with Vesa Ponkka
TFP 096: James Blake – Preparation, Visualization and Reaching #4 in the World
TFP 046: The Mental Game with Jeff Greenwald
TFP 033: Dr. Mark Kovacs—Strength and Conditioning for Tennis Players
Podcasts:
Check Out All My Podcasts Here!
Check Out All My Podcasts on Apple Podcasts!
My Youtube Channel!
Tennis Files Youtube Channel - Subscribe! You know you want to 😉
Note: Some of the links above are affiliate links, so if you make a purchase after clicking, I'll make a small commission that will help support the podcast. Thanks either way!
If you enjoyed this episode, subscribe to The Tennis Files Podcast in iTunes or your favorite podcast app!
For more tips on how to improve your tennis fitness, subscribe to my newsletter and download a free copy of my free eBook, The Building Blocks of Tennis Success below! Thanks for listening!