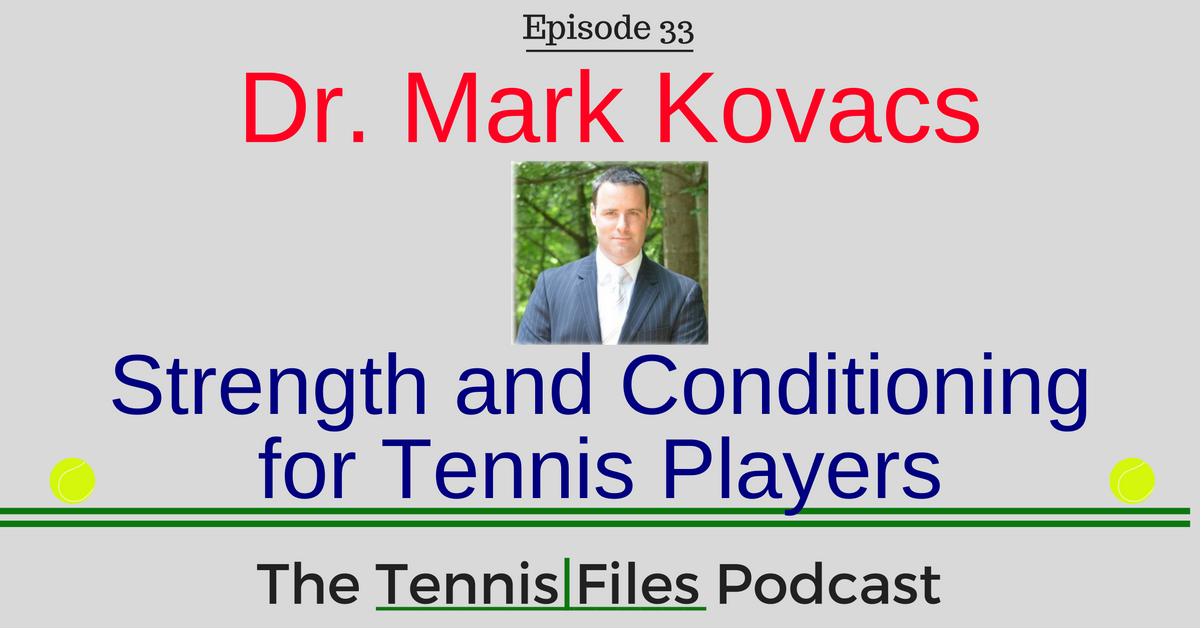 On today's episode, I spoke with world renowned sports science and fitness expert Dr. Mark Kovacs about strength and conditioning for tennis. Mark has trained numerous top professional tennis players, including John Isner, Sloane Stephens, Sam Querrey, Donald Young, and Melanie Oudin. Stack named Mark one of the Top 31 Fitness Professionals to Follow in 2015.
Mark is a performance physiologist, researcher, professor, author, speaker and coach with an extensive background training and researching elite athletes. He has been featured in many of the biggest sports and news publications, including ESPN, the New York Times, and Tennis Magazine. Mark was also a top college player at Auburn and achieved a world ranking on the ATP Tour.
To sum it up, Mark has one heck of a resume, and it is an honor to speak with him on the show today.
Mark co-authored an amazing book and resource, Complete Conditioning for Tennis (2nd edition), which was published a couple months ago. I have a copy of his book and have had a hard time putting it down in my spare time. It has a ton of invaluable information on how we can put together a personalized fitness program using the exercises and in-depth knowledge from Mark, E. Paul Roetert (former managing director of the United States Tennis Association's Player Development Program) and Todd S. Ellenbecker (Vice President, Medical Services ATP World Tour, and clinic director at Physiotherapy Associates Scottsdale Sports Clinic in Scottsdale, Arizona).
The book also includes 56 videos illustrating the exercises and stretches which you can access online. The value in this book is unparalleled in comparison to any other tennis fitness book I've seen on the market so far.
In this episode, I ask Mark questions on how we can improve our tennis fitness to become better tennis players. We also talk about Complete Conditioning for Tennis (2nd edition) and some of the principles in the book that will help take your game to the next level.
Mark has an unbelievable amount of knowledge in sports science for tennis, and provided us all with a ton of value on The Tennis Files Podcast.
Time Stamped Show Notes:
[3:18] – How Mark became a world-class fitness expert
[5:08] – Mark's degrees and certifications
[7:14] – One thing about Mark that most people don't know
[8:27] – The elements of tennis fitness
[10:25] – How to train the different elements of fitness
[12:30] – What most tennis players lack in their fitness
[14:12] – The muscle group that amateur players tend to undertrain the most
[15:39] – Ways to train your your weakest muscle group
[17:16] – How low should we go when we squat
[19:22] – What type of squat should we use during training
[22:35] – Will partial squats put pressure on the knees
[25:04] – What set/rep/weight ranges should we use for our exercises and what are the effects of using different ones
[29:16] – What is periodization and how does it affect our training
[32:30] – In what order should we train the different fitness elements in a periodization program for maximum results
[36:07] – What are the best strengthening exercises for the serve
[38:37] – The importance of the kinetic chain and discussing Mark's "An 8-stage model for the tennis serve" scientific study
[42:47] – How do we correct inefficient footwork
[45:56] – Mark's favorite footwork drills to help your speed and agility
[49:10] – Stretches that tennis players should incorporate into their routine
[51:41] – Analysis of professional tennis players' fitness and why tennis is one of the toughest sports in the world
[53:53] – How can we get the most value out of Complete Conditioning for Tennis (2nd ed.) and put what we learn into action
[56:07] – What has changed in the 2nd Edition of Complete Conditioning for Tennis from the 1st Edition
[57:27] – Mark's favorite chapters in the book
[58:24] – Where can we get Complete Conditioning for Tennis
[59:39] – One common misconception/myth about tennis fitness among tennis players
[1:01:26] – Other books and articles that Mark has authored
[1:02:06] – Where we can find Mark online and on social media
[1:04:14] – Mark's one tip that will help us improve our tennis games
I can't thank Mark enough, who was extremely responsive through social media and email, for coming onto the show. He continues to make a huge impact on the success and lives of countless athletes, and I don't know about you, but I can't wait to put his advice and principles in Complete Conditioning for Tennis (2nd edition) into action!
Subscribe to automatically download new episodes!

Click this icon, click the blue "View in iTunes" button, then hit "Subscribe."
Or hit the subscribe button in your favorite podcast app!
Right Click Here to Download the MP3
Links Mentioned in This Episode
Complete Conditioning for Tennis (2nd edition)
Dynamic Stretching
The Flexible Stretching Strap Workbook
Interview with Allistair McCaw
Mark's Facebook/Twitter/Instagram (mkovacsphd)
Note: Some of the links above are affiliate links, so if you make a purchase after clicking, I make a small commission.
Regardless of where you purchase Mark's book, I hope you give it a read! I highly recommend it and will post a book review once I am finished reading this incredible fitness resource.
If you enjoyed my interview with Mark, be sure to subscribe to The Tennis Files Podcast! Next up on the schedule are Brian Boland (head coach at national champion University of Virginia Men's Tennis) and Martin Blackman (Head of Player Development at USTA).
For more tennis tips to improve your game, download my free eBook, The Building Blocks of Tennis Success, by subscribing to my newsletter below!