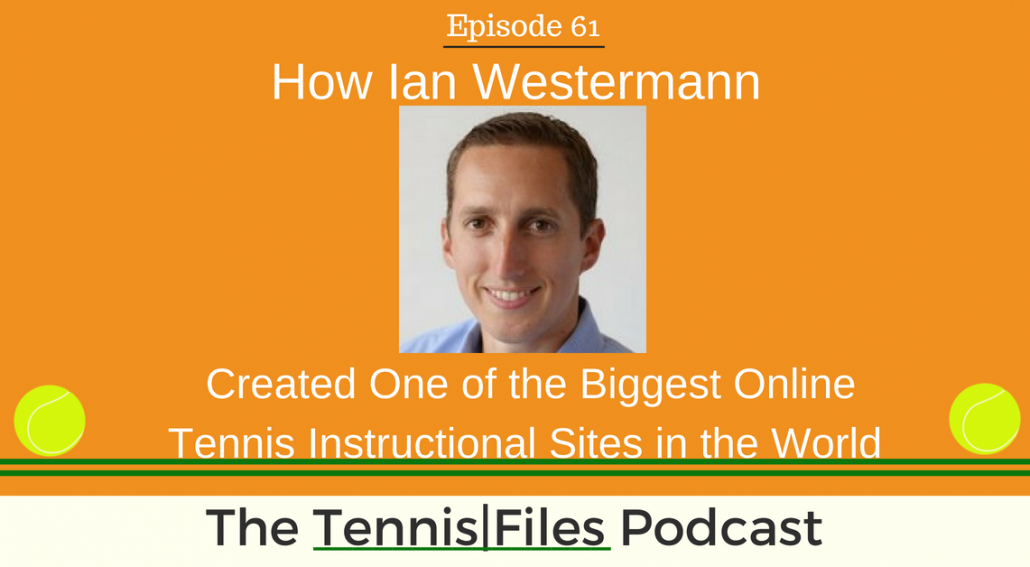 On today's episode of The Tennis Files Podcast, I spoke with my friend Ian Westermann, founder of Essential Tennis. I asked him about his passion for the game, how he went from country club tennis instructor to one of the biggest online tennis instructional sites in the world, and how we can become better singles and doubles players, among many other interesting topics.  Ian was featured in Forbes as one of the most successful online tennis instruction entrepreneurs and he is considered one of the pioneers of online tennis instruction.
Ian started the Essential Tennis Podcast in 2008, which is one of the most popular tennis podcasts of all time. Ian and his awesome team at ET have produced an incredible amount of free, high-quality, value-filled videos that have helped millions of people improve their tennis games.  The proof is in the pudding: Essential Tennis currently has over 125k subscribers on Youtube, which says a lot about the quality of ET's instructional content. Ian and his team have also created tons of amazing premium tennis courses at EssentialTennis.com.
It was a pleasure having Ian on The Tennis Files Podcast, especially because we both share the same passion as you do: to become better tennis players.  I hope you enjoy this episode of TFP with Ian, and let us know what you think in the comments below!
Time-Stamped Show Notes
[3:36]

Ian's secret nickname

[4:49]

Does Ian really have an Essential Tennis tattoo?

[5:19]

How Ian got his start in tennis

[9:08]

Ian's incredible passion for the game

[13:22]

Ian's junior career

[16:47]

Not making the college team the first year

[19:22]

The highlight of Ian's college tennis career – playing in the zone

[24:32]

Ian's experience taking the Professional Tennis Management Program at Ferris State

[28:35]

Ian's coaching jobs at various tennis and country clubs and the frustrations he experienced

[33:56]

Tough career choices

[36:23]

The Essential Tennis Podcast: one of the longest standing tennis podcast out there

[38:32]

What to expect next from The Essential Tennis Podcast

[41:15]

Leading yourself through the tennis learning process when you can't find a coach for you

[44:04]

Ian's 3 key tips to playing better singles

[46:10]

How to become a better doubles player

[50:28]

What is a Vlog and why Ian started one

[54:52]

Three books Ian would gift to a friend to help him/her become a better tennis player

[58:36]

When to expect Ian's new book

[59:38]

What's in store next from Essential Tennis

[1:00:46]

Where can we connect with Ian and Essential Tennis online

[1:01:51]

One key tip to help us improve our tennis games
Subscribe to automatically download new episodes!

Click this icon, click the blue "View in iTunes" button, then hit "Subscribe."

Or hit the subscribe button in your favorite podcast app!
Right Click Here to Download the MP3
Links Mentioned in the Show
Essential Tennis Podcast – iTunes link here
Essential Tennis Youtube Channel
Art of Learning – Josh Waitzkin
Mastery – George Leonard
Winning Ugly – Brad Gilbert
Tennis Files Youtube Channel – Subscribe!  You know you want to 😉
If you enjoyed my interview with Ian, subscribe to The Tennis Files Podcast in iTunes or your favorite podcast app!
For more tips on how to improve your game, subscribe to my newsletter and download a free copy of my eBook, The Building Blocks of Tennis Success below! Thanks for listening!