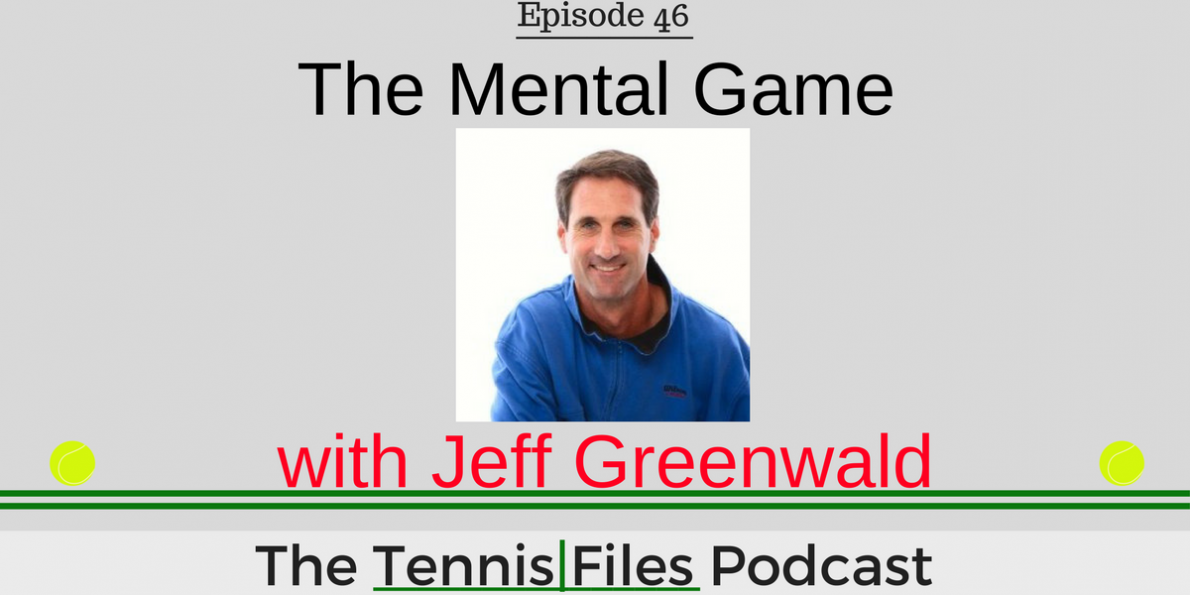 On today's episode, I had the pleasure of speaking with Jeff Greenwald, an internationally recognized sports psychology consultant and licensed therapist who specializes in the mental game of tennis. Jeff gave us some fantastic advice on how we can play better tennis by improving the way we think on court and about the game on Episode 46 of The Tennis Files Podcast. If you haven't listened to Episode 44 with Neil Endicott on Mindfulness-Based Tennis Psychology yet, definitely check that one out as well.
Jeff is author of a fantastic book entitled The Best Tennis of Your Life: 50 Strategies for Fearless Performance.  He is also a speaker and a former world-ranked pro on the ATP Tour who went on to reach the No. 1 ITF ranking in the world and U.S in the men's 35-age division.
The mental game is such an important part of tennis and I am really excited to bring you this interview with Jeff. We discuss the most important lessons Jeff has learned about the mental game, his biggest struggles on the court, advice that he'd give his younger college/ATP pro playing self, tips on how to improve your mental approach, and much more. Jeff's advice will help you deal with pressure during matches so you can play better tennis. Click the play button above to listen to the interview. Enjoy!
Time-Stamped Show Notes
[1:11]

How did Jeff got to where he is today in his tennis career

[1:55]

What Jeff learned most from The Bollettieri Academy

[3:10] Jeff's

 most difficult moment as a professional tennis player that pushed him mentally?

[5:27] Jeff's

 advice to himself as a 20-year old college/ATP pro player

[7:47]

What can we do to strengthen our mental game?

[10:15]

What are a few things we can do during a match to help us reset for the next point?

[13:12]

How can we stay positive after a series of losses?

[15:45] Strategies from Jeff's book that will make a substantial impact on your performance
[18:36]

Books Jeff recommends you read to improve your mental game

[22:02]

 One key tip from Jeff to help you improve your tennis game
Subscribe to automatically download new episodes!

Click this icon, click the blue "View in iTunes" button, then hit "Subscribe."

Or hit the subscribe button in your favorite podcast app!
Right Click Here to Download the MP3
Links Mentioned in the Show
Jeff's Website – jeffhgreenwald.com
Jeff's Book – The Best Tennis of Your Life: 50 Strategies for Fearless Performance
TFP 044: Mindfulness-Based Tennis Psychology with Neil Endicott
The Power of Full Engagement – Jim Loehr
Way of the Peaceful Warrior – Dan Millman
Winning Ugly – Brad Gilbert
Open – Andre Agassi
Man's Search for Meaning – Viktor E. Frankl and William J. Winslade
Mindset: The New Psychology of Success – Carol S. Dweck
Note: Some of the links above are affiliate links, so if you make a purchase after clicking them, I make Eleventy-Billion dollars a small commission that helps support the podcast. Thanks either way! 🙂
If you enjoyed my interview with Jeff, subscribe to The Tennis Files Podcast in iTunes or your favorite podcast app!
For more tips on how to improve your game, download a free copy of my eBook, The Building Blocks of Tennis Success eBook below! Thanks for listening!