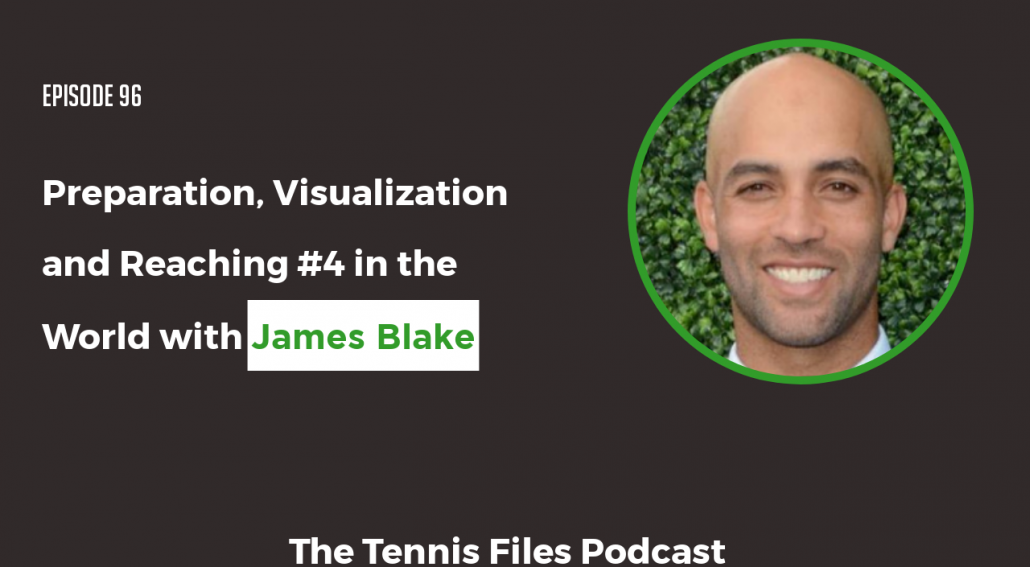 On today's episode of The Tennis Files Podcast, I spoke with former ATP world #4 James Blake about how he used preparation, planning, and visualization to propel himself to the top of the rankings. I feel very fortunate and proud to say that this is the second time I've interviewed James (first interview here) and it was another fantastic experience.
I interviewed James a couple weeks ago during a livestream session on Tennis Summit 2019, which was the third edition of my annual online conference tennis conference. James is a very intelligent, insightful, and super nice guy, and I know you will really learning how you can apply what James learned throughout his career to your game.
You'll also here James talk about an amazing product called CrampsAway that has helped him, along with a ton of players on the pro tour and countless other professional athletes get rid of cramps almost immediately.
James has amassed 10 singles titles, appeared in 24 singles finals, and beaten some of the greatest tennis players in the world, including Rafael Nadal, Andre Agassi, Lleyton Hewitt, and Andy Roddick. One of the things that stood out the most about James to me was his class on the court.
When my dad and I used to watch James play in DC at the Legg Mason Tennis Classic (now the Citi Open), he would thank the ballkids every time they gave him tennis balls or fetched him a towel. James also had one of the biggest forehands on tour, which he used to propel himself up the ranks into the top 5 of the ATP Tour.
And a big shout out to Jack Little from CrampsAway for making this interview happen! Jack and his team also set up a special deal where you can get 20% off CrampsAway by clicking here and using the code FILES20.
I hope you enjoyed my interview with James! Let us know what you think about it in the comments below!
Subscribe to automatically download new episodes!

Click the icon above, click the blue "View in iTunes" button, then hit "Subscribe."

Or hit the subscribe button in your favorite podcast app!
Right Click Here to Download the MP3
Links Mentioned in the Show
Products
CrampsAway - Use code FILES20 for 20% off your order!
Books
Complete Conditioning for Tennis (2nd edition) - Dr. Mark Kovacs
Tennis Summit Links
Tennis Summit 2019 - Register for FREE today!
Related Podcasts
TFP 055: James Blake — How to Unite Through Activism
TFP 090: 5 of My Favorite Doubles Plays to Take Control of Matches
TFP 080: Q&A 4.5+ Edition — Re-tooling Your Strokes, Backhand Tips, Serve Consistency, Returning, Advanced Drills and More!
TFP 075: Q&A Edition — Anticipation, Fitness, Consistency, Technique and More!
Check Out All My Podcasts Here! - Podcasts Homepage
Check Out All My Podcasts on iTunes! - iTunes Tennis Files Podcast Page
My Youtube Channel!
Tennis Files Youtube Channel - Subscribe! You know you want to 😉
Note: Some of the links above are affiliate links, so if you make a purchase after clicking, I'll make a small commission that will help support the podcast. Thanks either way!
If you enjoyed this episode, subscribe to The Tennis Files Podcast in iTunes or your favorite podcast app!
For more tips on how to improve your tennis fitness, subscribe to my newsletter and download a free copy of my free eBook, The Building Blocks of Tennis Success below! Thanks for listening!
The Building Blocks of Tennis Success eBook
Subscribe to get my free eBook and learn about goal setting, training smart, proper technique, mental fortitude, the importance of competition, health and fitness, and more!
Thanks for being a valued Tennis Files subscriber! I am proud to serve you 🙂