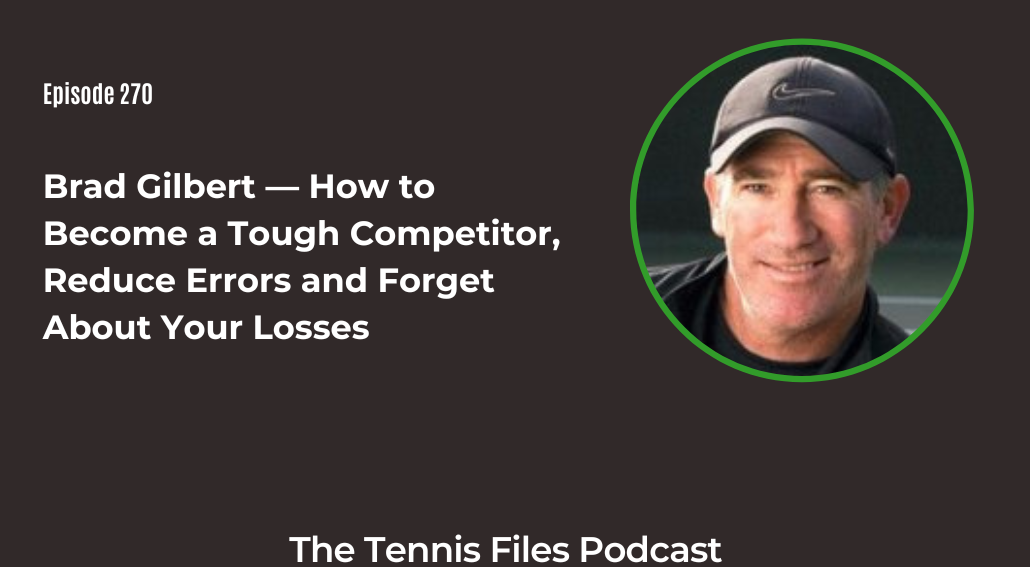 On Episode 270 of The Tennis Files Podcast, legendary tennis player and coach Brad Gilbert will reveal how to become a tough competitor, reduce errors and bounce back quickly after losses.
Gilbert achieved a career-high singles ranking of world No. 4 in 1990 and career-high doubles ranking of world No. 18. He won 20 singles titles and a bronze medal at the 1988 Olympics. Gilbert also coached several top players, including Andre Agassi, who won six of his eight Grand Slam titles under Gilbert, Andy Roddick, Andy Murray, and Kei Nishikori.
On the show, you'll learn how to develop no quit relentlessness, avoid the perfection trap, become a tougher competitor, prepare yourself for battle, reduce errors, outthink your opponent, and much more!
I hope you enjoy my interview with coach Brad Gilbert! Let us know what you think about the episode in the comments below!
And be sure to subscribe to Tennis Files to receive the latest tennis content to improve your game straight to your inbox!
Subscribe to automatically download new episodes!

Click the icon above, click the blue "View in iTunes" button, then hit "Subscribe."

Or hit the subscribe button in your favorite podcast app!
Right Click Here to Download the MP3
Links Mentioned in the Show
Winning Uglier with Brad Gilbert Podcast
Podcasts:
Check Out All My Podcasts Here!
Check Out All My Podcasts on Apple Podcasts!
My Youtube Channel!
Tennis Files Youtube Channel - Subscribe! You know you want to 😉
Note: Some of the links above are affiliate links, so if you make a purchase after clicking, I'll make a small commission that will help support the podcast. Thanks either way!
If you enjoyed this episode, subscribe to The Tennis Files Podcast in iTunes or your favorite podcast app!
For more tips on how to improve your tennis fitness, subscribe to my newsletter and download a free copy of my free eBook, The Building Blocks of Tennis Success below! Thanks for listening!