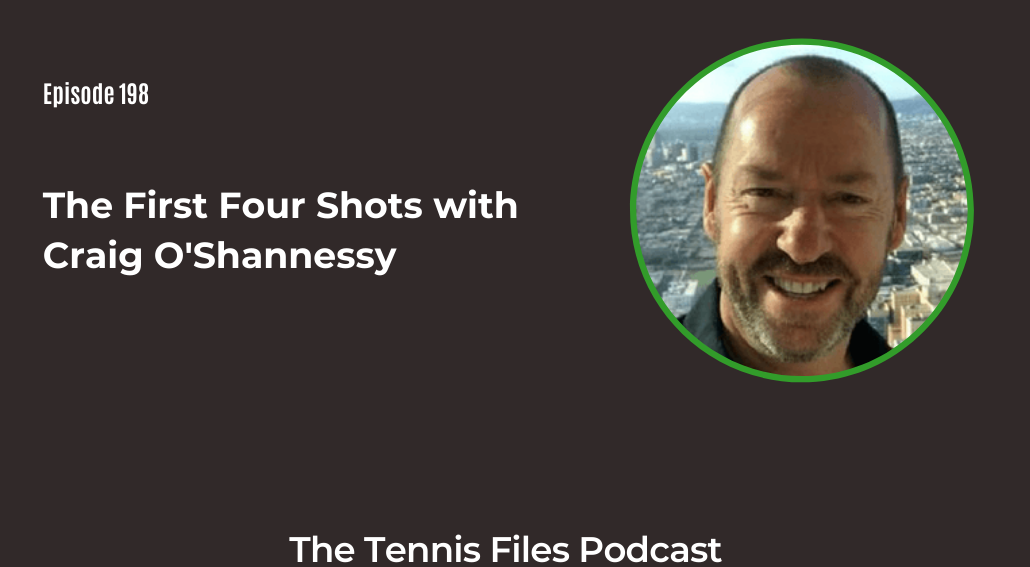 On this episode of the podcast, top tennis strategist Craig O'Shannessy will reveal the secret formula for transforming how you play the game: the first four shots. In this strategy masterclass, Craig presents mind-blowing statistics that definitively prove why we are focusing on the wrong rally lengths in practice, how to change our training and tactics for maximum results, and how to dominate the first four shots to win more matches.
Craig is widely recognized as the world leader in teaching and analyzing tennis strategy. He specializes in this specific area of the sport, and created his online Brain Game Tennis programs to teach players, coaches and fans the patterns of play and winning percentages that dominate our sport. Craig has worked with numerous professional tennis players, including Mario Berrettini, Kevin Anderson, Amer Delic, Rajeev Ram and Dustin Brown, when Dustin defeated Rafael Nadal at Wimbledon. He is also frequently featured as a commentator and analyst at all the Grand Slams and big tournaments around the globe.
I hope you enjoy my interview with Craig! Let us know what you think about this episode in the comments below!
Subscribe to automatically download new episodes!

Click the icon above, click the blue "View in iTunes" button, then hit "Subscribe."

Or hit the subscribe button in your favorite podcast app!
Right Click Here to Download the MP3
Links Mentioned in the Show
Podcasts:
Check Out All My Podcasts Here!
Check Out All My Podcasts on Apple Podcasts!
My Youtube Channel!
Tennis Files Youtube Channel - Subscribe! You know you want to 😉
Note: Some of the links above are affiliate links, so if you make a purchase after clicking, I'll make a small commission that will help support the podcast. Thanks either way!
If you enjoyed this episode, subscribe to The Tennis Files Podcast in iTunes or your favorite podcast app!
For more tips on how to improve your tennis fitness, subscribe to my newsletter and download a free copy of my free eBook, The Building Blocks of Tennis Success below! Thanks for listening!