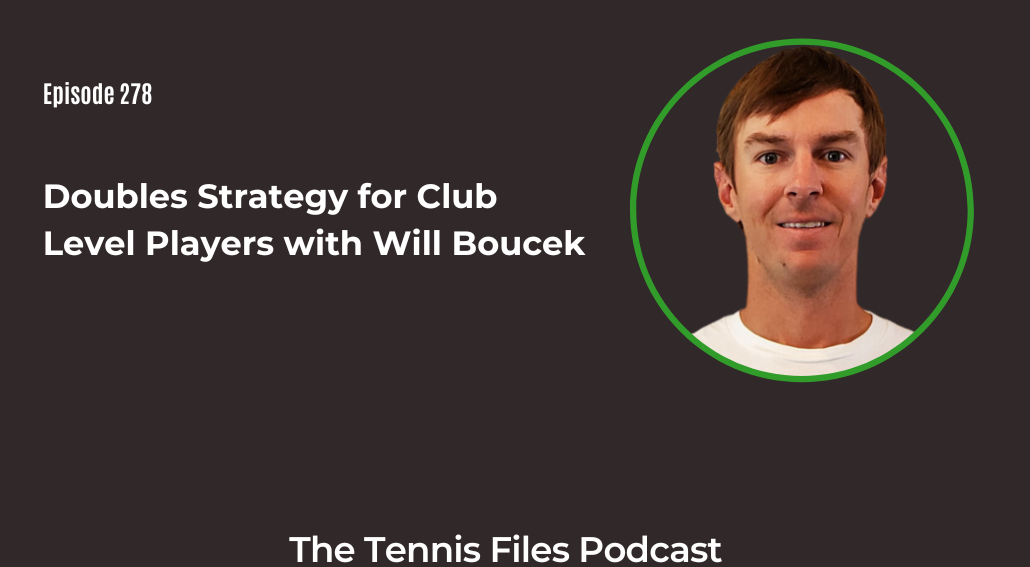 On Episode 278 of The Tennis Files Podcast, fellow podcaster and founder of Tennis Tribe Will Boucek talks about doubles strategy for club level players.
Will is an ATP & WTA Doubles Strategy Analyst, founder of Tennis Tribe, and host of the Doubles Only Tennis Podcast. He works with club level players, D1 college programs, and top 10 doubles players on the ATP and WTA tour to help them better understand their game and strategize against opponents. He has over 20 years of experience playing and coaching tennis, is a former college player, and is currently an NTRP 5.0.
Will lives in Fort Worth, Texas and is constantly studying doubles. He started Tennis Tribe as a doubles blog in 2016 and has since turned it into one of the leading resources for doubles players who want to win more matches with a weekly newsletter, a podcast, and video lessons. He also reviews tennis gear including the latest racquets, shoes, bags, strings, and more.
On the show, you'll learn Will's top doubles strategy takeaways from the WTA Doubles Finals, how to figure out the optimal doubles formation for club level players, the biggest myth about doubles strategy, doubles tiebreaker tips, and much more!
I hope you enjoy my interview with Will! Let us know what you think about this episode in the comments below!
And be sure to subscribe to Tennis Files to receive the latest tennis content to improve your game straight to your inbox!
Subscribe to automatically download new episodes!

Click the icon above, click the blue "View in iTunes" button, then hit "Subscribe."

Or hit the subscribe button in your favorite podcast app!
Right Click Here to Download the MP3
Links Mentioned in the Show
Doubles Only Tennis Podcast | The Tennis Tribe
"Watch More Doubles" Shirts - Shop Tennis Tribe Gear (thetennistribe.com)
Will Boucek (@WillBoucek) / Twitter
The Tennis Tribe (@the_tennistribe) / Twitter
The Tennis Tribe (@thetennistribe) • Instagram
Podcasts:
Check Out All My Podcasts Here!
Check Out All My Podcasts on Apple Podcasts!
My Youtube Channel!
Tennis Files Youtube Channel - Subscribe! You know you want to 😉
Note: Some of the links above are affiliate links, so if you make a purchase after clicking, I'll make a small commission that will help support the podcast. Thanks either way!
If you enjoyed this episode, subscribe to The Tennis Files Podcast in iTunes or your favorite podcast app!
For more tips on how to improve your tennis fitness, subscribe to my newsletter and download a free copy of my free eBook, The Building Blocks of Tennis Success below! Thanks for listening!