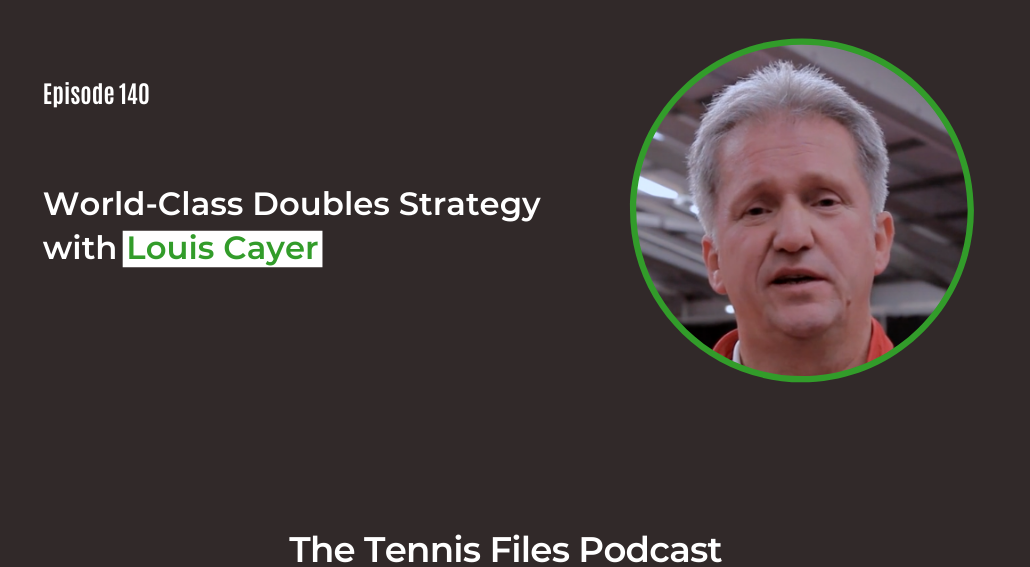 On Episode 140 of The Tennis Files Podcast, I spoke with world-renowned coach and doubles expert Louis Cayer about world-class doubles strategy.
Louis has coached and mentored six #1 ranked doubles specialists, including Jamie Murray, and 26 who have reached the ATP top 50. He also served as Davis Cup Captain for both Great Britain and Canada. Louis currently works with the Lawn and Tennis Association.
On the show, you'll learn the skills needed to become a great doubles player, effective strategies against different types of teams, positional strategies to give you a leg up on the competition, what singles players need to know to play better doubles, how to use disruptive plays effectively, and much more!
This interview is part of a masterclass I recorded with Louis for Tennis Summit 2020!
If you want to watch Louis's full interview in video format, along with over 30 other on-court lessons and presentations on singles and doubles strategy, technique, fitness, and the mental game, for FREE, click the link below:
Tennis Summit 2020 - Click Here to Register
Tennis Summit 2020, which is an online tennis conference from April 20-25, will be the fourth year I am hosting the event. There are going to be more on-court lessons, point analysis, and masterclass presentations this year than ever before!
I hope you enjoy my interview with Louis! Let us know what you think about the episode in the comments below!
And be sure to subscribe to Tennis Files to receive the latest tennis content to improve your game straight to your inbox!
Subscribe to automatically download new episodes!

Click the icon above, click the blue "View in iTunes" button, then hit "Subscribe."

Or hit the subscribe button in your favorite podcast app!
Right Click Here to Download the MP3
Links Mentioned in the Show
Tennis Summit 2020 - Click the link to sign up for free today! Join the world's biggest online tennis conference, hosted by yours truly!
Podcasts
Check Out All My Podcasts Here!
Check Out All My Podcasts on Apple Podcasts!
My Youtube Channel!
Tennis Files Youtube Channel - Subscribe! You know you want to 😉
Note: Some of the links above are affiliate links, so if you make a purchase after clicking, I'll make a small commission that will help support the podcast. Thanks either way!
If you enjoyed this episode, subscribe to The Tennis Files Podcast in iTunes or your favorite podcast app!
For more tips on how to improve your tennis fitness, subscribe to my newsletter and download a free copy of my free eBook, The Building Blocks of Tennis Success below! Thanks for listening!
The Building Blocks of Tennis Success eBook
Subscribe to get my free eBook and learn about goal setting, training smart, proper technique, mental fortitude, the importance of competition, health and fitness, and more!
Thanks for being a valued Tennis Files subscriber! I am proud to serve you 🙂