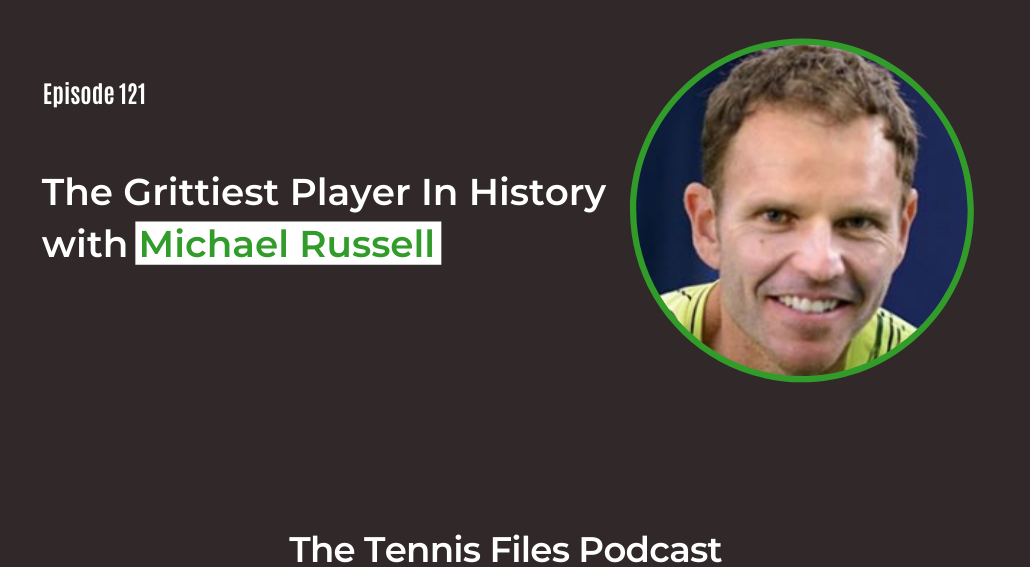 On Episode 121 of The Tennis Files Podcast, I spoke with Michael Russell, former ATP Pro and current tennis coach, about the grittiest player in history.
Michael reached a career-high of 60 in the world in August 2007. He has also coached many well-known tennis pros, including Frances Tiafoe, Ryan Harrison, Sam Querrey, Taylor Fritz, and Mackenzie McDonald through USTA Player Development. Michael played on tour for 17 years and retired after the US Open in 2015. He currently owns a private tennis coaching business, Michael Russell Tennis, in Houston.
On the show, you'll learn about Michael's unrelenting commitment to fitness, his stellar career as a junior, how he gained his first ATP point, his recovery routine after matches, key tips to improve your game, and much more!
I hope you enjoy my interview with Michael! Let us know what you think about the episode in the comments below!
And be sure to subscribe to Tennis Files to receive the latest tennis content to improve your game straight to your inbox!
Subscribe to automatically download new episodes!

Click the icon above, click the blue "View in iTunes" button, then hit "Subscribe."

Or hit the subscribe button in your favorite podcast app!
Right Click Here to Download the MP3
Links Mentioned in the Show
Resources
David Goggins Book - Can't Hurt Me
Social Media Links
Tennis Summit Links
Tennis Summit 2019 - Register for FREE today!
Related Podcasts
TFP 111: How to Survive and Thrive on the WTA Tour with Alexandra Mueller
TFP 015: Tennis Prodigy Sophie Chang on Turning Pro and Rising From the Valley
TFP 108: How to Make a Successful Comeback From Injuries with Treat Huey
TFP 107: Thai-Son Kwiatkowski - Pursuing Your Passion on Tour
TFP 082: Dr. Sean Drake — RacquetFit and the Body-Tennis Connection
Check Out All My Podcasts Here!
Check Out All My Podcasts on Apple Podcasts!
My Youtube Channel!
Tennis Files Youtube Channel - Subscribe! You know you want to 😉
Note: Some of the links above are affiliate links, so if you make a purchase after clicking, I'll make a small commission that will help support the podcast. Thanks either way!
If you enjoyed this episode, subscribe to The Tennis Files Podcast in iTunes or your favorite podcast app!
For more tips on how to improve your tennis fitness, subscribe to my newsletter and download a free copy of my free eBook, The Building Blocks of Tennis Success below! Thanks for listening!
The Building Blocks of Tennis Success eBook
Subscribe to get my free eBook and learn about goal setting, training smart, proper technique, mental fortitude, the importance of competition, health and fitness, and more!
Thanks for being a valued Tennis Files subscriber! I am proud to serve you 🙂