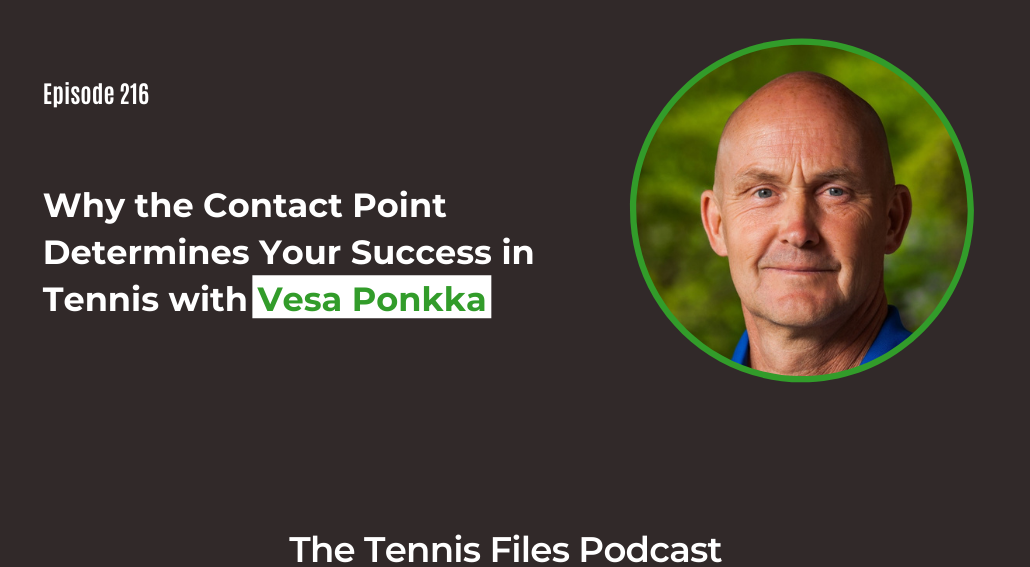 On Episode 216 of The Tennis Files Podcast, coach Vesa Ponkka will reveal how to find your ideal contact point for more powerful and consistent ball striking.
Coach Vesa Ponkka is Senior Director of Tennis at the Junior Tennis Champions Center, home to Frances Tiafoe, Denis Kudla, and numerous other elite players. He was selected as the 2011 USOC National Developmental Coach of the Year and has trained top junior players in the United States and Europe for national, NCAA, ITF and professional competition. Vesa's students have won numerous professional and national titles, achieved the #1 ITF Junior World Ranking, several #1 USTA National Rankings, and NCAA All-American honors. He also received several certifications including USPTA, PTR, and USTA High Performance.
On the show, you'll learn the benefits of having a good contact point, the different factors that determine your ideal contact point, how a good contact point will help you hit a more powerful and heavier ball, why using your eyes and your brain are the most critical skills for making good contact with the ball, and much more!
I hope you enjoy my interview with Vesa! Let us know what you think about this episode in the comments below!
And be sure to subscribe to Tennis Files to receive the latest tennis content to improve your game straight to your inbox!
Subscribe to automatically download new episodes!

Click the icon above, click the blue "View in iTunes" button, then hit "Subscribe."

Or hit the subscribe button in your favorite podcast app!
Right Click Here to Download the MP3
Links Mentioned in the Show
Junior Tennis Champions Center
Podcasts:
Check Out All My Podcasts Here!
Check Out All My Podcasts on Apple Podcasts!
My Youtube Channel!
Tennis Files Youtube Channel - Subscribe! You know you want to 😉
Note: Some of the links above are affiliate links, so if you make a purchase after clicking, I'll make a small commission that will help support the podcast. Thanks either way!
If you enjoyed this episode, subscribe to The Tennis Files Podcast in iTunes or your favorite podcast app!
For more tips on how to improve your tennis fitness, subscribe to my newsletter and download a free copy of my free eBook, The Building Blocks of Tennis Success below! Thanks for listening!