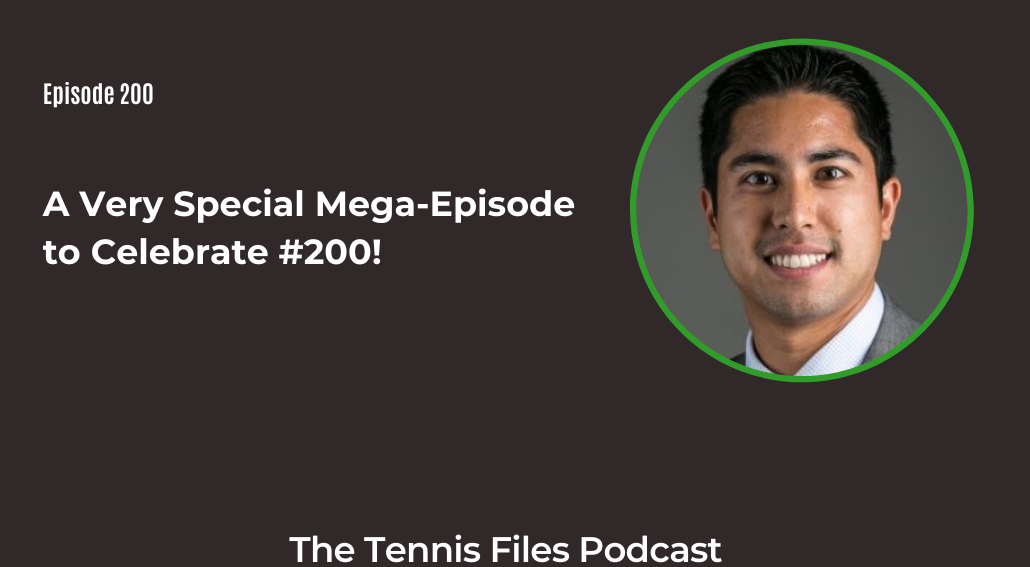 Today's episode is a very special one! We are celebrating 200 episodes of The Tennis Files Podcast by featuring clips from 11 of the most downloaded interviews and discussions over the years on the show!
Here's the list of tennis experts, coaches, and players you'll hear from in this special 200th episode of The Tennis Files Podcast:
Jorge Capestany (Episode 161)
Emilio Sanchez (Episode 129)
7 Do's and Don'ts for Doubles Players (Episode 160)
Edgar Giffenig (Episode 164)
Taylor Dent (Episode 128)
Dean Hollingworth (Episode 125)
Todd Widom (Episode 115)
Nick Bollettieri (Episode 113)
Gregg Le Sueur (Episode 150)
Rick Macci (Episode 143)
Marcus Willis (Episode 185)
I really hope you enjoy this 200th celebratory podcast episode that we put together for you!
It's about three hours long, so if you don't listen to the whole thing in one sitting I won't blame you 🙂
Let me know what you think about it in the comments below!
Thanks for all your support! :O)
Subscribe to automatically download new episodes!

Click the icon above, click the blue "View in iTunes" button, then hit "Subscribe."

Or hit the subscribe button in your favorite podcast app!
Right Click Here to Download the MP3
Links Mentioned in the Show
Podcasts:
Check Out All My Podcasts Here!
Check Out All My Podcasts on Apple Podcasts!
My Youtube Channel!
Tennis Files Youtube Channel - Subscribe! You know you want to 😉
Note: Some of the links above are affiliate links, so if you make a purchase after clicking, I'll make a small commission that will help support the podcast. Thanks either way!
If you enjoyed this episode, subscribe to The Tennis Files Podcast in iTunes or your favorite podcast app!
For more tips on how to improve your tennis fitness, subscribe to my newsletter and download a free copy of my free eBook, The Building Blocks of Tennis Success below! Thanks for listening!