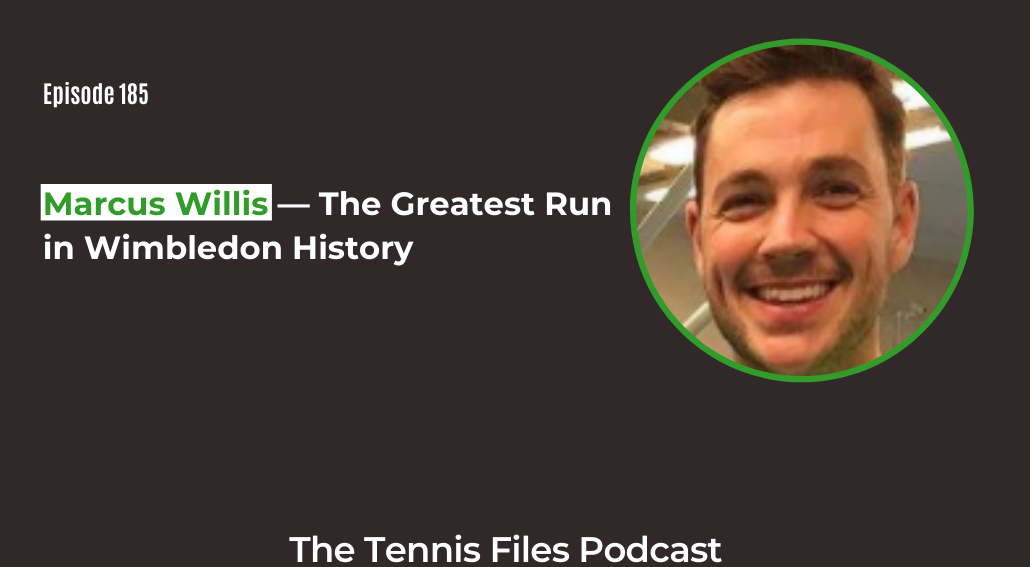 On Episode 185 of The Tennis Files Podcast, I spoke with ATP Pro Marcus Willis about how he went from teaching tennis lessons for 30 pounds an hour (about $40) to playing Roger Federer on Center Court at Wimbledon in 2016.
Marcus has reached a career high ranking of #322 in singles and #209 in doubles on the ATP tour. He was also ranked as high as 15 in the combined junior world rankings. But Marcus struggled to breakthrough on the pro tour until he decided to work harder than everyone else and had a support system that held him accountable. Then in 2016 his hard work paid off; he got through pre-qualifying, qualifying, and his first round match to face arguably the greatest player of all time on Center Court at Wimbledon.
On the show, you'll learn the in-depth story behind Marcus's incredible run at Wimbledon, how he was able to win against much higher ranked players, the key to transforming his career in 2016, the biggest mistakes that amateur players make, Marcus's huge win in doubles against the defending Wimbledon champions the following year, how to succeed on the tour, and much more!
I hope you enjoy my interview with Marcus! Let us know what you think about this episode in the comments below!
And be sure to subscribe to Tennis Files to receive the latest tennis content to improve your game straight into your inbox!
Subscribe to automatically download new episodes!

Click the icon above, click the blue "View in iTunes" button, then hit "Subscribe."

Or hit the subscribe button in your favorite podcast app!
Right Click Here to Download the MP3
Links Mentioned in the Show
Books:
Podcasts:
Check Out All My Podcasts Here!
Check Out All My Podcasts on Apple Podcasts!
My Youtube Channel!
Tennis Files Youtube Channel - Subscribe! You know you want to 😉
Note: Some of the links above are affiliate links, so if you make a purchase after clicking, I'll make a small commission that will help support the podcast. Thanks either way!
If you enjoyed this episode, subscribe to The Tennis Files Podcast in iTunes or your favorite podcast app!
For more tips on how to improve your tennis fitness, subscribe to my newsletter and download a free copy of my free eBook, The Building Blocks of Tennis Success below! Thanks for listening!