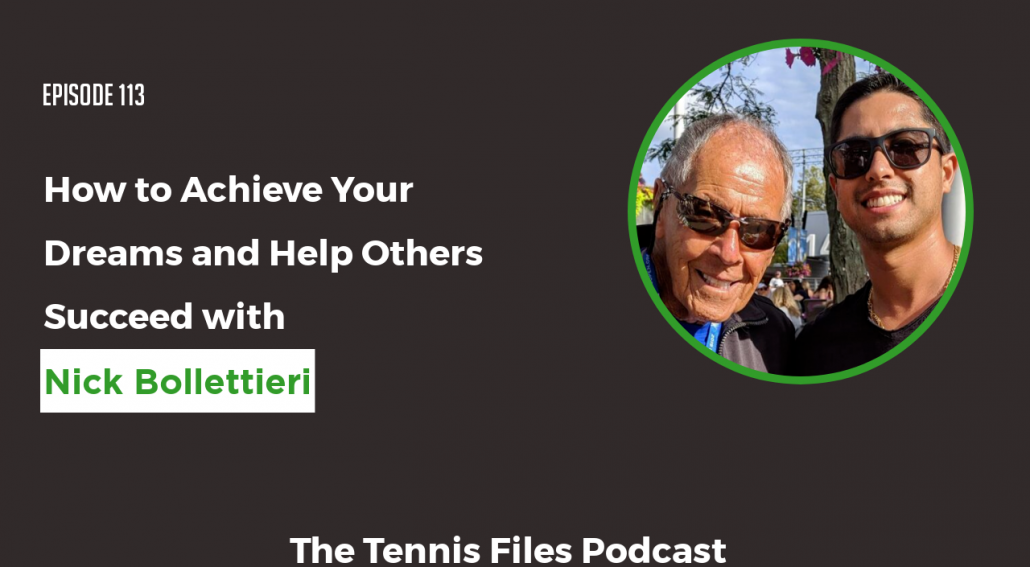 On Episode 113 of The Tennis Files Podcast, I spoke with legendary coach Nick Bollettieri about how to achieve your dreams and help those around you reach their true potential.
Nick has over 60 years of unrivaled experienced coaching the world's best tennis players. He founded the Bollettieri Tennis Academy, where he has worked with such players as Andre Agassi, Monica Seles, Jim Courier, Serena and Venus Williams, Mary Pierce, Maria Sharapova, Martina Hingis, Anna Kournikova, Marcelo Rios, Kei Nishikori, and Boris Becker, just to name a few 🙂
Nick also co-founded the nonprofit fitness camp, Camp Kaizen with his wife Cindi. He writes for tennis magazine as an instruction editor and has been featured in tv series and documentary films. Nick is also a very accomplished author, having written numerous books, including Bollettieri's Tennis Handbook, My Aces My Faults, and a recent Biography entitled Bollettieiri - Changing the Game. On top of all this, Nick was inducted in the International Tennis Hall of Fame and told me that he has been inducted into 12 others as well.
On the show we cover the mindset you must have to achieve your goals, why every top performer has a great team behind that person, why you must get to know your students if you want to help them reach their true potential, Nick's exercise routine at 88 years old, and much more!
Nick also has a new book coming out soon and read us a preview of one of the chapters on the podcast! Nick has teamed up with Tennis Channel to produce the book and I'll be sure to give you a heads up when it is available!
I am really pleased that Nick and his manager Steve made this interview happen so quickly after the Open, and I look forward to doing a part 2, Q&A style!
I hope you enjoy this podcast episode! Let us know what you think about it in the comments below!
Subscribe to automatically download new episodes!

Click the icon above, click the blue "View in iTunes" button, then hit "Subscribe."

Or hit the subscribe button in your favorite podcast app!
Right Click Here to Download the MP3
Links Mentioned in the Show
Resources
The Tennis Channel Podcast Network
​Books
The Fighter's Mind: Inside the Mental Game
Tennis Summit Links
Tennis Summit 2019 - Register for FREE today!
Related Podcasts
TFP 111: How to Survive and Thrive on the WTA Tour with Alexandra Mueller
TFP 015: Tennis Prodigy Sophie Chang on Turning Pro and Rising From the Valley
TFP 108: How to Make a Successful Comeback From Injuries with Treat Huey​
TFP 107: Thai-Son Kwiatkowski - Pursuing Your Passion on Tour
TFP 082: Dr. Sean Drake — RacquetFit and the Body-Tennis Connection
TFP 074: Jeff Salzenstein — How to Change Your Mindset and Achieve Your Potential
TFP 090: 5 of My Favorite Doubles Plays to Take Control of Matches
TFP 080: Q&A 4.5+ Edition — Re-tooling Your Strokes, Backhand Tips, Serve Consistency, Returning, Advanced Drills and More!
TFP 075: Q&A Edition — Anticipation, Fitness, Consistency, Technique and More!
Check Out All My Podcasts Here! - Podcasts Homepage
Check Out All My Podcasts on iTunes! - iTunes Tennis Files Podcast Page
My Youtube Channel!
Tennis Files Youtube Channel - Subscribe! You know you want to 😉
Note: Some of the links above are affiliate links, so if you make a purchase after clicking, I'll make a small commission that will help support the podcast. Thanks either way!
If you enjoyed this episode, subscribe to The Tennis Files Podcast in iTunes or your favorite podcast app!
For more tips on how to improve your tennis fitness, subscribe to my newsletter and download a free copy of my free eBook, The Building Blocks of Tennis Success below! Thanks for listening!
The Building Blocks of Tennis Success eBook
Subscribe to get my free eBook and learn about goal setting, training smart, proper technique, mental fortitude, the importance of competition, health and fitness, and more!
Thanks for being a valued Tennis Files subscriber! I am proud to serve you 🙂