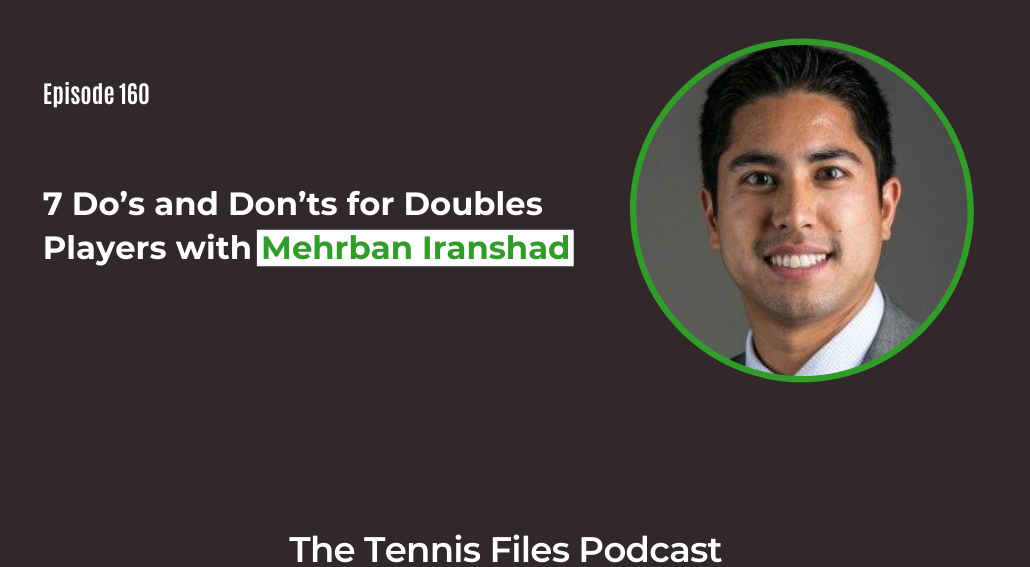 On Episode 160 of The Tennis Files Podcast, I discuss 7 key do's and don'ts for doubles players.
I played mostly singles as a junior player. So I really had no idea about what the fundamentals of doubles were, how to move, and even how to volley very well because I spent just about every minute on the court hugging the baseline unless I got a short ball. After law school, I started playing a lot of USTA league tennis, which was a ton of doubles. I gradually picked up a few more doubles strategies, and then my doubles game really picked up when I started Tennis Files around 2015, because I got to interview a ton of expert coaches on the subject. I then developed this deep hunger to really learn the top strategies from the best coaches in the world.
So for this episode, I put together a list of doubles mistakes I've made and learned to correct through experience, and winning strategies, to share with you to help you improve your doubles game.
I hope you enjoy this episode! Let me know what you think about it in the comments below!
And be sure to subscribe to Tennis Files to receive the latest tennis content to improve your game straight to your inbox!
Subscribe to automatically download new episodes!

Click the icon above, click the blue "View in iTunes" button, then hit "Subscribe."

Or hit the subscribe button in your favorite podcast app!
Right Click Here to Download the MP3
Links Mentioned in the Show
Podcasts:
Check Out All My Podcasts Here!
Check Out All My Podcasts on Apple Podcasts!
My Youtube Channel!
Tennis Files Youtube Channel - Subscribe! You know you want to 😉
Note: Some of the links above are affiliate links, so if you make a purchase after clicking, I'll make a small commission that will help support the podcast. Thanks either way!
If you enjoyed this episode, subscribe to The Tennis Files Podcast in iTunes or your favorite podcast app!
For more tips on how to improve your tennis fitness, subscribe to my newsletter and download a free copy of my free eBook, The Building Blocks of Tennis Success below! Thanks for listening!
The Building Blocks of Tennis Success eBook
Subscribe to get my free eBook and learn about goal setting, training smart, proper technique, mental fortitude, the importance of competition, health and fitness, and more!
Thanks for being a valued Tennis Files subscriber! I am proud to serve you 🙂