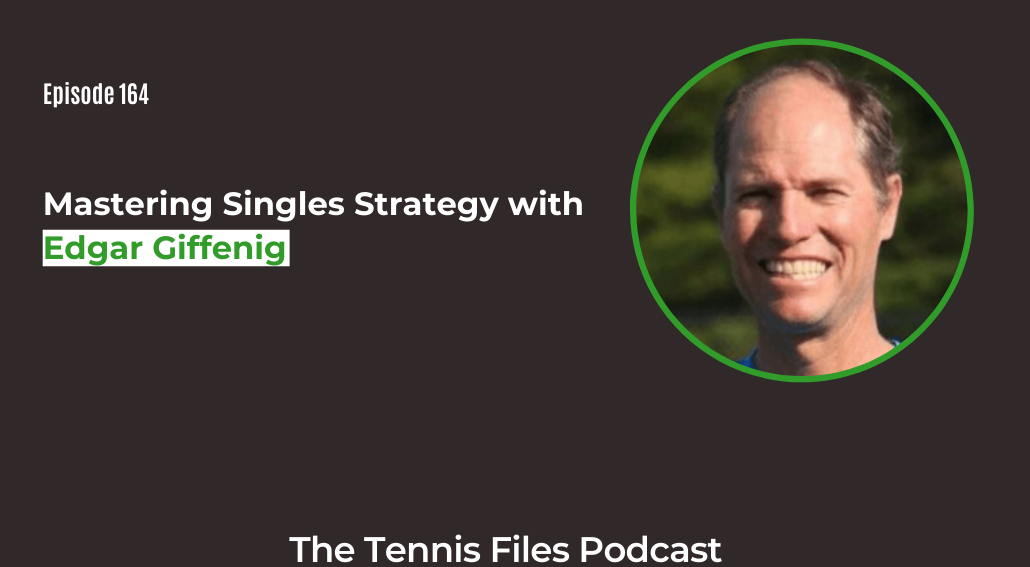 On Episode 164 of The Tennis Files Podcast, I interviewed elite coach Edgar Giffenig about how to play smarter singles matches.
Edgar is the founder of Giffenig Tennis and is an International Consultant for TennisGate. He was a National Coach for the USA, Germany, and Mexico. He is also a frequent speaker in coaching workshops throughout the world including my previous Tennis Summits. Edgar has 30 years of experience coaching players of all ages and levels. With his long-term tennis experiences, Edgar wrote two books entitled, "Play Tennis with Passion" and "Developing High Performance Tennis Players".
On the show, you'll learn why you should think about tennis strategy like gambling, the laws of first and second serves, how to figure out the best playing style for your game, our observations about singles strategy from the U.S. Open, pre and post-match strategy tips, winning tactics for USTA League players, and much more!
I hope you enjoy my interview with Edgar! Let us know what you think about this episode in the comments below!
And be sure to subscribe to Tennis Files to receive the latest tennis content to improve your game straight into your inbox!
Subscribe to automatically download new episodes!

Click the icon above, click the blue "View in iTunes" button, then hit "Subscribe."

Or hit the subscribe button in your favorite podcast app!
Right Click Here to Download the MP3
Links Mentioned in the Show
Books:
Developing High Performance Players
Podcasts:
Check Out All My Podcasts Here!
Check Out All My Podcasts on Apple Podcasts!
My Youtube Channel!
Tennis Files Youtube Channel - Subscribe! You know you want to 😉
Note: Some of the links above are affiliate links, so if you make a purchase after clicking, I'll make a small commission that will help support the podcast. Thanks either way!
If you enjoyed this episode, subscribe to The Tennis Files Podcast in iTunes or your favorite podcast app!
For more tips on how to improve your tennis fitness, subscribe to my newsletter and download a free copy of my free eBook, The Building Blocks of Tennis Success below! Thanks for listening!
The Building Blocks of Tennis Success eBook
Subscribe to get my free eBook and learn about goal setting, training smart, proper technique, mental fortitude, the importance of competition, health and fitness, and more!
Thanks for being a valued Tennis Files subscriber! I am proud to serve you 🙂