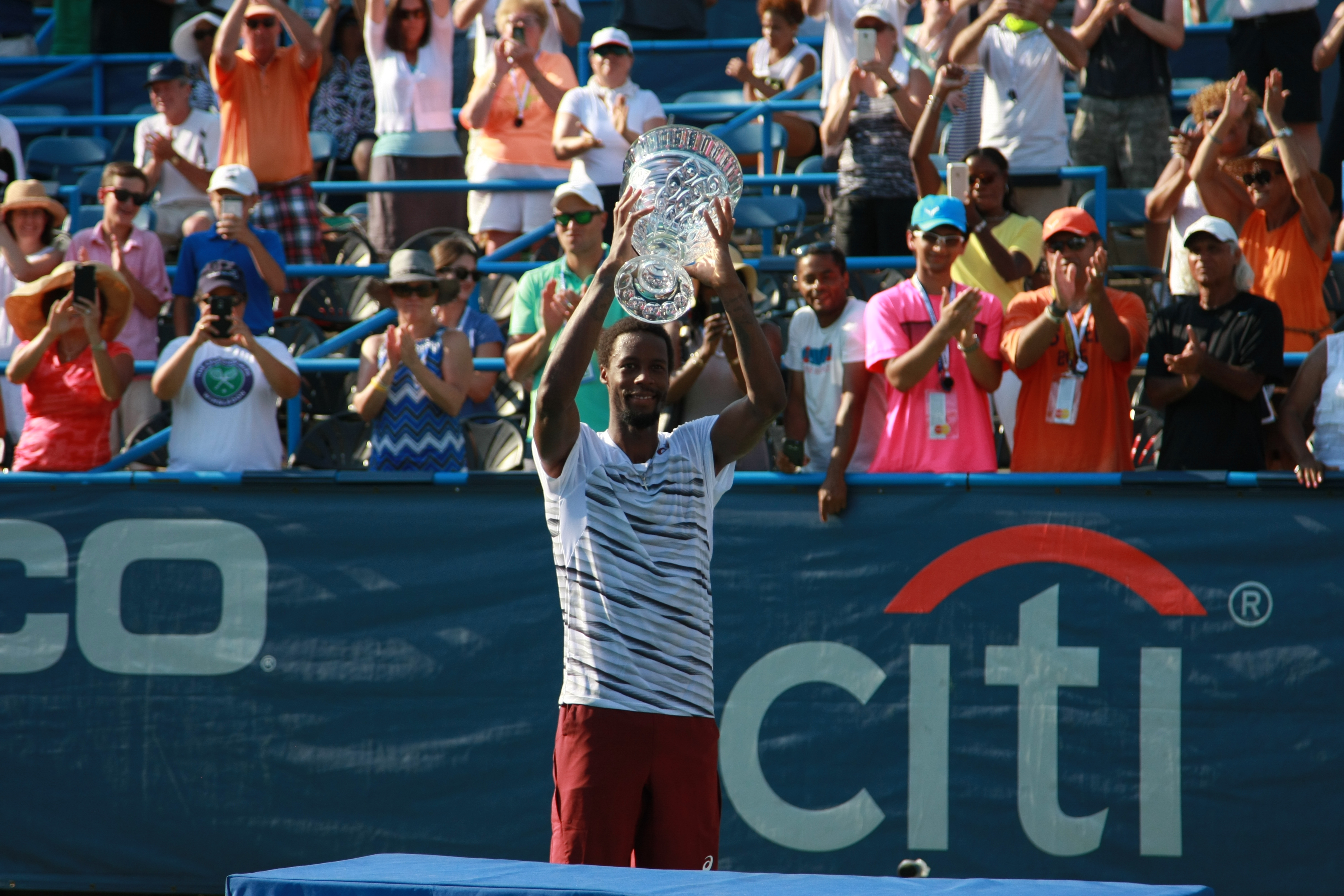 For Gael Monfils, it seemed as if his 9th consecutive ATP 500 and Masters finals loss was inevitable to Ivo Karlovic at the 2016 Citi Open on Sunday. Aces were flying from the big-serving Croat, Monfils had lost the first set 5-7, and the world #14 could do absolutely nothing to shake the undisputed Ace King.
Karlovic was blasting unreturnable serves so consistently that at 2-2 in the second set, Monfils threw his hands up in the air, gave his players box a wry smile, and slapped the clock at the back of the court in frustration. Four games later, Karlovic broke Monfils's serve and had an opportunity to win the match on his own terms.
To the casual observer, the outcome seemed crystal clear. Breaking serve in the men's game is difficult enough as it is. You've got a better chance of winning the lottery than breaking a serve as good as Karlovic's.
Then at 5-4, Monfils hit the jackpot. Karlovic felt the pressure of serving out the match for his first ATP 500 title. Who could blame him? The biggest title of his career, the money, the ranking points. Who knows when the 37-year old Karlovic would get this opportunity again. ATP tour titles don't come easy.
Karlovic was up against the pressure, the 133+ Fahrenheit on-court temperature, and a dynamic and resilient opponent.  All of a sudden, a Karlovic win didn't seem so sure after all.
When I asked Karlovic if he thought about winning the title when serving for the match, he admitted that he did, and that it was normal to think like that. But he had been used to situations like this before and thought he would close it out.
Still, the pressure was there. And so was Monfils.
"I still had a feeling, a hope…that he would get tight a little bit. I needed to make him play, and if i had a chance at a passing shot, I needed to put it in the court."
The Karlovic missile launcher stuttered three straight times on first service attempts, giving Monfils a better look at returns and passing shots when he needed it the most.
Karlovic talked about his missed opportunity to close out the match at 5-4 in the second set during the press conference after the match.
"If it was a normal match I would win it right there. But I don't know why my serve stopped at that moment. It happens I guess. I'm not used to that. I was going to win and then I lost my serve. That is tennis."
"Every match you have a little bit of pressure. But I am used to it. I know how it feels, and usually I'm able to get over it. Today I didn't. This is life. Today I am disappointed a lot. But it has been a great two weeks."
But once again, during the second set tiebreak, Karlovic threatened. Monfils erased a match point for the recent Newport title winner when the Frenchman was serving at 5-6 in the tiebreaker.
Karlovic was unable to keep his slice-backhand return inside the court after a well-struck Monfils first serve. The Frenchman won the next two points to even the match at one set a piece.
Monfils kept the momentum going in the third set, and Karlovic's level dropped. The Frenchman rode an early break in the third game of the final set to victory and his first ATP 500 tour level title.
"He served and volleyed in the heat for two hours….I knew that it wouldn't be that easy for him to do that all the time."
Monfils and Karlovic inspired us all by their performances during the 2016 Citi Open for different reasons. Karlovic for continuing to be among the game's elite despite being 37 years old, and Monfils for his tenacity, explosiveness, and dynamic game.
Karlovic defeated Brian Baker, Bernard Tomic (#3 seed), Jack Sock (#6), and Steve Johnson (#5) en route to the final.  He also smacked over 100 aces during the tournament (five matches). All this at 37 is virtually an unimaginable feat to accomplish for any normal human being.
"I've dealt with [thinking about winning] many matches before. And it just didn't go my way. But it was an excellent week."
Monfils taught us all to never to give up in the face of adversity. No matter how bad the match looks, if you keep fighting, keep believing that you will get an opportunity to seize the upper hand, you can prevail.
Monfils took a seemingly futile situation and turned it around in his favor.
The Frenchman mentioned previous Citi Open winners Arthur Ashe and Yannick Noah as players who have inspired him to win this tournament.
Now he has his first ATP 500 tour title and his name on the wall in the William H.G. Fitzgerald stadium, next to the legends that he's always looked up to.