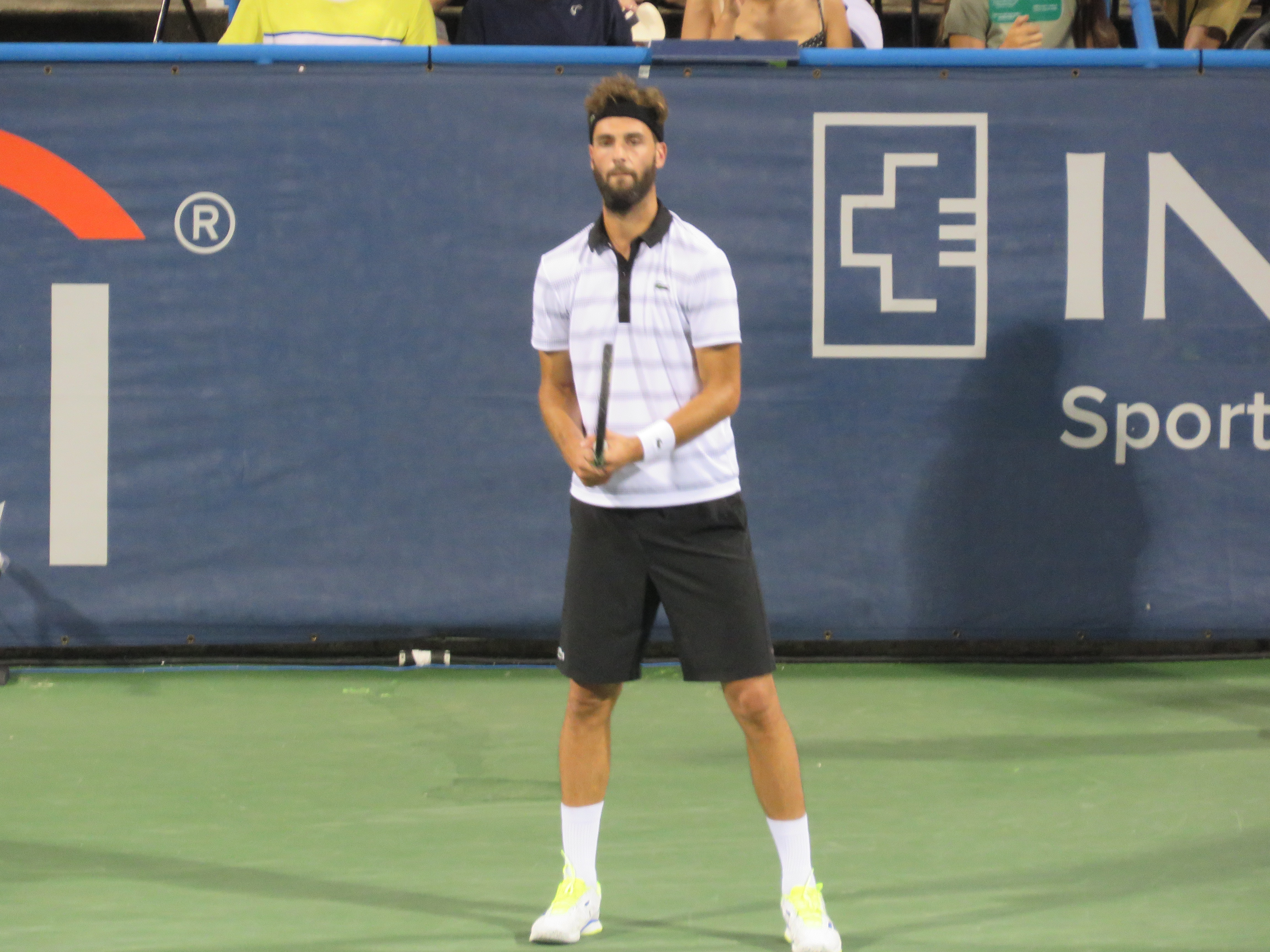 By all accounts, Benoit Paire is a very engaging, fan-friendly tennis professional. The French world #24 has enjoyed taking pictures and speaking with the throngs of people that have flocked to the Citi Open this week. Paire even played tennis with a group of kids and offered them a meal at Five Guys if they could beat him (Paire won the super-tiebreaker, 10-8).
Paire's relaxed demeanor before his matches is another unique aspect of the Frenchman. On Thursday night, 15 minutes before his match against Gilles Muller, my photographer Victor and I saw Paire sitting on a chair by the clay courts, cheering on and laughing at two stringers who were locked in a battle between two amateurs tennis players.
Since the players who are going to play soon generally warm-up for their matches in the players' gym or wait in the locker room, we figured that we were either mistaken about Paire having a match that day, or that Paire had gotten a walk-over. But 15 minutes later, after we had taken our seats, Paire walked onto the court, and defeated Muller in 3 sets.
However, Friday night was a different story. Paire warmed up with his hitting partner a couple hours before the match, and there were some signs that he might not have a great performance.
Paire and his partner struggled to maintain rallies past 4-5 shots when the Frenchman suggested they play out crosscourt baseline points. Still, Paire's demeanor seemed positive as he sat down to chat before heading off the practice court.
But soon after Paire's match began with Zverev, the Frenchman's game fell off its tracks. Immediately after a first serve fault early in the first set, Paire struck the ball far out of the stadium, and surprisingly did not get a reprimand from the chair umpire.  The French #5 tried changing his racquets several times, but nothing seemed to help turn his game around.
The most disappointing thing about Paire's match on Friday night is that it seemed to most observers that he was not trying his hardest to win the match.  In fact, that last sentence may be a grave understatement. Despite his popularity with the fans, a chorus of boos eventually enveloped the stadium because of Paire's poor effort level and focus in the first set.
Tennis is a very demanding sport, and who knows what else could have been going on mentally or physically with Paire Friday night. Regardless, Paire did not seem like he was trying to win in the first set. He missed several routine volleys and his effort level and footwork dipped dramatically from his previous matches in DC.  By all accounts, he tried harder in the second set, but to no avail.  His performance was nothing you would expect from the world #24.
After both players left the court, Zverev spoke with the media, and we asked the German questions about the match, including Paire's lackluster performance.
When asked about Paire's sub-par effort level, Zverev opined that the Frenchman's previous three-set night match might have affected his play.
"He had a long match yesterday, maybe he was a bit tired, a bit sloppy in the beginning. But it was a shorter match then I expected."
Despite being only 19, Zverev is experienced enough to know that he could not relax until the match was over.  Especially with a player as talented as Paire.
"He's the kind of guy that can mentally check out, then two games later be playing really well again. So you have to always be there. You can't really think that, okay he's gone, now I can relax. You always have to be there with him."
If Paire can develop the discipline to focus on every point and improve his concentration, the talented Frenchman will see better results and a higher ranking in the years ahead. The mental game is the most important aspect of tennis, and a full-effort every single point attitude is the only way to reach the highest echelons in the game.