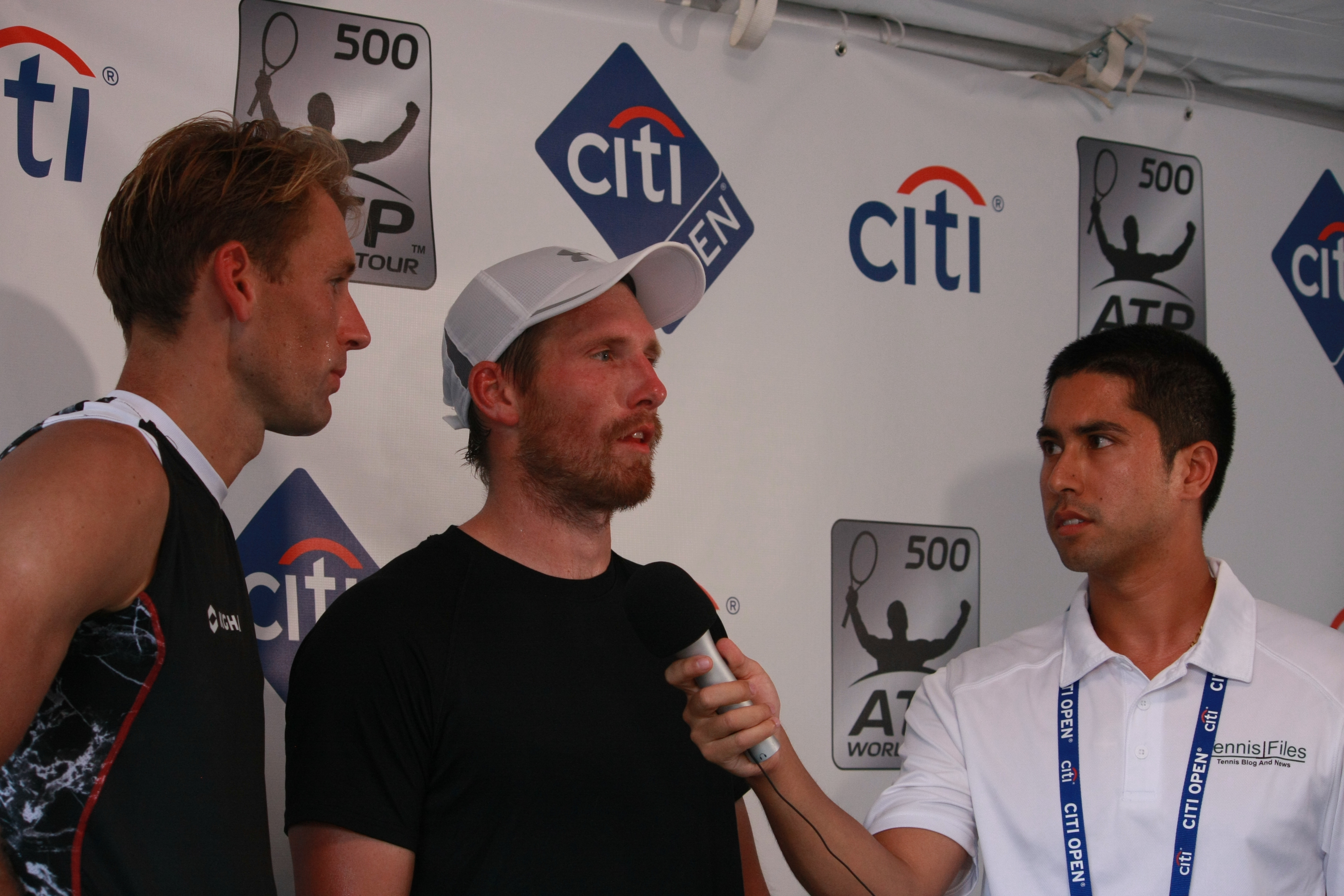 By the end of last week's 2016 Citi Open, I recorded over 20 one-on-one interviews with professional tennis players, which are all up on my Citi Open page and Youtube channel. This was a huge step up from last year, when I did 9 interviews during my first time as part of the media at the event.  I learned a lot about match strategy and the mindset of elite tennis players by asking them questions and listening to their answers.
I explained how I was able to get one-on-one interviews at the Citi Open in a recent post. While the top-seeds and most popular players often held a press conference in lieu of doing one-on-one interviews, I was able to interview some pretty noteworthy and highly-ranked players by submitting interview requests as many times as I could and hoping for the best. I was also one of the few who recorded them on camera. The majority of the journalists used cell phones or audio recorders because they only needed quotes for their articles.
After many hours of prepping, recording and publishing, I present to you a list of all the tennis pros that I interviewed this year, along with their world rankings as of the Tuesday after the tournament and links to the interviews. Following the list is a description of the nicest tennis pros that I interviewed at the Citi Open. I didn't embed every single video here, because if I did, this would be a ridiculously huge (and probably slow-functioning) blog post!
Players I Interviewed at the 2016 Citi Open
Ivo Karlovic – #27 (twice)
Alexandr Dolgopolov – #38
Edouard Rogers-Vasselin – #7 (doubles with Daniel Nestor)
Grigor Dimitrov – #40 (two-on-one)
Marcos Baghdatis – #42
Camila Giorgi – #77
Borna Coric – #53
Malek Jaziri – #62
Yen-Hsun Lu – #70
Jordan Thompson – #93
Lauren Davis – #104
Alexander Peya – #27 (doubles with Kubot)
Lukasz Kubot – #23 (doubles with Peya)
Risa Ozaki – #126 
James Duckworth – #184 (twice)
Alla Kudryavtseva – #160
Mackenzie "Mackie" McDonald – #432
Yuichi Sugita – #107
Well, now is the moment you have all been waiting for! Below is the list of the nicest ATP and WTA tennis pros that I've interviewed on tour. Drum roll please!
Nicest Male Player
Edouard Roger-Vasselin
Roger-Vasselin, the 2016 Citi Open doubles champ, is the nicest guy I've met on the tour so far. I really enjoyed our one-on-one interview, because Vasselin was enthusiastic, gave great answers, and I felt the sort of vibe that people get when you think it would be fun to grab a drink with the person you've just met (probably wine, since Vasselin is French 🙂 ).
Funny/interesting story with Vasselin: after he and his partner Daniel Nestor won the doubles championship over Peya/Kubot, Nestor was unable to stay for the trophy ceremony because he was having trouble dealing with the heat (which is the same reason I only interviewed Vasselin after the semis). I can't really blame Nestor; the on-court temperatures Sunday were somewhere around 140 degrees Fahrenheit!
The press conference for the doubles champs were set for 3:30pm. But the singles final for Monfils-Karlovic started at 3pm, so most of the journalists were busy either feverishly typing notes on the match as it transpired, or were actually in the stadium watching the match.
However, my buddy Noel from Vavel and I were determined to attend the doubles press conference. First off, the doubles match was awesome (two tiebreak sets), and second, we were big fans of Vasselin and Nestor's storyline (Nestor is 43 years old and has won at least one title for the past 23 years in a row, sick!).  We had also both requested one-on-one interviews with Vasselin, but the ATP decided to hold a presser since it was for the championship.
Not unexpectedly, only Vasselin showed up, since Nestor was recovering from the heat. However, the only two people from the media at the press conference, were……Noel and I!
Quite hilariously (at least to us), Noel and I traded questions with Vasselin in our very own private press conference! Vasselin was upbeat and seemed to genuinely enjoy himself when speaking to us, which was his demeanor the entire tournament.
We really appreciated that Vasselin made himself readily accessible to the media. The Citi Open doubles title couldn't have happened to a nicer tennis pro, so congrats to Edouard! I think he would make a great guest on my podcast someday (subtle hint to ERV 🙂 )!
Runner-Up
Yen-Hsun Lu
The Taiwanese pro nicknamed "Rendy" gave me very insightful and thoughtful answers to my questions after his loss against 2016 Citi Open champion Gael Monfils. We spoke about what troubled him during the match, his role on the ATP Player's Council, and his advice to our audience about the importance of warming-up before matches.
Most players who give interviews after losing a match usually tend to give much shorter answers, but my interview with Lu was over 5 minutes long, which is pretty lengthy even by a winning player's standards.
What made this interview even more impressive is the fact that (1) before my one-on-one with Rendy, he answered what seemed like 10 questions from another news organization in his native language; and (2) most interviews last 2-3 minutes and are monitored closely by the ATP/WTA reps (I'd often get a signal for one last question from the player rep, which I'd see with my trusty peripheral vision).
I spoke to Rendy's close family friend Ben beforehand, and Ben assured me that the Taiwanese pro would be willing to speak after his match. Ben couldn't have been more spot on. I really appreciated Rendy's thoughtful answers when many players want to get through the interviews as quickly as possible. After his interview, Rendy even gave a nod to my photographer Victor, which I thought was really awesome of him.
Honorable Mentions
Ivo Karlovic – The 2016 Citi Open Runner-up spoke to me twice in one-on-one interviews, the second one right after his semifinal win and press conference. If players hold a press conference after a match, they generally never also do one-on-one interviews (unless its for a major news channel), so I felt pretty fortunate to get the second one (thanks Josh from ATP!). Ivo gave us a lot of great advice about how he has been able to stay among tennis's elite and what we can do to keep playing tennis competitively for a long time. As you can see, Ivo is extremely tall (6'11")! I'm only 5'10" (on a good day).
Malek Jaziri – Talented player with a great game and attitude. I really enjoyed the great energy that Malek brought to our one-on-one interview. He was very impressive in a 3-set win over former world #10 Kevin Anderson, and a 3-set loss against next-gen star Alexander Zverev (who I interviewed last year). Jaziri has a great return game and feel. On Episode 26 of The Tennis Files Podcast, my guest Mulumba likened him to a younger Baghdatis.
James Duckworth – After a tough loss, one of the ATP reps (Edward) asked James if he would be up for an interview with me, and he said "let's do it." I definitely appreciated James's willingness to speak with me, especially after his tough match against John Isner. I interviewed him twice (the other was after his win in the quallies). He has a huge serve and very aggressive game and is climbing back up the rankings after an injury earlier in the year.
Alexandr Dolgopolov – Even though I was only able to ask 3 questions during our one-on-one interview, The Dog gave a great analysis of his win against Jordan Thompson. And he also gave me a solid handshake/dap as well, which is always pretty cool to receive from a pro ("Quite the fanboy I am, solid handshake I appreciate!" – MehrYoda).
Jordan Thompson – The young Australian has been moving up the ranks and is currently at #93. He is another guy that brought great energy to our interview, which took place shortly after he soundly defeated Victor Estrella-Burgos.
Nicest Female Player
Alla Kudryavtseva
The toughest part about this interview was pronouncing Kudryavtseva's name correctly. I asked a couple members of the media for help, practiced Alla's name out loud several times, and then asked her how to pronounce her name before the interview (it was different that what everyone told me….doh!).
Alla was extremely easy to talk to. We discussed everything from her career to losing her cell phone in the gym (thanks, twitter!), and why tennis players should keep their strokes compact and simple.
We had a lot of laughs together, and much like with Vasselin, I felt like I was talking to some random cool person who I had just met off the street (er, tennis court!). Alla made it through the quallies, then lost a tough match to Sam Stosur.
Runner-Up
Risa Ozaki
Japanese tennis pro Risa Ozaki was afraid to speak on camera, but she ended up giving it her best effort and I enjoyed interviewing her. Since Ozaki is not super-comfortable with speaking English, I tried to help her by clarifying some things that she said. This included when I asked her the key to beating Sloane Stephens, and she replied "she was….not too good."
I quickly jumped in and clarified, "not playing too well?"  I didn't want Tennis Files to be the source of a WTA feud!  Even funnier was when I held my hand out for a hand shake for a few seconds and nearly got rejected! Not her fault, I don't think she saw my hand out there at first (or maybe I held it out long enough that she couldn't ignore it! haha).
Ozaki racked up great results at this year's Citi Open. The world #126 reached the quarterfinals of singles and the finals of doubles with compatriot Shuko Aoyama.
Honorable Mention
Camila Giorgi – Giorgi hits every ball as hard as she can, and has a lot of fans for obvious reasons. She was nice enough to speak with me after regrouping for about 30 minutes following a tough loss against eventual finalist Lauren Davis. Camila was very professional during the interview, and while I felt like she was in a bit of a rush, the Italian pro provided solid answers about what she needs to improve to keep moving up the rankings on the WTA tour.
Press Conferences at the Citi Open
I also had the privilege of participating in the press conferences that the Citi Open held for some of the high-profile players. It was interesting to be in a room full of reporters and journalists, asking questions to the players alongside them.
Below are some of the press conferences I was able to attend, when Victor and I weren't busy prepping, waiting, or recording the one-on-one interviews:
Gael Monfils – Champion
Ivo Karlovic – Runner-Up
Edouoard Roger-Vasselin – Champion (doubles)
Tomas Berdych – withdrew (but still held a press conference on Monday)
Thanks to my Photographer!
It would be outrageous of me not to thank my photographer and best friend, Victor, for all his help. He definitely made my job easier, as he set up the camera to record the interviews, and perfectly timed the start/stop of the recordings, which made the editing and publishing process a lot easier for me.
Last year, I would hurriedly set up my camera, press the record button way in advance, flip the LCD so that the player and I could see it and get in the picture, and then start the interview. That's a lot of extra seconds that I would eventually cut out of the video. This year, my man Victor did it all, and also took some amazing pictures of the players that I used for my daily Citi Open posts.
Final Thoughts
I am grateful for having the opportunity to interview many of the best tennis players in the world, and to watch and learn from everything they do. Creating Tennis Files and The Tennis Files Podcast has opened up a lot of doors for me, and being a member of the media at the Citi Open, with access to the players and a lot of perks (in exchange for working long but fun hours!) has been one of the best of them so far!
The Citi Open is a fantastic tournament, and I cannot wait until it comes back next year! I'll probably end up covering a couple other pro tournaments before next year's Citi Open. I don't know if I'll do 20+ interviews again, but we'll see what happens!
Which interview was your favorite? Let me know by checking out my interviews above or on my Citi Open page and Youtube channel and leave a comment below!