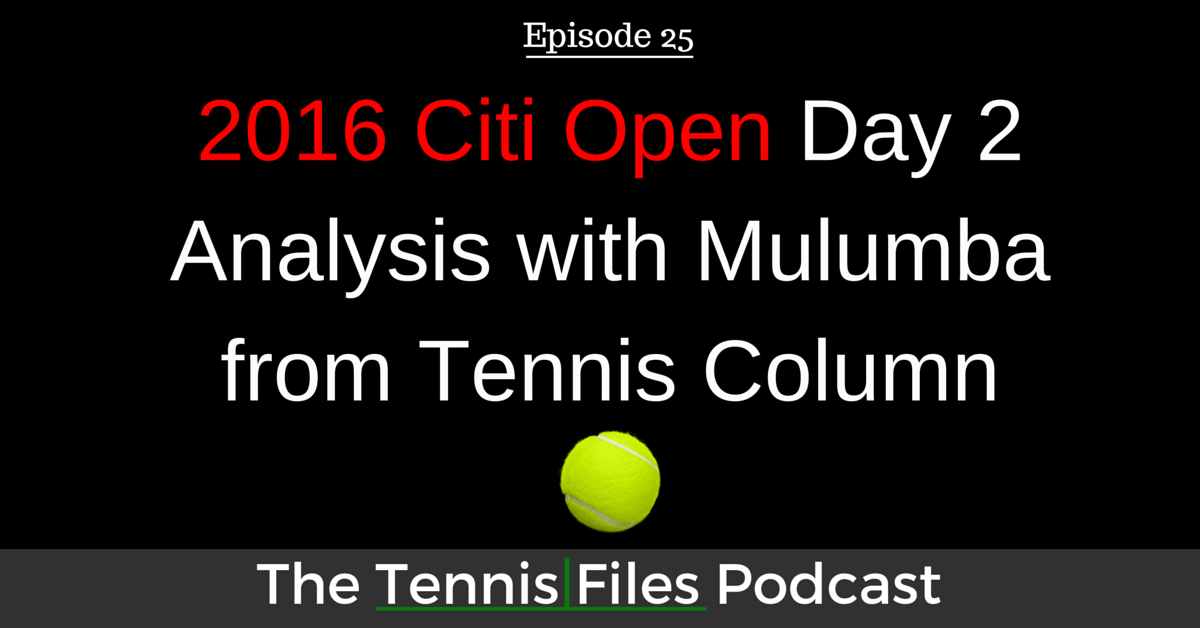 On this episode, I spoke with Mulumba from Tennis Column about the action at the 2016 Citi Open up to the 2nd day of the main draw (Tuesday). I met Mulumba last year in the Citi Open media tent. It was the first time both of us reported on the event, and I was extremely impressed by Mulumba's knowledge of the players on the ATP and WTA tour. Fast-forward to 2016: I knew Mulumba would be the perfect person to talk to about the matches at the Citi Open.
I asked Mulumba about his thoughts on the performances of several players in the tournament so far.  You'll hear everything from interesting backstories on players, to technical critiques, and our picks for who will win the Citi Open this year.  I plan on connecting with Mulumba again for another episode during the tournament.
On this episode, you will learn:
The results from the Citi Open from qualifying up until Tuesday night's action
The best and worst performances from the players at the Citi Open
A technical analysis of several player's strokes from the tournament
Why Mulumba thinks the window of opportunity is closing on several players
Why Berdych gets an unfair rap from the tennis community
Insider exclusives from the Citi Open press conferences and interviews
Which players I interviewed at the Citi Open
and more.
Many thanks to Mulumba, who spoke to me until well past midnight after a long day at the Citi Open!
Subscribe to automatically download new episodes

Click this icon, click the blue "View in iTunes" button, then hit "Subscribe."
Or hit the subscribe button in your favorite podcast app!
Links Mentioned in This Episode
Tomas Berdych Press Conference
Mulumba's 2016 Citi Open Draw Preview
Mulumba's piece about John Henry
My interviews and Press Conferences at the Citi Open
If you enjoyed listening to the show, share this episode with a friend using the share buttons above or below this post! Thanks for listening!