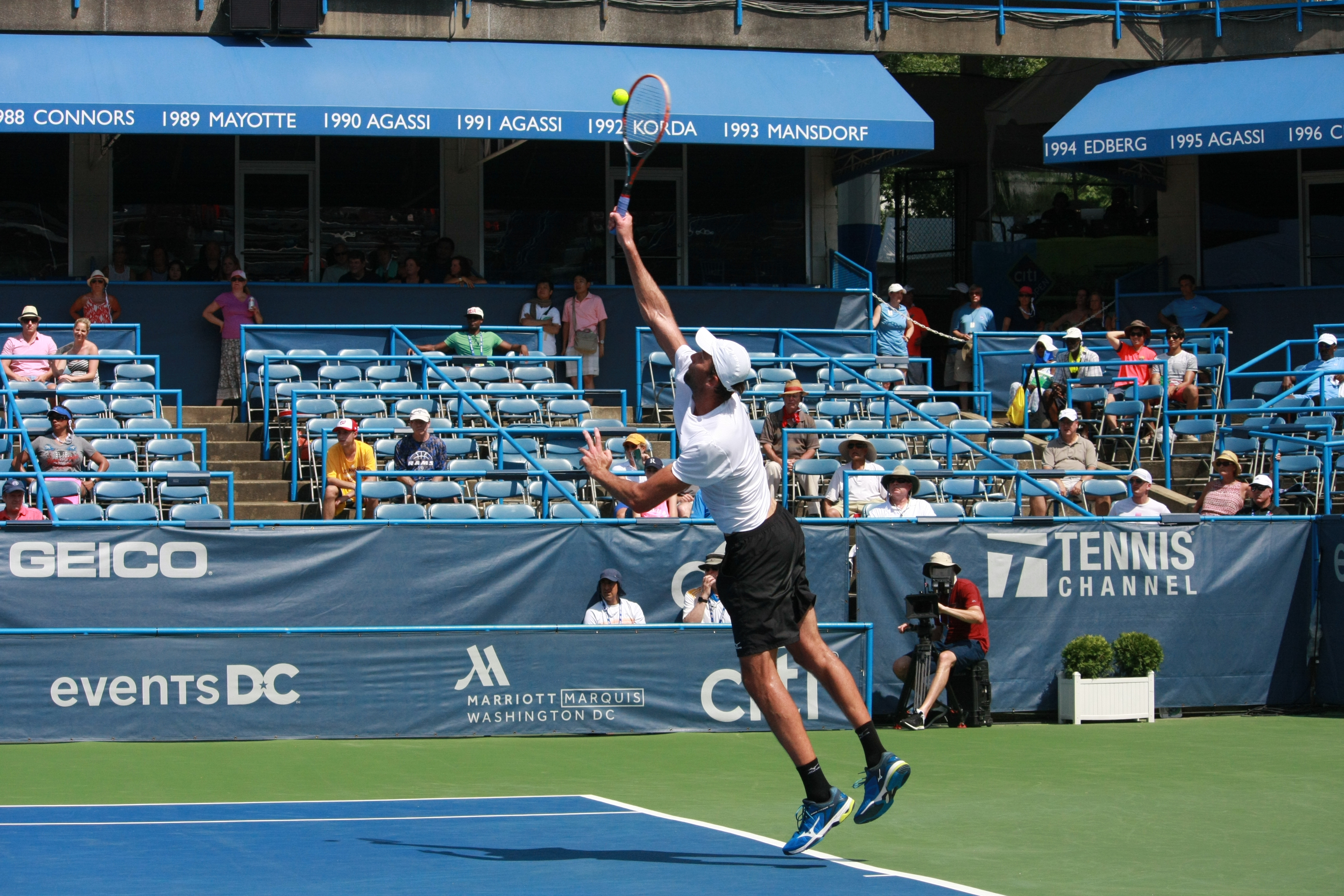 Ivo Karlovic is 37 years old. That's a year older than Agassi when he retired because of sciatica. Six years after Sampras called it quits. And the 6'11" Croatian is not only still kicking, but he will have a shot at winning his first ATP 500 event against the dynamic Frenchman Gael Monfils on Sunday after defeating American Steve Johnson 6-4, 6-4 in the semifinals of the 2016 Citi Open.
How does Ivo keep claiming the scalps of the elite on the ATP tour? First and foremost, there is no denying the fact that Karlovic's longevity and success relies heavily on his monster serve. The Croat set the record for most aces in 2015, and has racked up a shade under 11,000 unreturnable serves (10,695, to be exact).
How luxurious it is to smack a serve and win points without any additional effort. If you can win most of your points with one swing of the racquet, like Karlovic, you will do big things in this game. Efficient, effective, and devastating.
Karlovic has mastered the most prized shot in tennis, consistently both the catalyst and finisher of rallies to but a few of the game's elite, to be his lethal weapon.
When faced with the Karlovic missile launch, most of his opponents, including Johnson, can do little but muster a half-lunge by the time the ball has bounced off the back covering of the court.
But Karlovic's long and successful career doesn't solely depend on his serve: the Croat's ability to stay injury-free and implement the right game plan to optimize his chances of victory may be his most important skill of all.
I conducted a one-on-one interview with Karlovic (thanks to Josh from atpworldtour) on Saturday afternoon after his press conference with the media about his semifinal win over Johnson.
Karlovic gave me his insights on just how crucial taking care of his body is for maximizing his performance and years on the tour.
"As you get older, you also have a lot more injuries, so i learned that I have to do a lot more work in the gym and in the track not to get injured.  I'm doing a lot more work now than i ever did. And that pays off in the matches."
While most people taper off their routines as they get older, the amazing and admirable thing about Karlovic is that he has the drive, willpower, and discipline to keep improving his game so that he can continue to compete against the best tennis players in the world.
Some players become flustered when trying to figure out what exactly it is that they need to work on to ensure they keep themselves in the best shape possible. Fortunately, Karlovic knows exactly what it takes to keep him on the court, confidently and consistently performing at his very best.
"I do a lot of gym, a lot of weights, and exercises for my back, knees, and elbow. Everything that I have had issues with in the past. It's a lot of work."
Karlovic, much like his own stature, has a tall task ahead of him against Monfils, who is one of the best returners in the game.
Not as many of Karlovic's devastating service bombs may get past Monfils, but the world #35 (unofficially #27 as of today) knows his game, his limitations, and what he needs to do to claim his first ATP 500 title.
"I will try not to get in long rallies, because that is not my game. So i will get as close to the net as I can, and hopefully I will volley well and that will be it."
Karlovic has split four matches against Monfils, a 6-4, 6-0 winner over a dehydrated Alexander Zverev in the semifinals, during their careers. But Karlovic has seven inches and 8 years on the Frenchman.
And if he can serve and volley with the same intensity, dedication, and focus that he has used to thrive against the game's elite for the past 17 years, he just might win his first ATP 500 title, too.