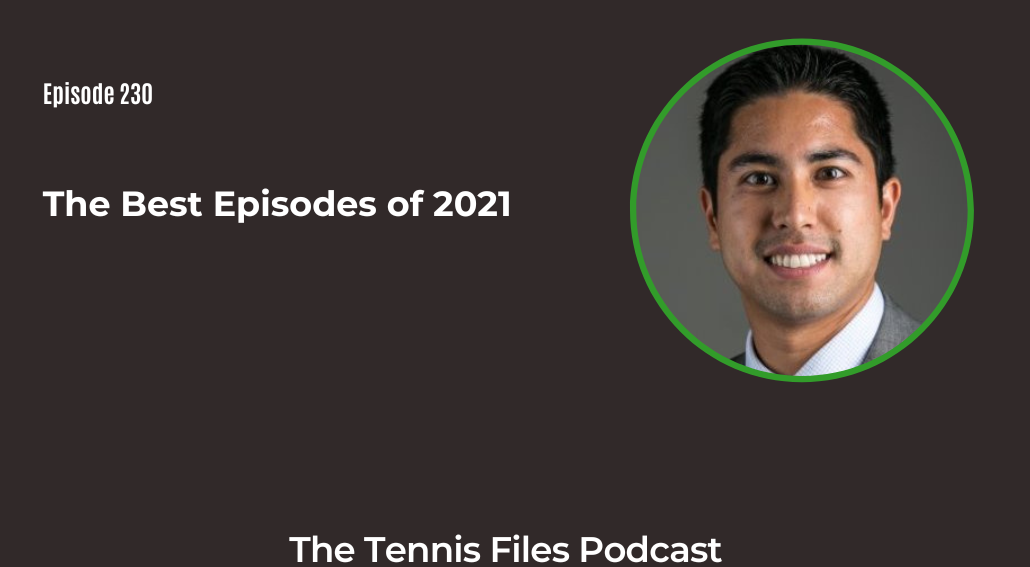 On Episode 230 of The Tennis Files Podcast, we look back at the top tips and advice from my podcast guests in 2021!
For this special episode, I went through my podcast platform, found the most downloaded episodes of the show this year and selected the best tips and advice from my awesome guests which include world-class coaches, tennis experts, and elite players. You'll learn their secrets for retooling your strokes, developing a consistent contact point, how to develop your serve technique, how to improve your focus on the ball, how to train properly to reach your potential, the best warm-up exercises, how to play well under pressure, how to hit more spin on your second serve, and much more!
I really hope you enjoy this episode! If you learned something useful from it, let me know in the comments below.
And be sure to subscribe to Tennis Files to receive the latest tennis content to improve your game straight to your inbox.
Subscribe to automatically download new episodes!

Click the icon above, click the blue "View in iTunes" button, then hit "Subscribe."

Or hit the subscribe button in your favorite podcast app!
Right Click Here to Download the MP3
Links Mentioned in the Show
TFP 214: How to Develop a Great Base of Tennis Fundamentals: Steve Smith
TFP 216: Why the Contact Point Determines Your Success: Vesa Ponkka
TFP 205: Dr. Mark Kovacs — Serve and Backhand Technique Q&A
TFP 210: Serve Technique Masterclass with James Ludlow
TFP 215: How to Watch the Ball and Scan Your Opponent
TFP 186: How to Think, Train, and Compete to Your Potential with Beau Treyz
TFP 218: How to Warm-Up and Strength Train for Tennis with Dean Hollingworth
TFP 204: How to Play Your Best Tennis with Jeff Greenwald
Podcasts:
Check Out All My Podcasts Here!
Check Out All My Podcasts on Apple Podcasts!
My Youtube Channel!
Tennis Files Youtube Channel - Subscribe! You know you want to 😉
Note: Some of the links above are affiliate links, so if you make a purchase after clicking, I'll make a small commission that will help support the podcast. Thanks either way!
If you enjoyed this episode, subscribe to The Tennis Files Podcast in iTunes or your favorite podcast app!
For more tips on how to improve your tennis fitness, subscribe to my newsletter and download a free copy of my free eBook, The Building Blocks of Tennis Success below! Thanks for listening!