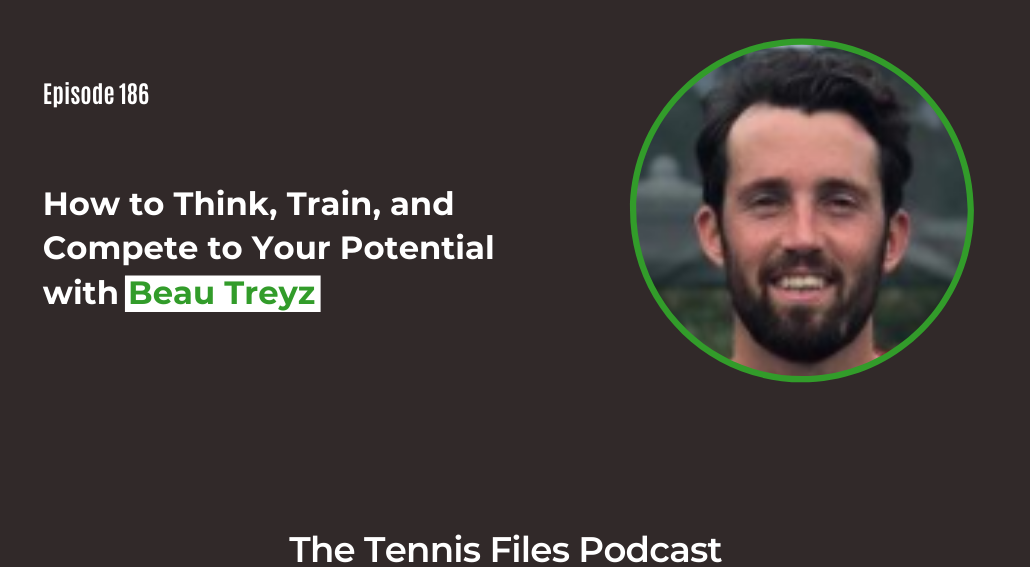 On Episode 186 of The Tennis Files Podcast, I spoke with ATP Pro tennis coach and author Beau Treyz about how approaching tennis from a more analytical and data-based perspective can help you breakthrough and reach your tennis potential.
Beau is the author of "How To Tennis: Think Train and Compete to your Potential." He played Division I tennis at the University of Nebraska and North Florida and achieved a world ranking on the ATP tour. He previously coached ATP Pro Brandon Nakashima and currently coaches ATP Pro Patrick Kypson.
On the show, you'll learn Beau's data-based approach to creating optimal tennis strategy, how to practice smarter, on-court drills to improve your match-play, key principles from Beau's new book, the concept of performing what wins the most points, how to analyze your matches, what separates the top 100 players from lower-ranked pros, and much more!
I hope you enjoy my interview with Beau! Let us know what you think about this episode in the comments below!
And be sure to subscribe to Tennis Files to receive the latest tennis content to improve your game straight into your inbox!
Subscribe to automatically download new episodes!

Click the icon above, click the blue "View in iTunes" button, then hit "Subscribe."

Or hit the subscribe button in your favorite podcast app!
Right Click Here to Download the MP3
Links Mentioned in the Show
How To Tennis: Think Train and Compete to your Potential
Podcasts:
Check Out All My Podcasts Here!
Check Out All My Podcasts on Apple Podcasts!
My Youtube Channel!
Tennis Files Youtube Channel - Subscribe! You know you want to 😉
Note: Some of the links above are affiliate links, so if you make a purchase after clicking, I'll make a small commission that will help support the podcast. Thanks either way!
If you enjoyed this episode, subscribe to The Tennis Files Podcast in iTunes or your favorite podcast app!
For more tips on how to improve your tennis fitness, subscribe to my newsletter and download a free copy of my free eBook, The Building Blocks of Tennis Success below! Thanks for listening!