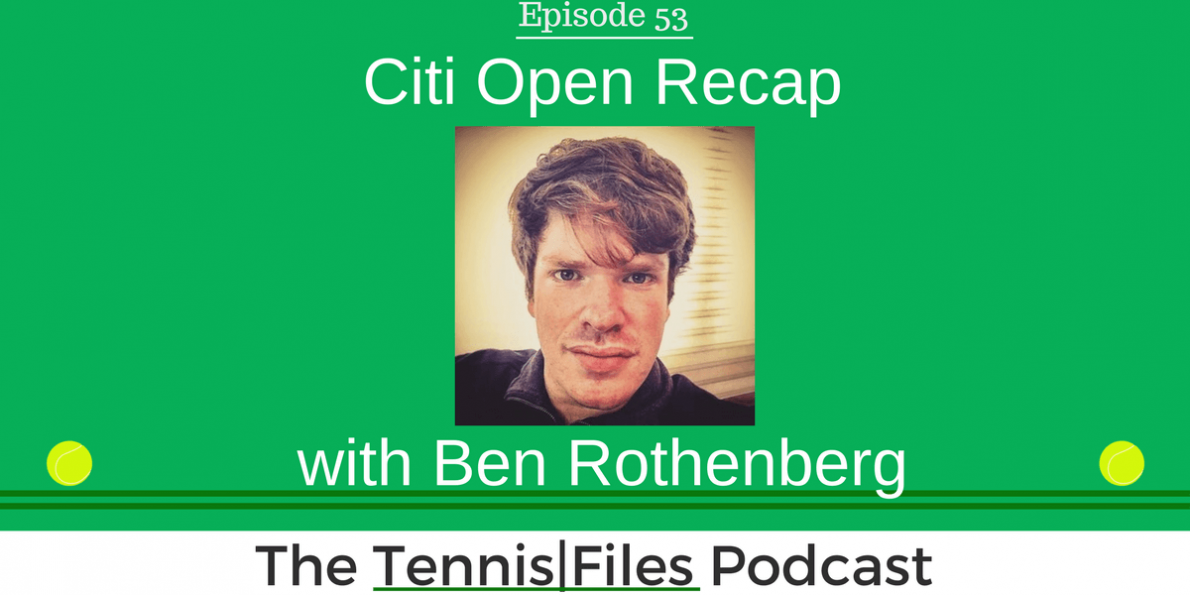 On today's episode, Ben Rothenberg, New York Times Writer and host of the No Challenges Remaining Podcast, recapped the 2017 Citi Open with me on championship Sunday. Ben travels the globe to cover tennis tournaments, and he is one of the most knowledgeable journalists in the world about the ATP and WTA tours.  One thing I didn't know about Ben is how excellent of a spelling bee contest host he is when it rains at tennis tournaments 🙂
Ben and I discussed the most impressive players of the tournament, the championship matches featuring Alexander Zverev, Kevin Anderson, Ekaterina Makerova and Julia Goerges, controversies at the Citi Open (Jack Sock "worst court on the tour" cough cough), and other interesting factoids about the men's and women's tours.  I definitely had a blast hearing the opinions and insights from Ben, and I know you will enjoy the interview, especially if you like hearing the latest about the ATP and WTA.
I hope you enjoy my interview with Ben, and let me know what you think in the comments below!
Time-Stamped Show Notes
[2:48] General thoughts about the 2017 Citi Open
[3:55] Biggest surprise of the tournament
[5:03] Most impressive players on the women's side
[6:37] Effect of the long schedule on the seeded players' poor performances
[7:22] Dimitrov's early upset and Medvedev's confrontation with Johnson
[10:05] Jack Sock calls Citi Open's stadium court the worst court on tour
[12:21] Assessing Sock's mental toughness and future potential
[13:59] An impressive run to the finals for Kevin Anderson
[15:37] Hardest working pros on tour
[16:48] When do players get paid appearances fees to play in tournaments?
[21:00] The Kontinen/Peers vs Melo/Kubot championship match and Melo coaching Zverev
[22:30] The future of the Bryan Brothers
[24:03] Thoughts on Julia Goerges and her solid run to the finals
[24:34] Ben's crazy travel schedule to cover pro tournaments
[26:30] No Challenges Remaining podcast
[27:46] Where we can find Ben on social media
Subscribe to automatically download new episodes!

Click this icon, click the blue "View in iTunes" button, then hit "Subscribe."

Or hit the subscribe button in your favorite podcast app!
Right Click Here to Download the MP3
Links Mentioned in the Show
Tennis Files Youtube Channel – Check out the vlogs and interview I did at the Citi Open!
No Challenges Remaining Podcast
If you enjoyed my interview with Ben, subscribe to The Tennis Files Podcast in iTunes or your favorite podcast app!
And be sure to check out my vlogs and player interviews at the 2017 Citi Open on my Youtube Channel!
For more tips on how to improve your game, download a free copy of my eBook, The Building Blocks of Tennis Success below! Thanks for listening!