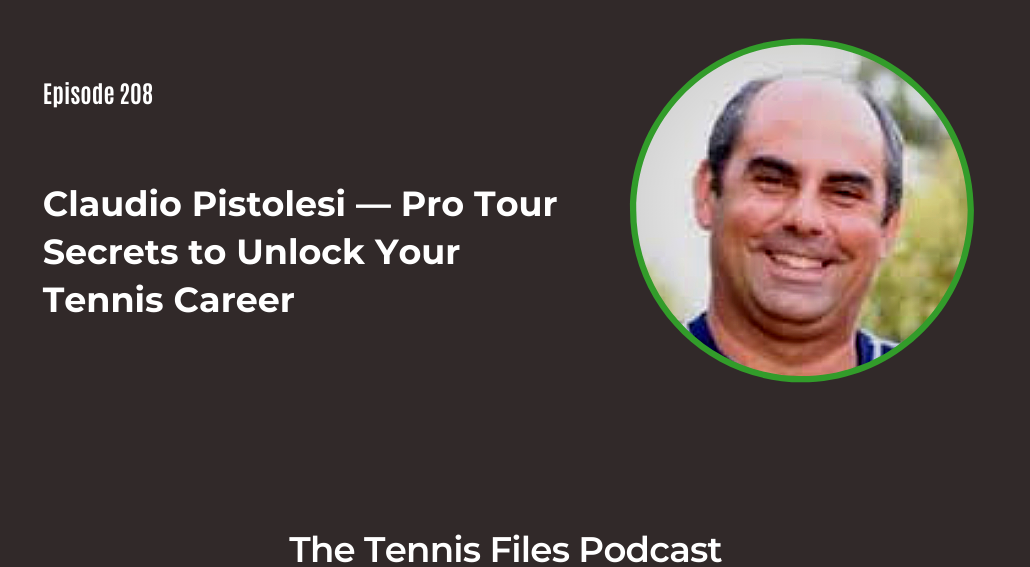 On Episode 208 of The Tennis Files Podcast, pro tennis coach Claudio Pistolesi reveals his top insights from over four decades of playing and coaching on the ATP/WTA Tour that will help you reach your fullest tennis potential.
Claudio is the Director of the Junior Tennis Champions Center (JTCC) Bolles in Jacksonville, Fl. He ranked as high as #71 on the ATP Tour. He trained and coached many top ATP/WTA Tour pros, including Monica Seles, Robin Soderling, Simone Bollelli, Daniela Hantuchova Takao Suzuki and AI Sugiyama. He is also a volunteer coach for the University of North Florida Tennis Team.
On the show, you'll learn why Italy has so many top #100 ranked tennis players, how the sound of an Italian cannon helped develop a world class serve, how Claudio got in the zone and defeated world #1 Mats Wilander, how he brought Simone Bolelli from world #248 to #36 in less than three years, why empathy is the key to success in coaching, and much more!
I hope you enjoy my interview with Claudio! Let us know what you think about this episode in the comments below!
And be sure to subscribe to Tennis Files to receive the latest tennis content to improve your game straight to your inbox!
Subscribe to automatically download new episodes!

Click the icon above, click the blue "View in iTunes" button, then hit "Subscribe."

Or hit the subscribe button in your favorite podcast app!
Right Click Here to Download the MP3
Links Mentioned in the Show
Global Professional Tennis Coach Association
Match Play and the Spin of the Ball
Email Claudio at cpistolesi@jtcc.org
Podcasts:
Check Out All My Podcasts Here!
Check Out All My Podcasts on Apple Podcasts!
My Youtube Channel!
Tennis Files Youtube Channel - Subscribe! You know you want to 😉
Note: Some of the links above are affiliate links, so if you make a purchase after clicking, I'll make a small commission that will help support the podcast. Thanks either way!
If you enjoyed this episode, subscribe to The Tennis Files Podcast in iTunes or your favorite podcast app!
For more tips on how to improve your tennis fitness, subscribe to my newsletter and download a free copy of my free eBook, The Building Blocks of Tennis Success below! Thanks for listening!