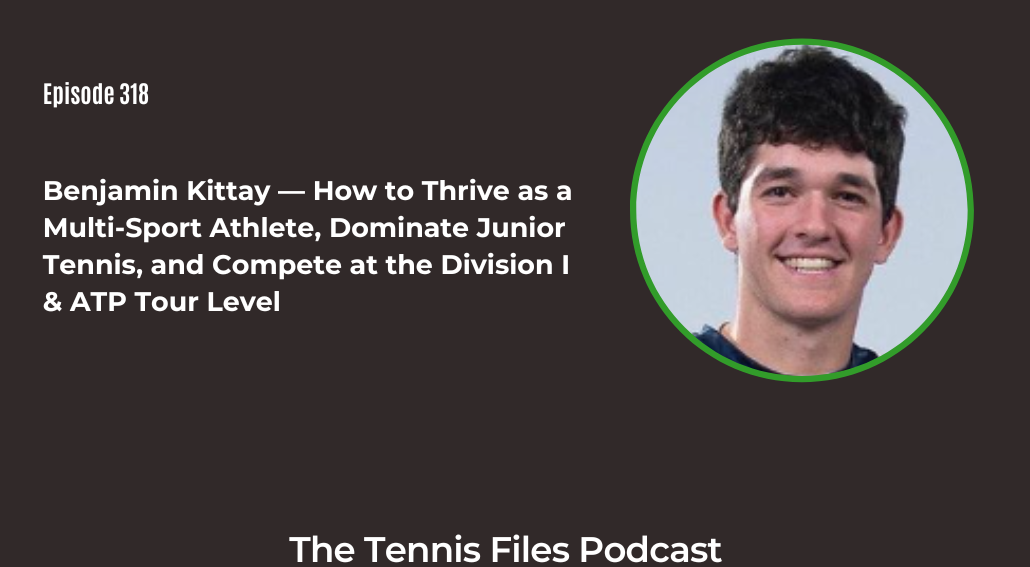 On Episode 318 of The Tennis Files Podcast, you'll learn how to thrive as a multi-sport athlete, dominate junior tennis, and compete at the Division I & ATP Tour Level with Benjamin Kittay.
Benjamin currently plays Division I college tennis at The University of North Carolina. He reached as high as No. 32 in the ITA doubles rankings and finished the year ranked No. 39. Benjamin was ranked #1 in Maryland in the juniors. He also reached the Round of 32 in the 2023 NCAA Doubles Championships. Benjamin won five TF Junior Singles & Doubles titles and is an ATP ranked player on the Pro Tour. He was also a catcher during the MLB lockout.
On the show, you'll learn how Benjamin managed to play both tennis and baseball at the highest level, his experience playing Division I college tennis at UNC vs on the ATP Tour, the most important technical changes he's made in his game, how he lost 20lbs by dedicating himself to fitness, and much more!
I hope you enjoy my interview with Benjamin! Let us know what you think about the episode in the comments below!
And be sure to subscribe to Tennis Files to receive the latest tennis content to improve your game straight to your inbox!
Subscribe to automatically download new episodes!

Click the icon above, click the blue "View in iTunes" button, then hit "Subscribe."

Or hit the subscribe button in your favorite podcast app!
Right Click Here to Download the MP3
Links Mentioned in the Show
30 College Tennis Coaches Reveal Top Character Traits of Successful Student-Athletes
Podcasts:
Check Out All My Podcasts Here!
Check Out All My Podcasts on Apple Podcasts!
My Youtube Channel!
Tennis Files Youtube Channel - Subscribe! You know you want to 😉
Note: Some of the links above are affiliate links, so if you make a purchase after clicking, I'll make a small commission that will help support the podcast. Thanks either way!
If you enjoyed this episode, subscribe to The Tennis Files Podcast in iTunes or your favorite podcast app!
For more tips on how to improve your tennis fitness, subscribe to my newsletter and download a free copy of my free eBook, The Building Blocks of Tennis Success below! Thanks for listening!