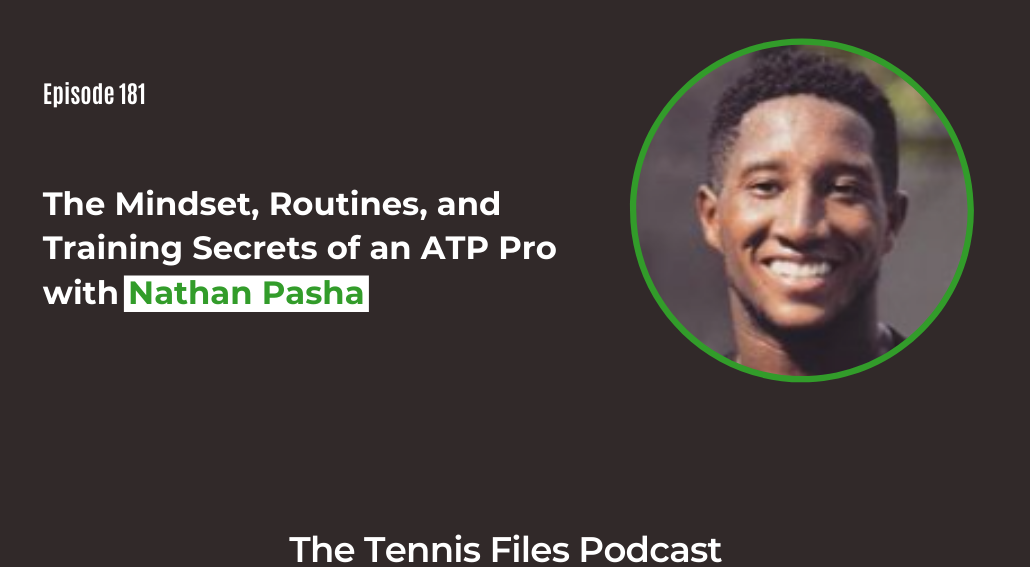 On Episode 181 of The Tennis Files Podcast, I spoke with ATP Pro Nathan Pasha about how you can elevate your training, mindset, routines and technique.
Nathan has been ranked as high as #119 in the world in doubles and #507 in singles on the ATP Tour. Before turning pro, Nathan played college tennis at the University of Georgia where he reached #19 in the nation and UGA was ranked as high as #2. Nathan is now focusing his efforts exclusively on mastering doubles and is poised to crack the top 100. He also maintains a website at nathanpasha.net where he shares his tournament results, travel experiences, achievements, and tennis insights.
On the show, you'll learn how to prepare for your matches like a pro, what to do in-between points to stay focused, how self-awareness plays a huge part in your tennis development, how Nathan analyzes his matches and creates practice plans based on his observations, technique fundamentals for the flex volley, the key change that Nathan made to his serve technique to gain more spin and power, one of the most important principles to being a good tennis coach, and much more!
I hope you enjoy my interview with Nathan! Let us know what you think about this episode in the comments below!
And be sure to subscribe to Tennis Files to receive the latest tennis content to improve your game straight into your inbox!
Subscribe to automatically download new episodes!

Click the icon above, click the blue "View in iTunes" button, then hit "Subscribe."

Or hit the subscribe button in your favorite podcast app!
Right Click Here to Download the MP3
Links Mentioned in the Show
Mindset: The New Psychology of Success
Flow: The Psychology of Optimal Experience
Podcasts:
Check Out All My Podcasts Here!
Check Out All My Podcasts on Apple Podcasts!
My Youtube Channel!
Tennis Files Youtube Channel - Subscribe! You know you want to 😉
Note: Some of the links above are affiliate links, so if you make a purchase after clicking, I'll make a small commission that will help support the podcast. Thanks either way!
If you enjoyed this episode, subscribe to The Tennis Files Podcast in iTunes or your favorite podcast app!
For more tips on how to improve your tennis fitness, subscribe to my newsletter and download a free copy of my free eBook, The Building Blocks of Tennis Success below! Thanks for listening!