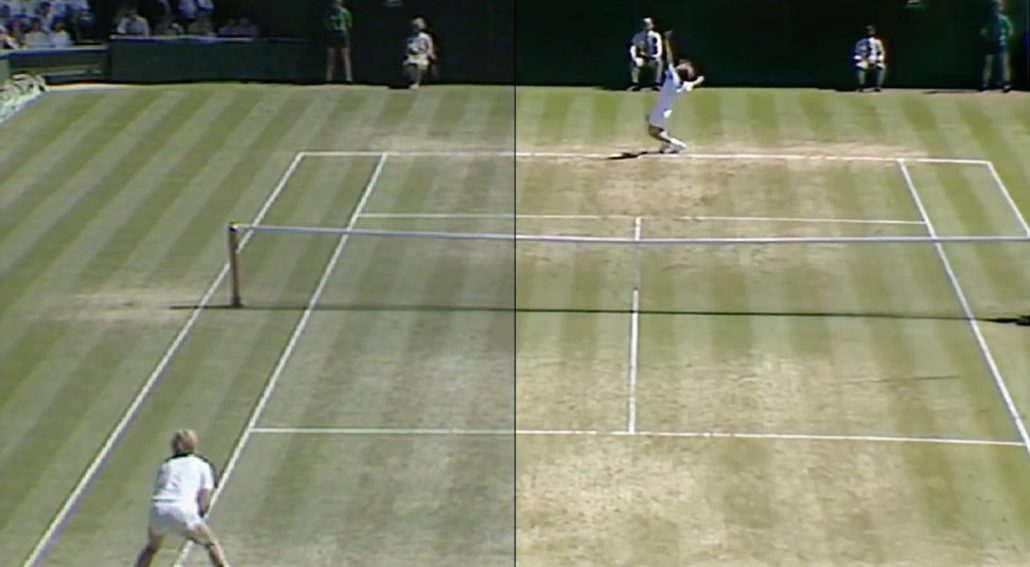 Wimbledon has taken its partnership with IBM to new heights to bring tennis fans around the globe one of the most comprehensive digital fan experiences ever created.
While the green grass at the Championships will unprecedentedly remain undisturbed by the footsteps of elite tennis professionals, referees, and ballpersons this year, Wimbledon's online platform will instead feature many of its greatest matches of all time, from Becker v. Edberg (1990) to Gauff v. Williams (2019).
But this year's Recreated Championships, which runs from June 29 to July 11, is not just your typical run of the mill archive of classic matches that you might dig up from old VHS tapes, YouTube, or even TV footage from previous Grand Slams.
Two of the most recognizable brands in the tennis and tech world have teamed up to use artificial intelligence (hello, Watson!), data, and legendary tennis battles to recreate the experience of attending a live tournament as closely as possible through Wimbledon's online platform with the following enhancements:
Impressively, IBM's AI reportedly is able to deliver a highlights package of matches in under two minutes, and has been trained to identify and catalogue excitement points by understanding the audio levels of the crowd during those points.
Thanks to IBM's tech prowess and Wimbledon's vault of many of the most classic matches in tennis history, Wimbledon Recreated is most certainly going to be the most fan-centric experience you've ever had while watching tennis on a digital platform.
I can personally vouch for the above opinion having viewed some of the matches featured on today's lineup, like the Kafelnikov vs Henman matchup from 1996 below:
The All England Lawn Tennis & Croquet Club's (AELTC) Head of Commercial and Marketing (James Ralley) and Head of Communication, Content and Digital (Alexandra Willis) made it abundantly clear on a conference call last week that Wimbledon Recreated will be free for all to watch during the fortnight, and emphasized that "it wouldn't be right to charge people to watch, especially during these trying times." Wimbledon's priority is audience reach and a complete fan experience over short-term revenues.
Last year, Wimbledon experienced a 28% increase in visits to its website (60 million) and this number will almost surely increase by a large margin in light of both the digital improvements and the current pandemic.
IBM's role in this year's Wimbledon Recreated also involved conducting several surveys which yielded critical, eye-opening information that both entities have attempted to address this year:
Ralley also commented, rather refreshingly, that "the traditional way of doing things will make you stale, so you have to find a new way" and "hoping for the best is not a strategy; you have to be able to plan and look at every single scenario."
Wimbledon's longstanding partnership with IBM, dating back to 1990, has proved an especially fruitful one resulting in a Recreated Championships that has successfully adapted to the new world we are currently living in; a necessary skill that must be learned and adopted by us all whether or not we can wield a tennis racquet against friend or foe.
You can watch all the classic matches featured on this year's digitally-hosted Wimbledon Recreated
here
.