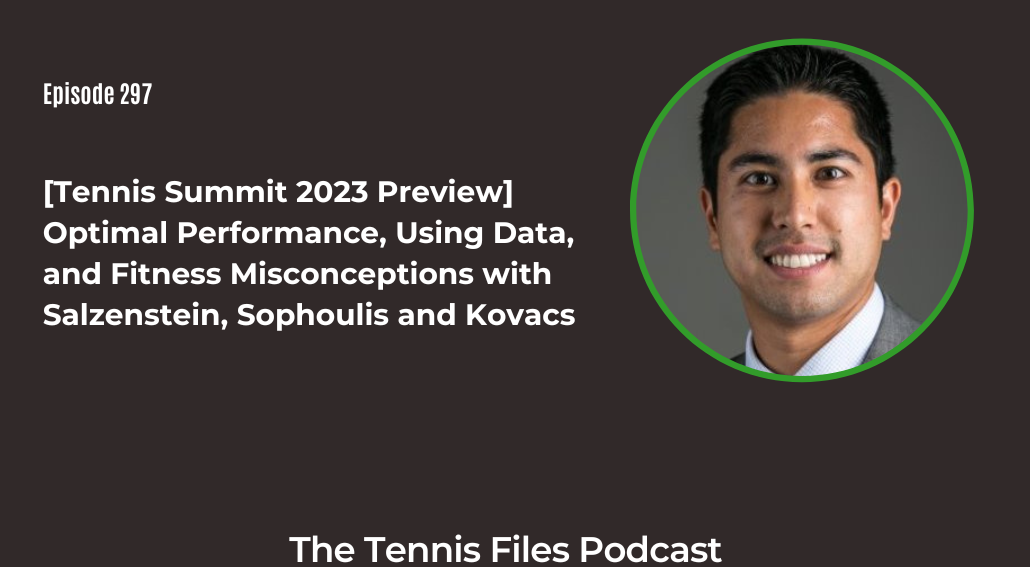 After several months of preparation and hard work, I am super excited to announce that Tennis Summit 2023, a free online tennis conference that I am hosting, is now open for registration!
From April 17-22, over 35 world class coaches and experts will reveal proven strategies, techniques, mental and fitness exercises to level up your game. And the most awesome thing of all is you can get your ticket to watch all these online lessons, presentations and live masterclasses for free (for a limited time) at tennisfilessummit.com!
For today's podcast episode, I put together a preview of three summit sessions: (1) Jeff Salzenstein on optimal performance, (2) Marc Sophoulis on how to use data to level up your game, and (3) Dr. Mark Kovacs on the most important fitness misconceptions for adult players.
To watch the full length version of these sessions and all 40+ summit masterclasses, sign up for Tennis Summit 2023 ASAP at tennisfilessummit.com!
I hope you enjoy this episode of the podcast, and I look forward to seeing you at Tennis Summit 2023!
Subscribe to automatically download new episodes!

Click the icon above, click the blue "View in iTunes" button, then hit "Subscribe."

Or hit the subscribe button in your favorite podcast app!
Right Click Here to Download the MP3
Links Mentioned in the Show
Podcasts:
Check Out All My Podcasts Here!
Check Out All My Podcasts on Apple Podcasts!
My Youtube Channel!
Tennis Files Youtube Channel - Subscribe! You know you want to 😉
Note: Some of the links above are affiliate links, so if you make a purchase after clicking, I'll make a small commission that will help support the podcast. Thanks either way!
If you enjoyed this episode, subscribe to The Tennis Files Podcast in iTunes or your favorite podcast app!
For more tips on how to improve your tennis fitness, subscribe to my newsletter and download a free copy of my free eBook, The Building Blocks of Tennis Success below! Thanks for listening!