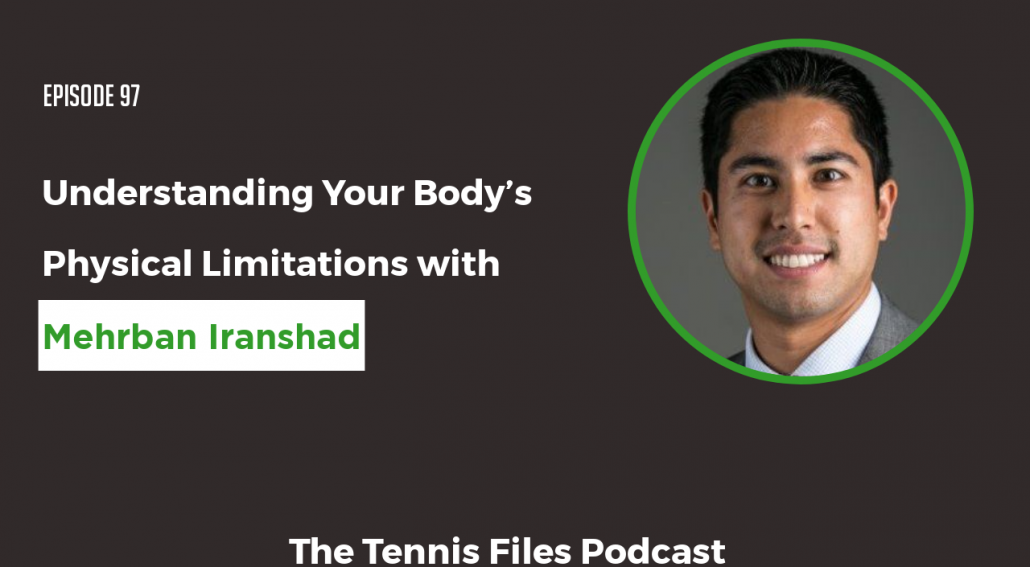 On Episode 97 of The Tennis Files Podcast, I discuss why it is so critical to understand our body's physical limitations and talk about some really helpful principles that I learned at a RacquetFit seminar that I attended recently.
Many players think they can just copy the exact strokes of the pros and hit shots like Federer, but unfortunately it isn't that simple....
We have to know our body's capabilities to achieve our true tennis potential, and this is what RacquetFit is all about. My mind was blown by what I learned at the RacquetFit seminar, and to say that I really enjoyed both learning about the body-tennis connection, taking a deep dive into the serve and meeting so many fantastic people at the event would be an understatement.
Several of the best tennis coaches and experts on the planet and podcast/summit guests such as Jeff Salzenstein, Dr. Sean Drake, Dr. Greg Rose, and Dr. Mark Kovacs are teaching the world about RacquetFit and bringing advancements from other sports to our game.
On this episode, I'll give you the inside scoop on the most important principles I learned at the RacquetFit seminar and why RacquetFit is going to change the way we coach and learn the game.
I hope you enjoy this podcast episode! Let me know what you think about it in the comments below!
Subscribe to automatically download new episodes!

Click the icon above, click the blue "View in iTunes" button, then hit "Subscribe."

Or hit the subscribe button in your favorite podcast app!
Right Click Here to Download the MP3
Links Mentioned in the Show
Resources
Books
Complete Conditioning for Tennis (2nd edition) - Dr. Mark Kovacs
Tennis Summit Links
Tennis Summit 2019 - Register for FREE today!
Related Podcasts
TFP 082: Dr. Sean Drake — RacquetFit and the Body-Tennis Connection
TFP 090: 5 of My Favorite Doubles Plays to Take Control of Matches
TFP 080: Q&A 4.5+ Edition — Re-tooling Your Strokes, Backhand Tips, Serve Consistency, Returning, Advanced Drills and More!
TFP 075: Q&A Edition — Anticipation, Fitness, Consistency, Technique and More!
Check Out All My Podcasts Here! - Podcasts Homepage
Check Out All My Podcasts on iTunes! - iTunes Tennis Files Podcast Page
My Youtube Channel!
Tennis Files Youtube Channel - Subscribe! You know you want to 😉
Note: Some of the links above are affiliate links, so if you make a purchase after clicking, I'll make a small commission that will help support the podcast. Thanks either way!
If you enjoyed this episode, subscribe to The Tennis Files Podcast in iTunes or your favorite podcast app!
For more tips on how to improve your tennis fitness, subscribe to my newsletter and download a free copy of my free eBook, The Building Blocks of Tennis Success below! Thanks for listening!
The Building Blocks of Tennis Success eBook
Subscribe to get my free eBook and learn about goal setting, training smart, proper technique, mental fortitude, the importance of competition, health and fitness, and more!
Thanks for being a valued Tennis Files subscriber! I am proud to serve you 🙂