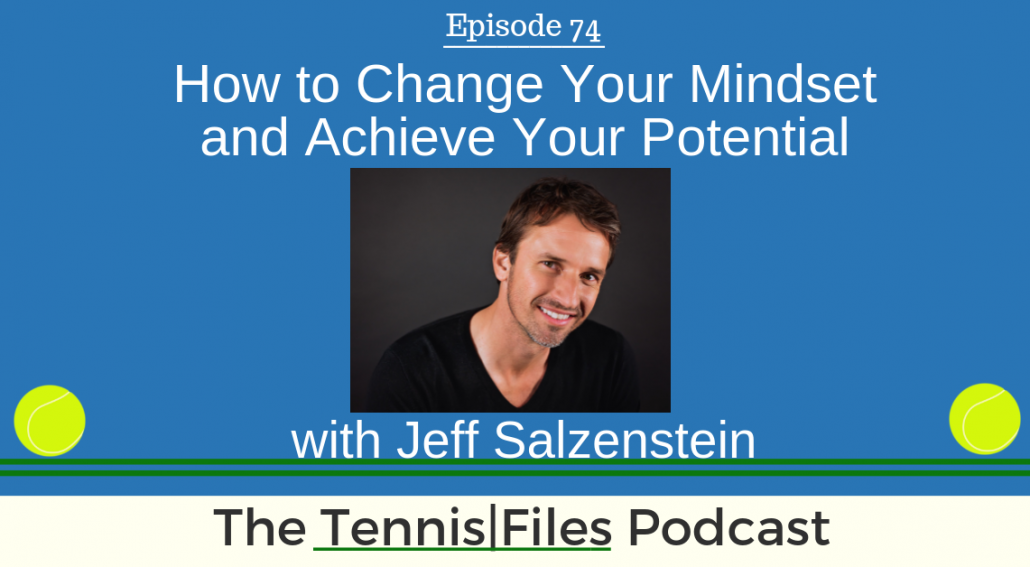 On Episode 74 of The Tennis Files Podcast, I spoke with Jeff Salzenstein about how we can achieve our potential by changing our belief system and attitudes. This is one of the most mind blowing episodes I've done so far, and contains a ton of highly actionable tips that will motivate you to make a shift in your daily habits and approach to life. Be sure to have a pen and pencil handy if you can, you're going to learn a lot from my interview with Jeff on mindset performance!
In case you don't know about Jeff, he is a former top 100 ATP Pro and one of the most well-respected tennis coaches in the game. Jeff has battled against many of the best tennis players in the world throughout his career. He has combined that experience, along with his desire to learn all he could about playing optimal tennis, to create many of the most popular online tennis courses in the world. And the very first online tennis course that I ever invested in was from Jeff! He has recently shifted his focus to mindset performance and it was awesome to bring him on the podcast once again. Jeff first made an appearance on Episode 28 of The Tennis Files Podcast.
On this episode, we talk about Jeff's famous battle with Michael Chang at the US Open, how to break through negative thought patterns, the importance of communication, surrounding yourself with positive influencers, Jeff's morning routine, and much more!
I really hope you enjoy my interview with Jeff! Let us know what you think about this episode in the comments below!
Show Notes
Jeff's 4-set battle with Michael Chang at the U.S. Open
How Jeff reached the top 100 ATP rankings and transitioned to a world-class coach
Three things most of the world doesn't know about Jeff Salzenstein
Why a person's mindset is so crucial to their performance and life success
The most common roadblocks that prevent people from achieving success on the tennis court
Why the focus on mindset is sorely lacking
Why Jeff shifted his focus to mindset performance recently
How Jeff has personally struggled with the mental game during his career
Common negative mental patterns with tennis players
Actionable tips that we can implement to improve our mental games
What we can do before tennis matches to prepare for the mental battle ahead
Mantras to help with our mental performance
How to become a high performer by asking yourself one simple question
Positive practices off-court to help develop the mental game
Why the way we communicate determines our success
Jeff's morning routine
Goal setting tips
Subscribe to automatically download new episodes!

Click the icon above, click the blue "View in iTunes" button, then hit "Subscribe."

Or hit the subscribe button in your favorite podcast app!
Tennis Summit Links
Podcast Episode Links
​If you enjoyed this episode, subscribe to The Tennis Files Podcast in iTunes or your favorite podcast app!
For more tips on how to improve your game, subscribe to my newsletter and download a free copy of my eBook, The Building Blocks of Tennis Success below! Thanks for listening!