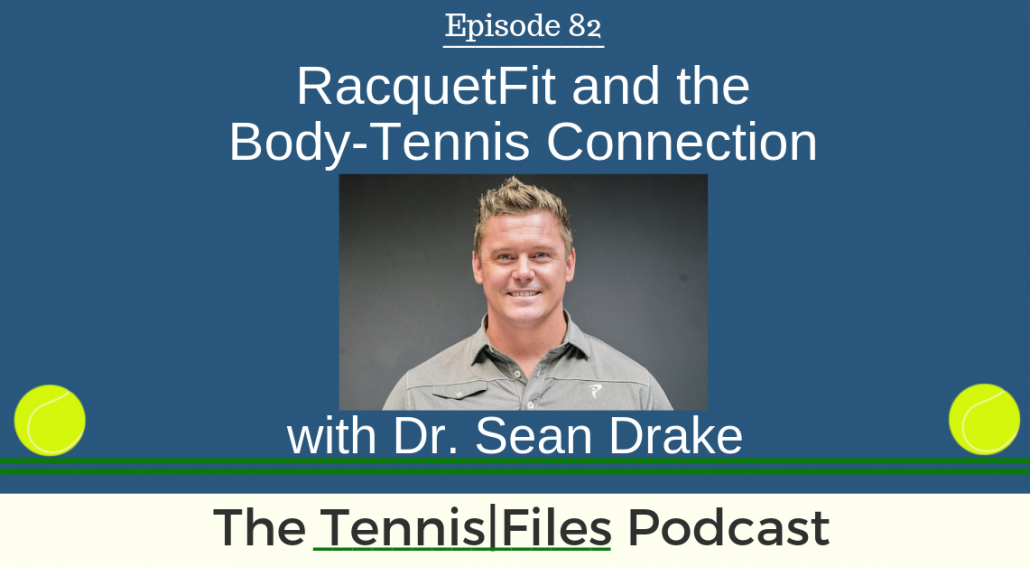 On Episode 82 of The Tennis Files Podcast, I spoke with Dr. Sean Drake about RacquetFit and the Body-Tennis connection. Dr. Drake is a world-class sports performance and medical expert who has an incredible amount of experience at the highest levels working with and treating both amateur and professional athletes in numerous sports, such as tennis, golf, and motorcross.
I first met Dr. Drake at the World Tennis Fitness Conference in Atlanta, Georgia last year, and really enjoyed his exercise demonstrations. They were really eye opening and I walked away from it very inspired to learn more about how our body functions and its impact on our tennis games. And I'm really happy and pleased that Dr. Drake made some time in his scheduled to speak with me on the podcast.
Dr. Drake has an extensive resume. He is the Vice President of RacquetFit, and has a Masters in Sports Health Science with an emphasis in Sports Injury Management. Dr. Drake also has a Doctorate in Chiropractic from Life University in Atlanta (which is where the iTPA World Tennis Fitness Congress has been held the past several years).
He holds numerous additional professional certifications including Certified Chiropractic Sports Physician (CCSP) from the American Academy of Chiropractic Sports Physicians, Performance Enhancement Specialist (PES) with the National Academy of Sports Medicine, and a Graston Technique Certification.
Dr. Drake also specializes in performance for athletes, runs multiple chiropractic clinics, and has been the Medical Director for the UCI BMX Supercross World Cups and Nitro Circus World Games. Phew, that's a a lot of awesome experience!
On this episode, Dr. Drake gives us a ton of great advice on how players and coaches alike can improve their knowledge in the arena of sports performance and injury prevention, and how learning RacquetFit's principles can take your game and coaching skills to the next level.
I really hope you enjoy my interview with Dr. Drake (he probably wished I called him Sean in this post, but I feel extra respectful today 🙂 )! Let us know what you think about this episode in the comments below!
Show Notes
Biggest concerns when watching amateur tennis players play and train
The most common injuries or potential injuries that amateur tennis players are prone to, and tips to avoid them
Advice for tennis players to increase their mobility and how much we should train our mobility
How to decide if a player, who has physical limitations, should be working on those limitations (i.e. get more flexible/mobile) versus changing their technique or strategy to work around those limitations
What is RacquetFit and how can it help coaches and players improve their knowledge of the game
The importance of the body-tennis connection
RacquetFit's organization and the world-class team behind it
Upcoming RacquetFit seminars and trainings
Three books Dr. Drake would gift to a friend to help them become more fit
Favorite apps Dr. Drake suggests for coaches and players
The message that Dr. Drake would write on a huge billboard for everyone to see
A key tip to help you improve your tennis fitness
Subscribe to automatically download new episodes!

Click the icon above, click the blue "View in iTunes" button, then hit "Subscribe."

Or hit the subscribe button in your favorite podcast app!
Note: Some of the links above are affiliate links, so if you make a purchase after clicking, I'll make a small commission that will help support the podcast. Thanks either way!
​If you enjoyed this episode, subscribe to The Tennis Files Podcast in iTunes or your favorite podcast app!
For more tips on how to improve your tennis fitness, subscribe to my newsletter and download a free copy of my Tennis Fitness Workout Guide below! Thanks for listening!
Get Your Free Tennis Fitness Workout Guide!
Sample workouts to improve your strength, power, endurance, and performance on the court. Enter your first name and email to download your free tennis fitness workout guide now!