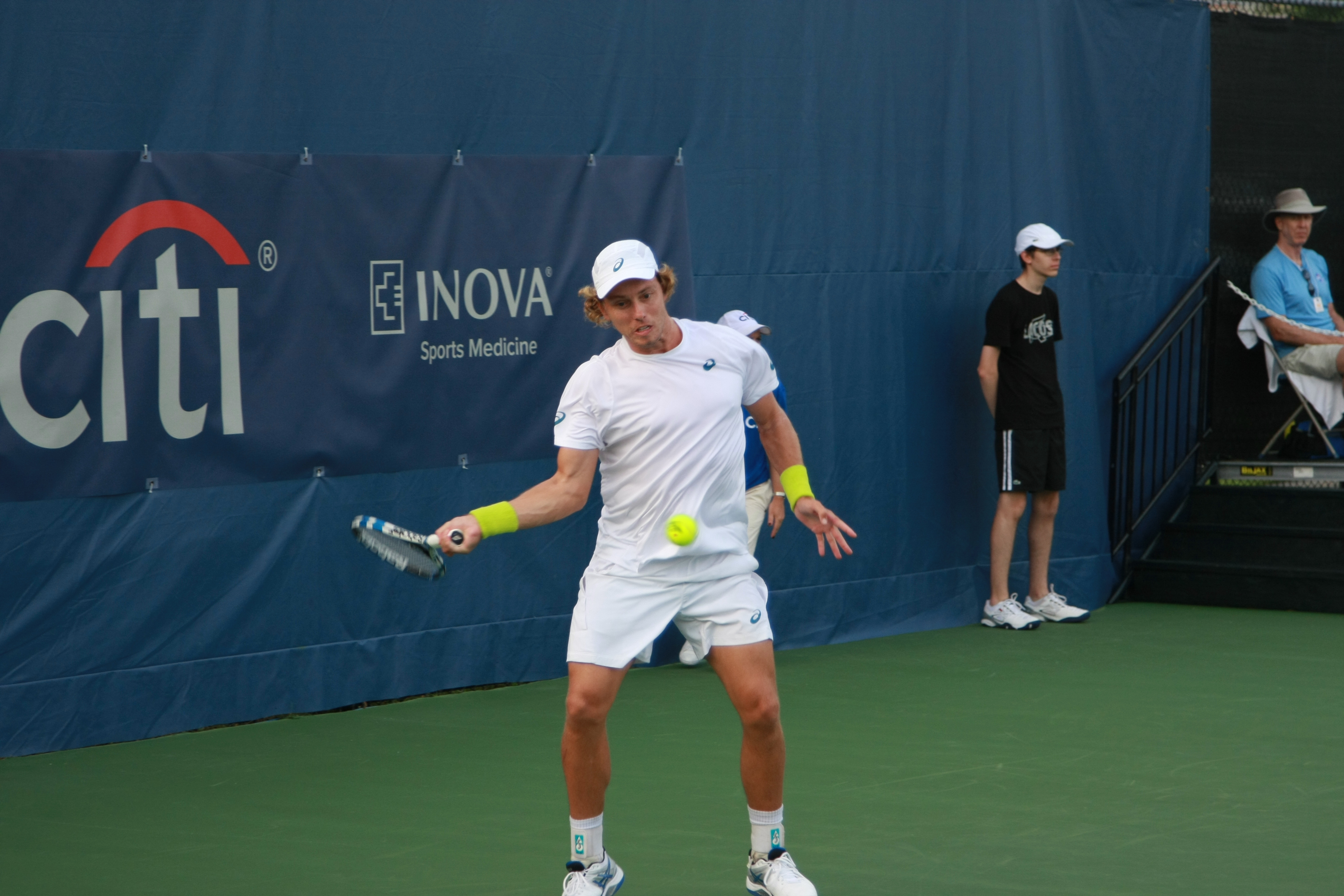 By Monday, James Duckworth had already recorded his third victory at the 2016 Citi Open. The Australian pro imposed his huge serve and aggressive game over #120-ranked American Tim Smyzcek in the first round of the main draw, winning 7-5 6-1.  The Sydney-born pro pushed Kei Nishikori to three sets here last year, and spoke about how much he favors the conditions in DC.
"I love this tournament.  It is fast and bouncy, and I'm able to use my serve. There aren't many better tournaments condition-wise out there for me."
Duckworth had been steadily climbing the rankings over the past several years, and almost reached the top 100 before an elbow injury towards the end of this past January kept him out of competition for a little over three months. Now the #205-ranked Aussie is ready to restart his progression up the ATP ranks. He intends to get back to the basics and impose his aggressive style of play on his opponents.
The Aussie continues to keep in close contact with one of the greatest Australian tennis pros of all time, former world number one Lleyton Hewitt:
"I speak to Lleyton quite a bit. He has a house in Sydney. I go there quite a bit in the off season and I speak to him all the time and he's been a great role model. He helps me a lot."
Duckworth's big serve and aggressive game carried him to his third victory of the tournament (after two wins in the qualifying draw) over Smyzcek. The Australian regularly boomed serves in the 130mph range and troubled the American with his aggressive style of play.
"It was a tough match, tough first set. Tim's a really solid player and moves well and doesn't give you many free points. I had to serve well, I had to play aggressive, and really take it to him. And I'm pretty happy with the way I did that."
A break in the final game of the set permanently shifted the momentum for Duckworth:
"I made him come up with a passing shot. I hit a good backhand approach and he couldn't get there. It was a pretty key moment and that swayed the match a little bit."
Duckworth's next opponent, John Isner, will present the Australian with a different stylistic challenge.  One which Duckworth is ready to embrace by continuing to trouble his opponents with his big game.
"Ive never played John. He is a great player and has one of the best serves. I'm going to have to take care of my serve first and foremost, and that will put pressure on his serve. Then I'll try to get as many return games as possible."