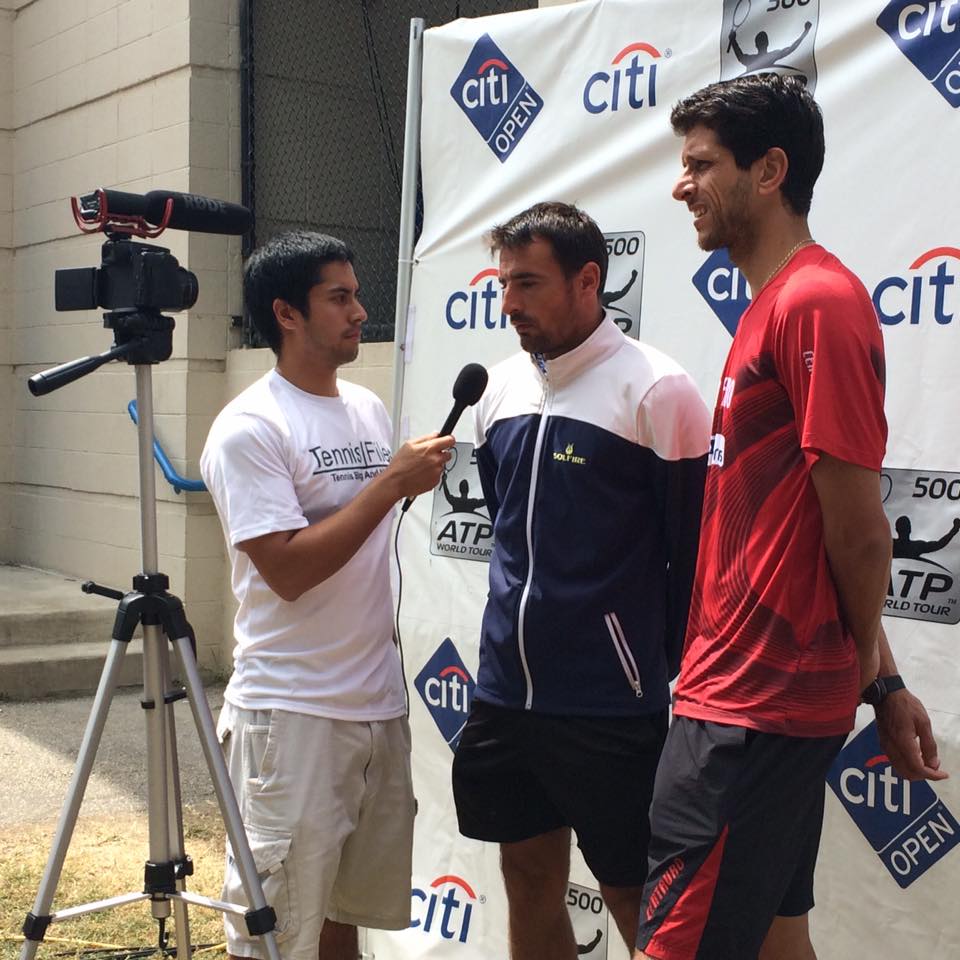 It was a privilege to be part of the media at the 2015 Citi Open. A lot of people asked me about my experience sports reporting at a professional tennis tournament, so I want to share it with you.
The Citi Open is an ATP500 and WTA International professional tennis tournament that featured world #3 Andy Murray, #4 Kei Nishikori (2015 champion), and #29 Sloane Stephens (2015 champion).
I have been to the Citi Open tournament with my parents and friends since I was a little kid. With the launch of Tennisfiles earlier this year, it was only fitting that my first live reporting experience at a professional tennis event would be here in the DC area.
Securing Media Credentials
Many people asked me how I secured media credentials for the tournament. On the Citi Open website, there was a link to apply for media credentials. I provided my website and contact information on the form and waited for a response.
My request wasn't granted at first. But I contacted Sheena, the media director, and informed her that I wanted to provide in-depth match reports to my readers. Sheena understood my goals for reporting at the tournament and graciously granted my request. This is an example of how persistence pays off.
I honestly had no clue what to expect as part of the media. I didn't even know where the press box was until I arrived on the first day of qualifying! But I didn't let the lack of sports reporting experience deter me from the privilege of full media access to a big-time professional tennis tournament.
Learning the Ropes
I arrived at the Citi Open for the first day of qualifying on Saturday, August 1st and headed to the media tent. It was located behind the row of non-stadium hardcourt practice courts and the player's tent.
There I introduced myself to the media director, Sheena from Reingold. She is one of the nicest people you'll ever meet, which made my experience really enjoyable. Sheena, along with Molly, Cindy, and the rest of her staff, were extremely helpful and all-around awesome people.
It definitely helps to be on the good side of the media staff, as they are the ones who help you land interviews and take care of your requests during the week.
I learned how to do my job as a media person with a tried and true method: asking questions. I asked Sheena and fellow media colleagues where the press box was, how to request interviews, the procedures for entering stadium court to take photos, and so on. The whole process made sense and I found it pretty easy and fun to report on the matches for my Tennisfiles readers.
Requesting Interviews
Another question I get asked frequently is how I was able to land interviews with the pros. The process was as follows: for the ATP players, I went through Sheena to request an interview. If I wanted to interview a WTA player, I had to fill out a short form with my name, contact information and the player I wanted to interview.
I am not sure why there was a difference in procedure, but the ATP and WTA are different organizations, and in any case neither process was much of a burden.
The players were not obligated to grant interview requests, but most of them did. Here is a golden interview tip: request an interview for the winner of a match, rather than requesting a player win or lose. When a player loses, they usually do not want to stick around to give an interview. There were certainly a fair share of exceptions, but there is a much higher chance of landing an interview if you request the winning player.
The Media
It was a great experience to meet other sports reporters at the Citi Open. I met people from big publications like the Washington Post and New York Times, to fellow bloggers like Tennis Atlantic and Tennis Column. I really enjoyed talking with my colleagues and found several to be extremely knowledgeable about player results and the history of tennis.  Engaging in conversation with my tablemates was a tennis nerd's dream.
I also met Scoop Malinowski, an author who has written books about high-profile individuals, including Marcelo Rios, Roger Federer and Rafael Nadal. We discussed his latest book, Facing Nadal, and he gave me a copy to read. I am enjoying the read so far, and I will post a book review on Facing Nadal within the next couple weeks.
Interviewing the Players
My first one-on-one interview was Alejandro Gonzalez of Colombia. You can probably tell in the video that I was a bit nervous, as it was the first time I had ever interviewed a professional tennis player. But it didn't matter, because the only way to learn and get better is to go out and do it!
I did 9 one-on-one interviews at the Citi Open, and you can check them all out on the Tennisfiles homepage or youtube channel. After Gonzalez, I interviewed Ryan Harrison, Go Soeda, Yoshihito Nishioka, Naomi Broady, Jack Sock, Alexander Zverev, and Marcelo Melo/Ivan Dodig twice.
I felt like I improved with each interview and asked some interesting questions like how Melo/Dodig bounced back from a tough patch in their careers or Naomi Broady's favorite food before a match.
Besides interviews, I recorded a bunch of press conferences with my camera and audio recorder of the top players including Nishikori, the Bryan Brothers, Ekaterina Makerova, and John Isner.
My Workday
Each day I would report to the media tent, grab some food (lunch, dinner, drinks and snacks were free to the media, sweet!), and figure out which players I wanted to interview. I also chose which matches I would personally watch and takes notes on for my match report.
The big matches took place in the stadium court, so I camped out in the press box to take notes. The Citi Open press box is at the very top of the stadium next to the TV box and the largest scoreboard.
While up there, I took notes on the points, especially for crucial games, and also took pictures and a couple videos. On a couple occasions I sat on the photographer's bench on the stadium court to get courtside pictures and video, which was really cool. I wish I had done more of that, even though I didn't have much time to do it.
Most of my work was done in the media tent, where I would write my article for the day, upload, edit, and post video and audio to youtube and tennisfiles.com. I did it all without any help, which made for long nights. I was usually up until 3am each night since the matches ended pretty late during the week.
My Favorite Part of the Experience
Without a doubt, my favorite part of the media experience was interviewing the players. It was really cool to get match analysis, mental tips, and a glimpse into the lives of the best players in the world.
People asked me who I enjoyed interviewing the most, and it's tough to decide, so I'll give you my top three, in no particular order:
1. Marcelo Melo and Ivan Dodig: I interviewed these guys twice: once after their quarterfinal win and again after they lost to the Bryan brothers in the final. Lots of great doubles strategy and mental toughness advice from the Brazilian and Croatian 2015 French Open Champions.
2. Naomi Broady: She was by far the most enjoyable interview that I had. I felt very relaxed because of her easygoing demeanor. We ended up laughing a lot because of her answers to my questions.
3. Ryan Harrison: He was my second interview, but made me look like a pro because of his thoughtful and in-depth analysis of his match and career. Harrison will make a great tennis commentator someday. Just avoid fighting the young Aussies and you'll be set, Ryan!
I also really enjoyed making connections with fellow media members. They asked some great questions and have a ridiculous amount of knowledge about players and past matches. I felt like I was working among a cauldron of human encyclopedias.
Closing Thoughts on Sports Reporting at the 2015 Citi Open
Sports reporting on the 2015 Citi Open as part of the media was definitely an unforgettable experience. It was awesome having access to the players, matches, food/drinks, and being in a professional tennis tournament environment for nine days.
Writing match reports is definitely not easy if you want to provide great material for your audience. I was up until 3am most nights editing video/audio and writing up reports. But it was all worth the effort, because I really enjoy bringing my readers match reports and awesome tennis content.
The positive feedback, likes and shares that you guys give my articles makes me feel great about what I do and keeps me going, so huge shout out to you guys 🙂
And I want to give another shout out to my friend Alex and the credentials staff, who helped me get in and out of the credentials trailer in record-time.
I will definitely report on more professional tournaments next year. And I am very excited for the ideas that I will be making reality in the coming months. I can't wait to report on more professional tennis tournaments next season!
If you have any questions about my experience reporting on the 2015 Citi Open, ask me in the comment box below! Take care.