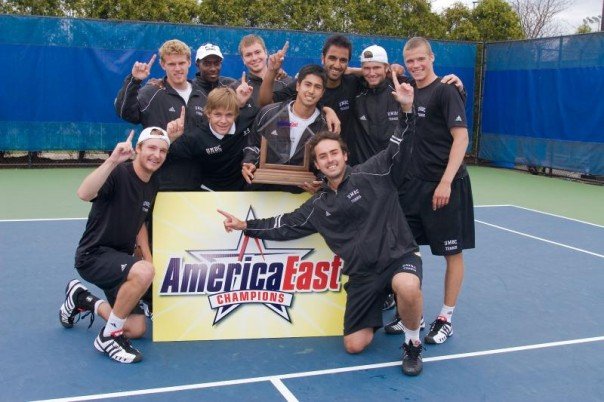 As a proud former UMBC Tennis player, I looked forward to attending my alma-mater's matches for years to come. There's an immense amount of joy associated with visiting your school, cheering on the team, and reliving the wonderful days of college athletics.
That dream has been destroyed.
Monday, November 2, was a dark day for UMBC Tennis. Both its men's and women's programs were declared eliminated after this season. Unfortunately, this is a common trend for college tennis, and not enough is being done about it.
The Decline of Tennis in the United States
In my previous article on The NCAA's Move to No-Ad Scoring, I noted that according to the Intercollegiate Tennis Association, approximately 250 tennis programs have been cut since 2000. That's around 2000-3000 spots on college tennis teams that have been eliminated since the beginning of this century. This is a staggering number of young men and women who no longer have the opportunity to play collegiate tennis.
We wonder why tennis isn't as popular in the U.S.  You don't need to think about this for too long when you consider that the presence of tennis teams in hundreds of schools are no more.
How do you expect tennis to grow by eliminating so many college tennis programs around the country? 
Each time we eliminate a college tennis team, the message sent is that tennis simply isn't worth it. 
As a member of the UMBC tennis team, club tennis players and others who watched us play routinely asked us questions about tennis. They stopped by to watch us practice and cheer us on against other teams. I know for a fact that more people played tennis because they saw more high-level tennis around them.
Collegiate tennis programs serve as a motivating presence on campus and in the community.  Eliminating college tennis teams negatively impacts a community's desire and excitement to play the game. 
While working on my previous article, 30 College Coaches Reveal Top Character Traits of Student-Athletes, I mentioned the elimination of UMBC Tennis to a couple of the coaches.
They sent their condolences, and gave a common piece of advice that stuck with me: We must be proactive in order to prevent more programs from being cut.
UMBC's Letter Announcing the Decision
The decision to eliminate UMBC Tennis left me feeling shocked and confused. I had a lot of questions surrounding the reasons for the decision.
Let's take a look at UMBC's letter announcing the elimination of UMBC Tennis.
Argument 1 "Discontinuation of men's and women's tennis responds to a national trend of contraction in the number of sports offered at NCAA Division I schools"
This is a very weak and indefensible argument that should have been left out of the letter. The problem with this statement is that it tells the reader: "Well, other colleges are cutting tennis, so it's fine for us to do it too."
Contracting the number of sports at Division I schools is not the proper response to the national trend. It isn't something we should be doing. Our response to the national trend should be to find ways to keep our athletic programs, not cut them.
Just because someone jumps off a cliff doesn't mean you should, right?
Argument 2. "UMBC and fellow AEC schools entered into a two-year contract with the Missouri Valley Conference which concludes at the end of the 2016 Spring season. This temporary conference is not sustainable as it involves costly and time-consuming travel for student-athletes."
While this argument may be valid, I have a lot of questions about it.
First, exactly how much additional travel did UMBC Tennis undertake by switching to the MVC last year?
Nothing.
Let's take a look at UMBC's 2014-2015 men's away schedule against conference opponents.
It looks like the UMBC men didn't play a new conference team (i.e. not Hartford or Stony Brook) until the MVC tournament. And UMBC has almost always had to travel somewhere for the postseason, so there's not much of a difference being in MVC. The only additional burden is if UMBC chose to fly to the MVC tournament, which they could drive to (12 hours).
The only considerable financial burden I can see is if UMBC is required to add in away matches against its new conference foes (Drake, Illinois State, Southern Illinois, or Wichita State).
Still, I think the costs could be managed by, say, playing both Illinois schools in one trip and replacing the spring break trip to Texas with a local excursion. And wouldn't half of those schools come to us anyway? There's only 4 of them, after all.
So from a financial perspective, unless UMBC is required to add several away matches against MVC schools that require flights, there are virtually no additional travel costs associated with being a member of the MVC as opposed to the AEC. And the UMBC women are still in the America East as of today. No change there.
Second, could UMBC have found a home in another conference? We used to play in the Northeast Conference, so why can't we go back there and crush it like we used to before the AEC?  And how about the Atlantic 10 conference? The vast majority of teams from both those conferences are in the Mid-Atlantic region or the east coast, which would reduce UMBC's travel costs.
I sincerely hope UMBC considered entering another conference if the "this temporary conference is not sustainable" argument is truly a determinative reason for UMBC Tennis's demise.
Argument 3.  "Internally, this step is also consistent with our efforts to maintain compliance with Title IX gender equity requirements for scholarships and operate our athletic programs effectively and efficiently."
UMBC Athletics currently has 9 women's teams and 8 men's teams. And no football team. Therefore, I wonder how the elimination of UMBC Tennis was required to maintain UMBC's compliance with Title IX.
According to guidance on Title IX, "the total amount of assistance awarded to men and women must be substantially proportionate to their participation rates in athletic programs." 
So how does cutting both the men's and women's teams help compliance with Title IX? If only the men's team was cut, I would view this argument as more legitimate. However, I do not see why cutting both teams would help equalize the proportion of female to male scholarships.
Admittedly, I am no Title IX expert, and I would appreciate an explanation as to how this move was required under Title IX. It doesn't make sense to me when looking at UMBC's men's and women's athletic teams.
The Excellence of UMBC Tennis
UMBC's tennis teams have had some of the best student-athletes at UMBC. We have historically been on the high-end of the GPA scale. We dedicate ourselves to our sport and our academics, as do the vast majority of student-athletes at UMBC.
Keith Puryear, now head tennis coach at Navy, spent 19 years building UMBC into a thriving Division I program at UMBC. Rob Hubbard and assistant coach Oliver Steil continued to push the program to great heights.
I was extremely proud to hear about UMBC's big wins over William and Mary and VCU last year. People who knew I played at UMBC remarked how strong both teams were playing. It is truly a shame to see the entire program go.
It is interesting that UMBC Tennis is the only team from the university to be eliminated. What is it about the tennis team that made it the unlucky recipient of the pink slip?
Is it because we don't make enough money for the university? Let's be honest, the only sports that consistently make money in college are basketball and football. There are 14 other sports at UMBC along with tennis that aren't basketball or football.
And condolences to the Hartford University tennis program, which will be eliminated after this year.
A Message to UMBC Tennis
Give it everything you have this season. Show the university and everyone who voted to terminate our program what they are missing out on. Leave our program with a lasting impression of dignity, grit, and class.
I was lucky enough to serve as captain of the 2007 UMBC Men's Team, the last one to win a conference title and make it to the NCAA tournament. And I want you to do everything in your power to take our place as the last UMBC Tennis team to be champions.
You are all fantastic players, and I wish you nothing but the best this season. Make us proud. The UMBC Tennis family is behind you.
You can take the dawg out of the fight, but you can't take the fight out of the dawg.
Go Retrievers.