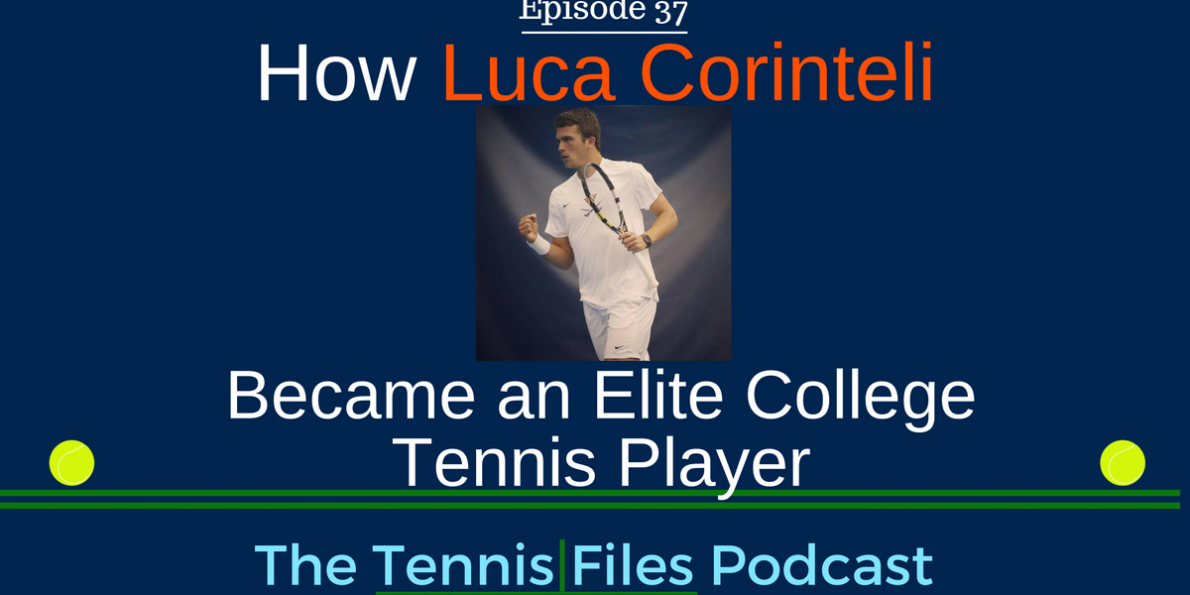 On today's episode, I had the pleasure of speaking with Luca Corinteli from the University of Virginia Men's Tennis team. Luca is an elite tennis player and was ranked as high as #2 in doubles in the country with partner Ryan Shane. Luca has helped UVA Men's Tennis win the NCAA Division I national championship the past two years in a row.
Brian Boland, head coach of UVA Men's Tennis and a recent guest on The Tennis Files Podcast, highly recommended that I interview Luca when I asked Coach Boland who he might suggest I speak to from his team.
Coach Boland was right on the money (per usual). The senior Wahoo with proud Georgian roots gave us a truly fantastic interview on the life of a college tennis player at the #1 college tennis program in the country. Luca is mature well beyond his years, and we wish him and UVA Tennis all the best this season and into the team's professional careers.
Time-Stamped Show Notes
[3:15] How does the championship ring feel?
[4:13] How Luca got his start playing tennis
[5:57] How judo helped Luca's tennis game
[7:12] Luca's first tournament experience
[7:59] Role models growing up as a junior
[9:34] How Vesa Ponkka has helped Luca's tennis career
[11:08] An overview of Luca's junior career
[12:54] How Luca overcame a low point as a younger player
[14:42] Luca's biggest accomplishment in his junior career
[15:49] How Coach Boland recruited Luca onto UVA Men's Tennis Team
[16:57] Luca's biggest improvement since joining UVA Tennis
[18:36] Overcoming adversity in college tennis
[20:51] Best advice from the coaching staff
[23:08] Luca's favorite drills in team practices
[24:18] Ratio of on-court to off-court training
[26:50] What part of Luca's game did Luca have to improve the most when he came to UVA?
[28:28] Luca's most memorable moment at UVA
[30:16] Rivalries in college tennis
[31:45] What went through Luca's mind when Henrik Wiersholm clinched the 2016 National Championship for UVA Men's Tennis
[33:15] Funniest moment with the team
[34:50] The sickest match that Luca has played in college
[36:33] Luca describes how he held serve down a break point at 5-5 30-40 in the national championship match at #1 doubles against Oklahoma
[37:27] How Luca calmed himself down after shaking before serving down break point in the national championship
[38:29] What makes Luca a great doubles player
[39:50] How Luca decides when to poach in doubles
[40:57] Winning point patterns in doubles
[42:46] Difference in levels between college tennis and ITF Futures events
[44:05] Luca's plans on whether to play professional tennis after college
[45:20] Three things that most people don't know about Luca Corinteli
[47:27] Luca's favorite tennis book
[49:07] Where can we follow Luca online
[49:52] One key tip that will help us improve our tennis games
Special shout out to UVA Men's Tennis, as Luca is the 3rd guest I've had on the show in 37 episodes that has ties to the program. Coach Brian Boland (Episode 34) and Treat Huey (Episode 7) have also been on The Tennis Files Podcast.
Treat just qualified for the Barclays ATP World Tour Finals in doubles with Max Mirnyi, which is an incredible accomplishment! Go Treat!
Thanks again to Luca for coming onto the Tennis Files Podcast and speaking about his experiences as a player on UVA's Men's Tennis Team!
Subscribe to automatically download new episodes!

Click this icon, click the blue "View in iTunes" button, then hit "Subscribe."

Or hit the subscribe button in your favorite podcast app!
Right Click Here to Download the MP3
Links Mentioned in the Show
UVA Men's Tennis Team Homepage
Luca's Twitter and Instagram Pages
Note: The link to Winning Ugly above is an affiliate link, so if you make a purchase after clicking, I make a small commission. Thanks either way!
If you enjoyed my interview with Luca, subscribe to The Tennis Files Podcast in iTunes or your favorite podcast app!
For more tips on how to improve your game, download a free copy of my eBook, The Building Blocks of Tennis Success eBook below! Thanks for listening!