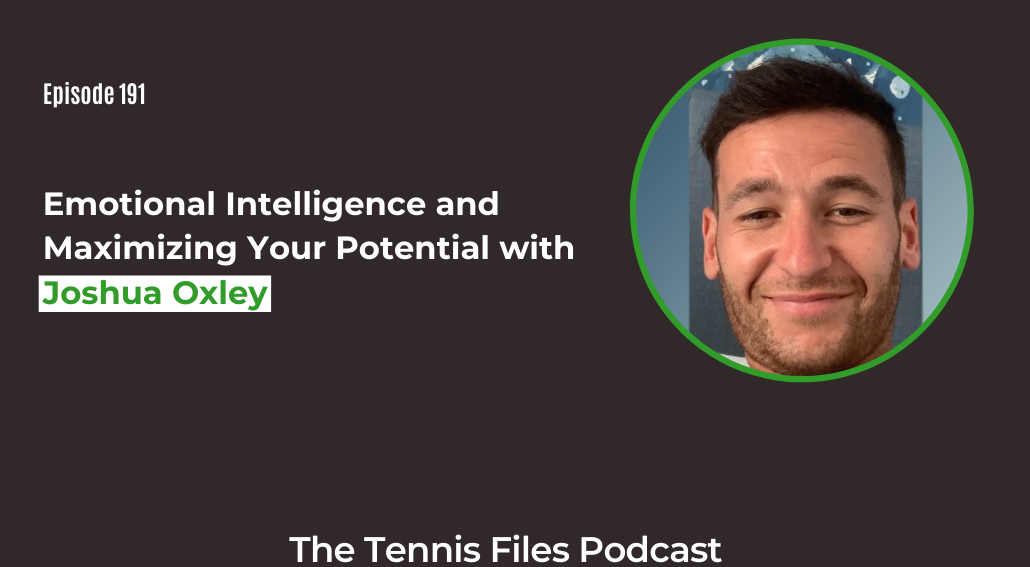 On Episode 191 of The Tennis Files Podcast, coach Joshua Oxley talks about the importance of emotional intelligence and how to maximize your tennis potential.
I connected with Josh through Clubhouse where he hosts a morning audio room answering players' questions to help them improve with fellow coach Yannick Schramm. Josh was a highly ranked ITF junior and has played pro level tournaments. His 15 years of experience in the tennis industry includes working with Katy Dunne (ranked 180 WTA), Amanda Carreras (ranked 236 WTA) and Suzy Larkin (ranked 600 WTA).
On the show, you'll learn the concept of emotional intelligence and how can it affect your play, the difference between emotional intelligence and mental toughness, how to deal with negative thoughts and distractions that can derail your game, insights from his work with WTA players, and much more!
I hope you enjoy my interview with Josh! Let us know what you think about this episode in the comments below!
And subscribe to Tennis Files using the link below to receive updates about the free online tennis summit starting on April 19th!
Subscribe to automatically download new episodes!

Click the icon above, click the blue "View in iTunes" button, then hit "Subscribe."

Or hit the subscribe button in your favorite podcast app!
Right Click Here to Download the MP3
Links Mentioned in the Show
Open: Andre Agassi's Autobiography
Podcasts:
Check Out All My Podcasts Here!
Check Out All My Podcasts on Apple Podcasts!
My Youtube Channel!
Tennis Files Youtube Channel - Subscribe! You know you want to 😉
Note: Some of the links above are affiliate links, so if you make a purchase after clicking, I'll make a small commission that will help support the podcast. Thanks either way!
If you enjoyed this episode, subscribe to The Tennis Files Podcast in iTunes or your favorite podcast app!
For more tips on how to improve your tennis fitness, subscribe to my newsletter and download a free copy of my free eBook, The Building Blocks of Tennis Success below! Thanks for listening!