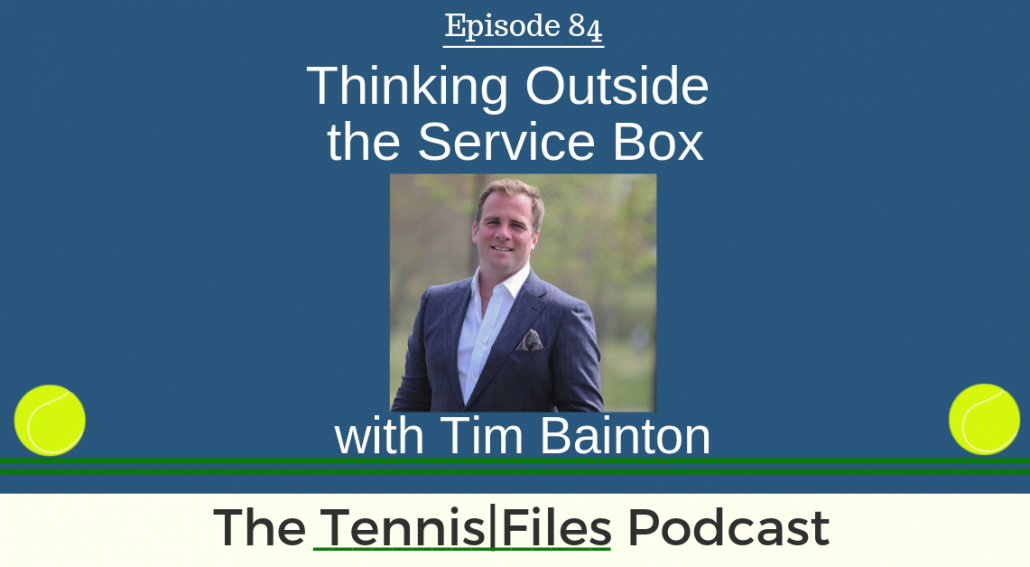 On Episode 84 of The Tennis Files Podcast, I spoke with Tim Bainton about how he persevered through many hardships and obstacles to become an extremely well-known and highly sought out expert in the tennis industry.
Tim is the Founder for all Blue Chip Sports Management (BCSM), is certified at the highest professional levels, including being a USTA High Performance Coach and a USPTA P1 and Professional Tennis Registry (PTR) Professional, and is the youngest person to hold a Merit Rating of 5A from PTR.
On this episode, we speak about Tim's coaching journey, from barely making ends meet to running a multi-million dollar sports management company, how to improve tennis and get more people into the game, tips to help improve your tennis game, marketing and selling yourself, creating lasting networks to help your life, and much more!
If you are interested in learning more about perseverance, determination, thinking outside the box for solutions, making connections, and how to improve your career and tennis game, you won't want to miss this podcast episode with Tim!
I really hope you enjoy my interview with Tim! Let us know what you think about this episode in the comments below!
Show Notes
Why Tim is so passionate about tennis and improving the state of the tennis industry
Tim's epic journey from a no-name tennis coach to one of the most recognizable instructors and industry experts in the game
Favorite resources - books/videos/sites/podcasts to help tennis coaches with their careers?
Top three conferences for tennis coaches and/or players to attend
Tips for marketing tennis and boosting its growth
The importance of data analyzation and understanding your business metrics when it comes to sustaining viable tennis clubs
Why Blue Chip Sports Management was created and how it helps the tennis industry
The message Tim would write on a huge billboard for all to see
A key tip to help you improve your tennis game....and much more!
Subscribe to automatically download new episodes!

Click the icon above, click the blue "View in iTunes" button, then hit "Subscribe."

Or hit the subscribe button in your favorite podcast app!
Note: Some of the links above are affiliate links, so if you make a purchase after clicking, I'll make a small commission that will help support the podcast. Thanks either way!
​If you enjoyed this episode, subscribe to The Tennis Files Podcast in iTunes or your favorite podcast app!
For more tips on how to improve your tennis fitness, subscribe to my newsletter and download a free copy of my free eBook, The Building Blocks of Tennis Success below! Thanks for listening!
The Building Blocks of Tennis Success eBook
Subscribe to get my free eBook and learn about goal setting, training smart, proper technique, mental fortitude, the importance of competition, health and fitness, and more!
Thanks for being a valued Tennis Files subscriber! I am proud to serve you 🙂