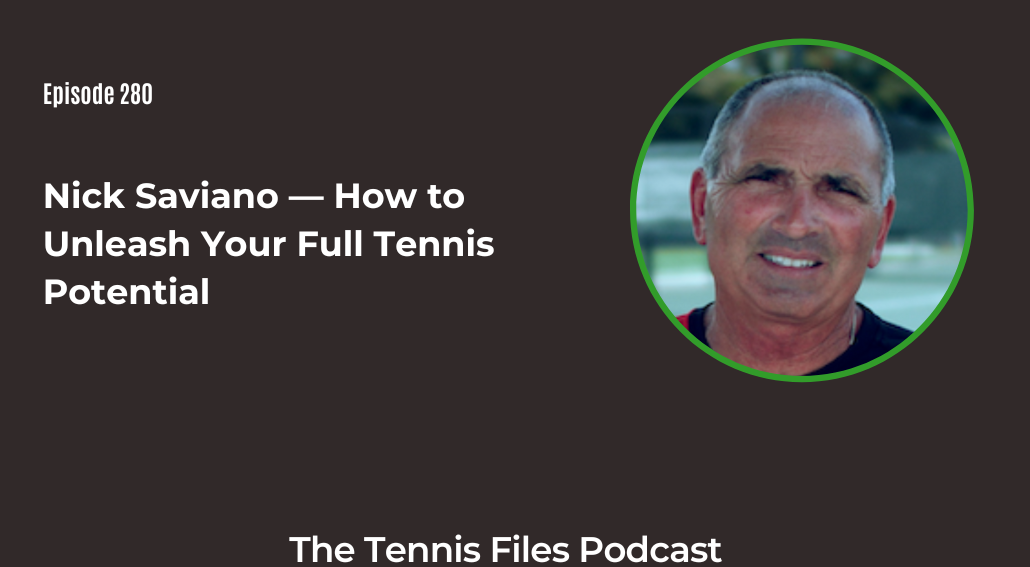 On Episode 280 of The Tennis Files Podcast, legendary coach Nick Saviano reveals how to unleash your full tennis potential.
Nick is widely regarded as one of the world's preeminent tennis coaches and experts in the field of coaching education. He has 45 years of world-class tennis experience—nine years playing on the ATP tour, followed by 35 years as a high-performance coach. He helped train over 50 tennis players who have gone on to professional tennis careers on the WTA and ATP tours, including Grand Slam winners, Olympic gold medalists, and world's number one in singles and doubles. Nick established The Saviano Method (TSM), which he has incorporated into the Saviano High Performance Tennis Academy.
On the show, you'll learn the biggest impediment that prevents players from reaching their full potential, how to become consistent so that you can reach your goals, how to develop mental discipline and utilize visualization, how to deal with nerves and getting tight during crunch time situations, and much more!
I hope you enjoy my interview with Nick! Let us know what you think about this episode in the comments below!
And be sure to subscribe to Tennis Files to receive the latest tennis content to improve your game straight to your inbox!
Subscribe to automatically download new episodes!

Click the icon above, click the blue "View in iTunes" button, then hit "Subscribe."

Or hit the subscribe button in your favorite podcast app!
Right Click Here to Download the MP3
Links Mentioned in the Show
Podcasts:
Check Out All My Podcasts Here!
Check Out All My Podcasts on Apple Podcasts!
My Youtube Channel!
Tennis Files Youtube Channel - Subscribe! You know you want to 😉
Note: Some of the links above are affiliate links, so if you make a purchase after clicking, I'll make a small commission that will help support the podcast. Thanks either way!
If you enjoyed this episode, subscribe to The Tennis Files Podcast in iTunes or your favorite podcast app!
For more tips on how to improve your tennis fitness, subscribe to my newsletter and download a free copy of my free eBook, The Building Blocks of Tennis Success below! Thanks for listening!