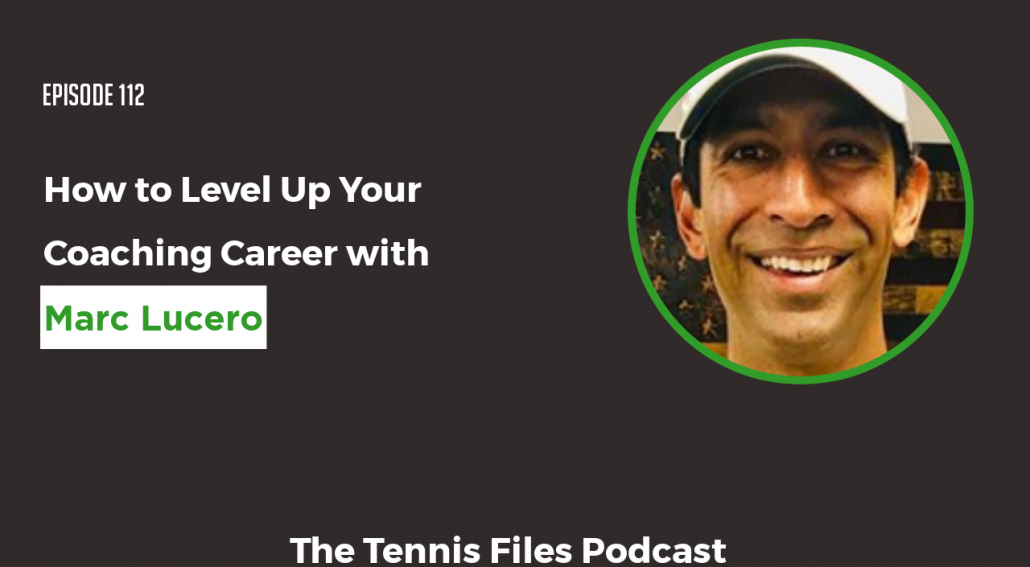 On Episode 112 of The Tennis Files Podcast, I spoke with WTA Tour coach and tennis analyst Marc Lucero about how he went from law-school dropout to coaching and commentating at the highest levels of the game.
Marc currently coaches WTA Pro Shelby Rogers, who has been ranked as high as 48 in the world. He has also worked with a slew of elite world-ranked players such as Sam Querrey, Eugenie Bouchard, Ryan Harrison, Nicole Gibbs and Alison Riske. Marc is a solid player himself, having played Division I tennis at Boston College.
On top of coaching professional tennis players, Marc founded RAMP Tennis, a tennis training program for junior players. And he co-founded First Break, a 501 c3 non-profit tennis academy for all levels and age groups in Los Angeles. Marc and I also have something in common (besides our dashing good looks 🙂 ): he also attended law school, although for only a year before choosing to become a full time tennis coach.
On the show we cover how Marc was able to quickly rise through the coaching ranks by taking advantage of opportunities and surrounding himself with the right people, key tips to help you improve your game, financial arrangements between coaches and players, what it's like for both parties when the relationship ends, the ups and downs of coaching on the tour, and more!

I am really glad that I met Marc at the Citi Taste of Tennis event in DC and that we made this interview happen a couple months later!
I hope you enjoy this podcast episode! Let us know what you think about it in the comments below!
Subscribe to automatically download new episodes!

Click the icon above, click the blue "View in iTunes" button, then hit "Subscribe."

Or hit the subscribe button in your favorite podcast app!
Right Click Here to Download the MP3
Links Mentioned in the Show
Resources
The Tennis Channel Podcast Network
​Books
The Fighter's Mind: Inside the Mental Game
Tennis Summit Links
Tennis Summit 2019 - Register for FREE today!
Related Podcasts
TFP 111: How to Survive and Thrive on the WTA Tour with Alexandra Mueller
TFP 015: Tennis Prodigy Sophie Chang on Turning Pro and Rising From the Valley
TFP 108: How to Make a Successful Comeback From Injuries with Treat Huey​
TFP 107: Thai-Son Kwiatkowski - Pursuing Your Passion on Tour
TFP 082: Dr. Sean Drake — RacquetFit and the Body-Tennis Connection
TFP 074: Jeff Salzenstein — How to Change Your Mindset and Achieve Your Potential
TFP 090: 5 of My Favorite Doubles Plays to Take Control of Matches
TFP 080: Q&A 4.5+ Edition — Re-tooling Your Strokes, Backhand Tips, Serve Consistency, Returning, Advanced Drills and More!
TFP 075: Q&A Edition — Anticipation, Fitness, Consistency, Technique and More!
Check Out All My Podcasts Here! - Podcasts Homepage
Check Out All My Podcasts on iTunes! - iTunes Tennis Files Podcast Page
My Youtube Channel!
Tennis Files Youtube Channel - Subscribe! You know you want to 😉
Note: Some of the links above are affiliate links, so if you make a purchase after clicking, I'll make a small commission that will help support the podcast. Thanks either way!
If you enjoyed this episode, subscribe to The Tennis Files Podcast in iTunes or your favorite podcast app!
For more tips on how to improve your tennis fitness, subscribe to my newsletter and download a free copy of my free eBook, The Building Blocks of Tennis Success below! Thanks for listening!
The Building Blocks of Tennis Success eBook
Subscribe to get my free eBook and learn about goal setting, training smart, proper technique, mental fortitude, the importance of competition, health and fitness, and more!
Thanks for being a valued Tennis Files subscriber! I am proud to serve you 🙂