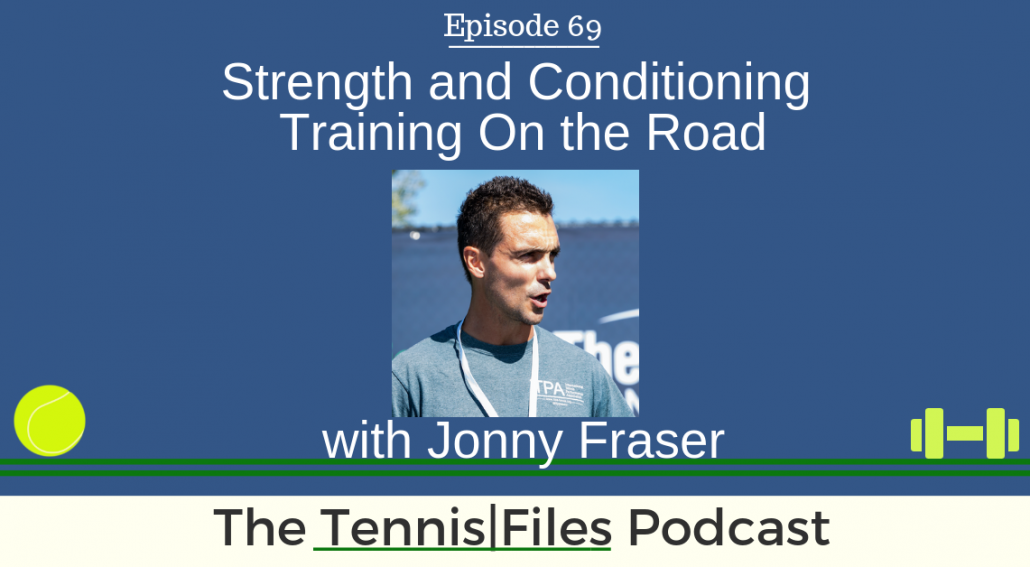 On Episode 69 of The Tennis Files Podcast, I spoke with Jonny Fraser about how tennis players should train when on the road. Whether we are top-ranked players or club players, we often find ourselves traveling to a different area for a tournament, USTA league competition, or match away from our home training centers, and don't know how we should train when away. Jonny and I discuss how you can best prepare yourself when heading to a different area or time zone, what to think about and prepare for before leaving, an awesome sample workout with exercises that you can implement into your training on the road, what equipment we should bring in our tennis bags (there won't always be a gym down the street!), recovery tips, and much more.
Jonny is a fantastic guy and I finally got to introduce myself to him at this past year's World Tennis Fitness Conference in Atlanta (shot out to Dr. Mark Kovacs and the International Tennis Performance Association!). Jonny has presented at this conference and others over the past several years, and I've always learned a ton from his presentations. I asked him to come onto the podcast then and we finally made it happen, which I am obviously very happy about!
Jonny has worked in tennis strength and conditioning for over ten years. He is currently the Head of Strength and Conditioning at Claudio Pistolesi Enterprise, and is the Assistant Director of Fitness at the Tennis Congress. Jonny also currently runs a business called Science in Tennis dedicated to helping you maximize your performance on court. Jonny acts as an Associate Lecturer at Sheffield Hallam University as well, and is certified as a Master Tennis Performance Specialist by the iTPA, which is the highest level of certification. A pretty solid resume if you ask me 🙂
It was a pleasure speaking with Jonny on the podcast, and I know you'll really enjoy this episode and learn a lot about how we can perform better on the court through training effectively on the road. Many thanks to Jonny for coming onto the podcast! Let us know what you think about this episode in the comments below!
Time-Stamped Show Notes
BEGINNINGS
[5:17] How Jonny got his start in the tennis world
[7:00] The injury that lit Jonny's passion for tennis fitness
[8:09] Why Jonny loves working in the tennis fitness niche
[9:52] Three things most of the world doesn't know about Jonny Fraser
[12:41] What exactly is sports science and how has it evolved over the years?
TRAINING ON THE ROAD
[17:33] The biggest challenges that players face when traveling on the road
[20:30] The huge importance of researching the resources around you
[23:00] Similarities and differences for club vs pro players when training on the road
[25:52] Jonny's travels with pro and club players around the world
[27:28] The biggest mistakes that tennis players when traveling to play tournaments
[28:56] The pieces of equipment that you should bring in your bag
[31:09] What resistance level (colors) of bands should we use when warming-up and training?
[32:04] Why a hockey or lacrosse ball will help your recovery
[35:09] What level of intensity should players have when training on the road?
[38:48] The differing number of sets and reps you should use for building muscle, strength, and endurance
[41:42] What is undulating periodization and should you use it in your training?
[43:08] A sample workout from Jonny that you can use in your training!
[46:05] Tips to help maximize your recovery when traveling and playing on the road
OTHER QUESTIONS
[48:27] One concept about tennis fitness that Jonny has changed his philosophy about over the years
[49:56] Why Jonny created Science in Tennis, and what it aims to achieve.
[51:27] The 3 books Jonny would gift to a tennis player to help them improve their game
[53:45] Jonny's morning routine
[55:45] Where can we follow you online or in person?
[56:25] One key tip from Jonny to help us improve our tennis games!
Subscribe to automatically download new episodes!

Click the icon above, click the blue "View in iTunes" button, then hit "Subscribe."

Or hit the subscribe button in your favorite podcast app!
Right Click Here to Download the MP3
​Links Mentioned in the Show
Podcast Episodes
Episode 33 with Dr. Mark Kovacs on Strength and Conditioning
Episode 56 with Dean Hollingworth on Speed, Power, and Plyometrics
Episode 48 with Dom King on Strength and Conditioning Workouts
Books
Strength and Conditioning for Tennis Players (2nd Edition)
Tennis Training: Enhancing On-Court Performance
Relentless: From Good to Great to Unstoppable
My Youtube Channel!
Tennis Files Youtube Channel - Subscribe! You know you want to 😉
​If you enjoyed this episode, subscribe to The Tennis Files Podcast in iTunes or your favorite podcast app!
For more tips on how to improve your game, subscribe to my newsletter and download a free copy of my eBook, The Building Blocks of Tennis Success below! Thanks for listening!