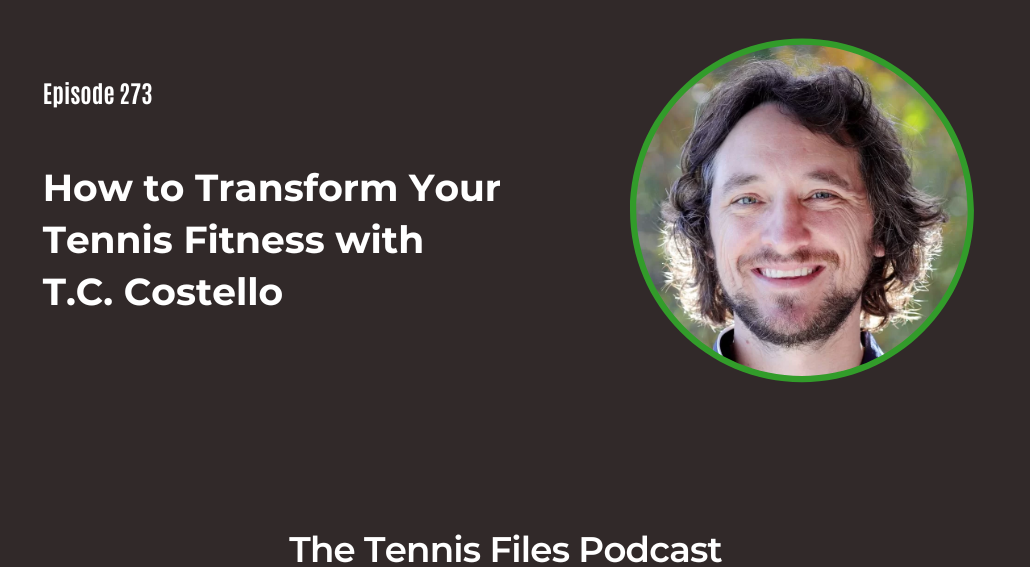 On Episode 273 of The Tennis Files Podcast, you'll learn how to transform your tennis fitness with coach T.C Costello.
T.C is the Senior Director of Athlete Development at The Junior Tennis Champions Center. He is the current fitness coach of ATP Top 20 pro Frances Tiafoe and he works with WTA player Alison Riske as well as numerous ITF Top 10 players. He is also an NSCA strength and conditioning specialist & DBC Fitness Level 1.
On the show, you'll learn the most important fitness principles that tennis players have to follow, how to plan your weekly fitness sessions, how Frances Tiafoe's commitment to fitness transformed his results, why consistency is so critical for improving your fitness, the best types of exercises for tennis players, the biggest mistakes tennis players make when it comes to fitness, coach Costello's experiences with tennis pros, juniors, and amateur players, and much more!
I hope you enjoy my interview with T.C.! Let us know what you think about this episode in the comments below!
And be sure to subscribe to Tennis Files to receive the latest tennis content to improve your game straight to your inbox!
Subscribe to automatically download new episodes!

Click the icon above, click the blue "View in iTunes" button, then hit "Subscribe."

Or hit the subscribe button in your favorite podcast app!
Right Click Here to Download the MP3
Links Mentioned in the Show
Junior Tennis Champions Center
Complete Conditioning for Tennis
Podcasts:
Check Out All My Podcasts Here!
Check Out All My Podcasts on Apple Podcasts!
My Youtube Channel!
Tennis Files Youtube Channel - Subscribe! You know you want to 😉
Note: Some of the links above are affiliate links, so if you make a purchase after clicking, I'll make a small commission that will help support the podcast. Thanks either way!
If you enjoyed this episode, subscribe to The Tennis Files Podcast in iTunes or your favorite podcast app!
For more tips on how to improve your tennis fitness, subscribe to my newsletter and download a free copy of my free eBook, The Building Blocks of Tennis Success below! Thanks for listening!