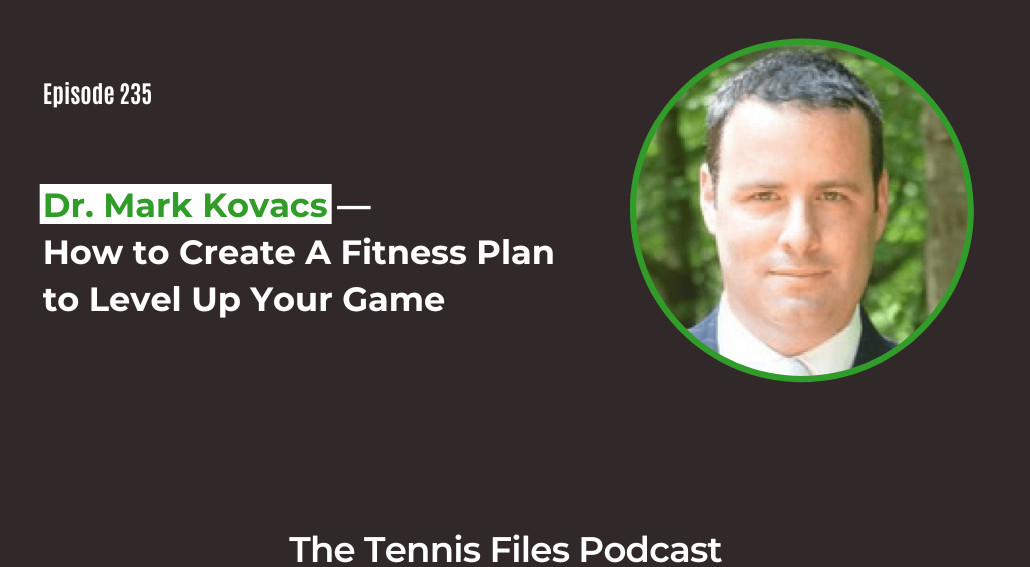 On Episode 235 of The Tennis Files Podcast, world renowned sports science and fitness expert Dr. Mark Kovacs will reveal how to create a fitness plan to level up your game.
Mark is a performance physiologist, researcher, professor, author, speaker and coach with an extensive background in training and researching elite athletes. He is the founder of The International Tennis Performance Association (ITPA) of which I am a proud member, and the Kovacs Institute which is based in Atlanta, GA. Mark has trained numerous top professional tennis players, including John Isner, Sloane Stephens, Sam Querrey, Donald Young and Melanie Oudin. He recently served as the Senior Director of Sports Science for the Cleveland Cavaliers. Mark also co-hosts The Doc and Pro Show, together with professional golfer Jason Bohn where they talk about tennis, golf, sports, and life, and how you can improve your sports performance.
On the show, you'll learn how busy competitive tennis players can create a consistent training plan, the key to maintaining intense footwork in an entire match, the top health and fitness changes over the past decade, equipment and apps that can help tennis players improve their game, and much more!
I hope you enjoy my interview with Mark! Let us know what you think about this episode in the comments below!
And be sure to subscribe to Tennis Files to receive the latest tennis content to improve your game straight to your inbox!
Subscribe to automatically download new episodes!

Click the icon above, click the blue "View in iTunes" button, then hit "Subscribe."

Or hit the subscribe button in your favorite podcast app!
Right Click Here to Download the MP3
Links Mentioned in the Show
Podcasts:
Check Out All My Podcasts Here!
Check Out All My Podcasts on Apple Podcasts!
My Youtube Channel!
Tennis Files Youtube Channel - Subscribe! You know you want to 😉
Note: Some of the links above are affiliate links, so if you make a purchase after clicking, I'll make a small commission that will help support the podcast. Thanks either way!
If you enjoyed this episode, subscribe to The Tennis Files Podcast in iTunes or your favorite podcast app!
For more tips on how to improve your tennis fitness, subscribe to my newsletter and download a free copy of my free eBook, The Building Blocks of Tennis Success below! Thanks for listening!