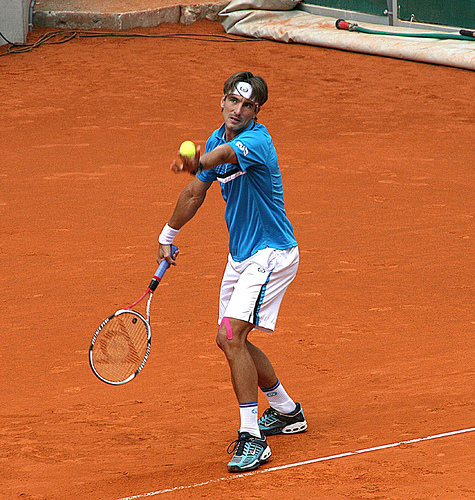 TENNISFILES (February 16) – Seasoned veteran Tommy Robredo defeated Elias Ymer of Sweden 6-4 6-3 in the first round of the Rio Open.  The 18 year-old Ymer showed flashes of brilliance, but fell to the more consistent play of the Spaniard on the red clay.
The match started off with three consecutive breaks of serve.  Ymer was broken in the first game of the match, but returned the favor on Robredo's first service game.  Robredo took a 2-1 lead when Ymer failed to hold serve for a second consecutive time, and held on to the break to take the first set.
Robredo broke Ymer early in the second set, and Ymer was in danger of losing his serve for a second time at 2-4, but fought off break points.  At 3-5, the young Swede gave a good effort to force Robredo to serve out the match, but could not escape the game.
With the score at deuce, Robredo ran down a Ymer approach shot and whipped a lunging sharp-angled crosscourt forehand for the pass, causing a quizzical reaction from the youngster.  Ymer saved the break point, but Robredo set up his third match point with a pinpoint inside-out forehand that gave him an easy swinging-volley.
Using his trademark shot, Robredo whacked another inside-out forehand return, causing a weak backhand reply from Ymer that veered into the left alley.
Robredo faces Andreas Haider-Maurer of Austria in the second round.