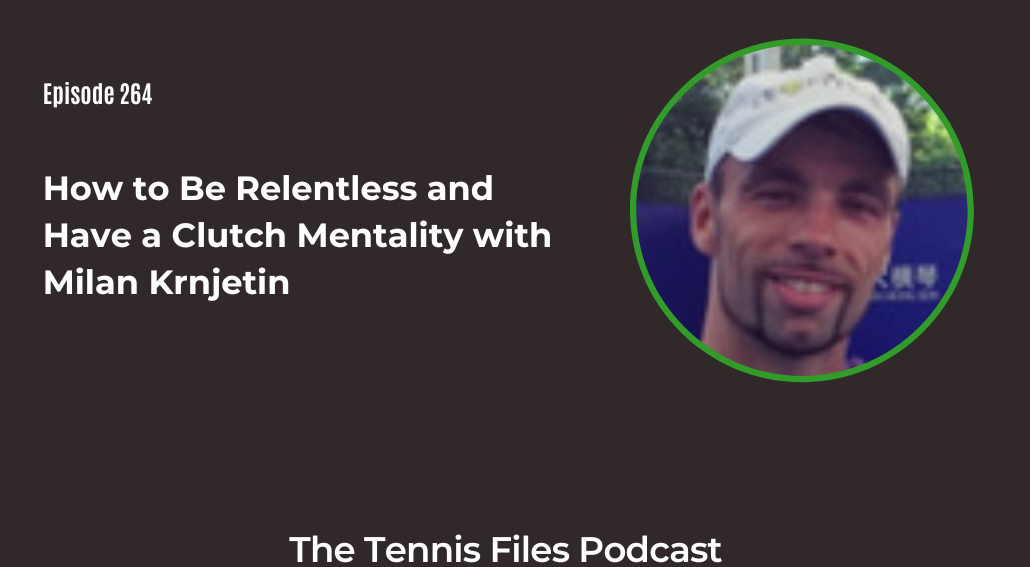 On Episode 264 of The Tennis Files Podcast, I spoke with Milan Krnjetin, a former ATP pro, about how to be relentless and have a clutch mentality.
Milan started playing tennis in his hometown Novi Sad, Serbia, and he was ranked #2 in Serbia in the 18s division. He eventually came to the U.S. and played college tennis for Auburn University (top 25 program in the country). Milan played in professional leagues and on the ATP tour, where he reached a ranking of 1256 in the world. Milan eventually took a huge opportunity to be a hitting partner and coach for such players as Jelena Jankovic and Jovana Jaksic. He has an online platform called TENFITMEN which stands for Tennis Fitness Mental and a fantastic YouTube Channel which details his practices with the likes of Novak Djokovic, Kevin Anderson, Alex de Minaur, Hyeon Chung, and most recently Nick Kyrgios, along with great tips to improve your game.
On the show, you'll learn how to become a relentless player, how to develop a clutch mentality, why improving requires winning little battles every day, how to fully prepare to play your best before matches, and much more!
I hope you enjoy my interview with Milan! Let us know what you think about the episode in the comments below!
And be sure to subscribe to Tennis Files to receive the latest tennis content to improve your game straight to your inbox!
Subscribe to automatically download new episodes!

Click the icon above, click the blue "View in iTunes" button, then hit "Subscribe."

Or hit the subscribe button in your favorite podcast app!
Right Click Here to Download the MP3
Links Mentioned in the Show
Podcasts:
Check Out All My Podcasts Here!
Check Out All My Podcasts on Apple Podcasts!
My Youtube Channel!
Tennis Files Youtube Channel - Subscribe! You know you want to 😉
Note: Some of the links above are affiliate links, so if you make a purchase after clicking, I'll make a small commission that will help support the podcast. Thanks either way!
If you enjoyed this episode, subscribe to The Tennis Files Podcast in iTunes or your favorite podcast app!
For more tips on how to improve your tennis fitness, subscribe to my newsletter and download a free copy of my free eBook, The Building Blocks of Tennis Success below! Thanks for listening!