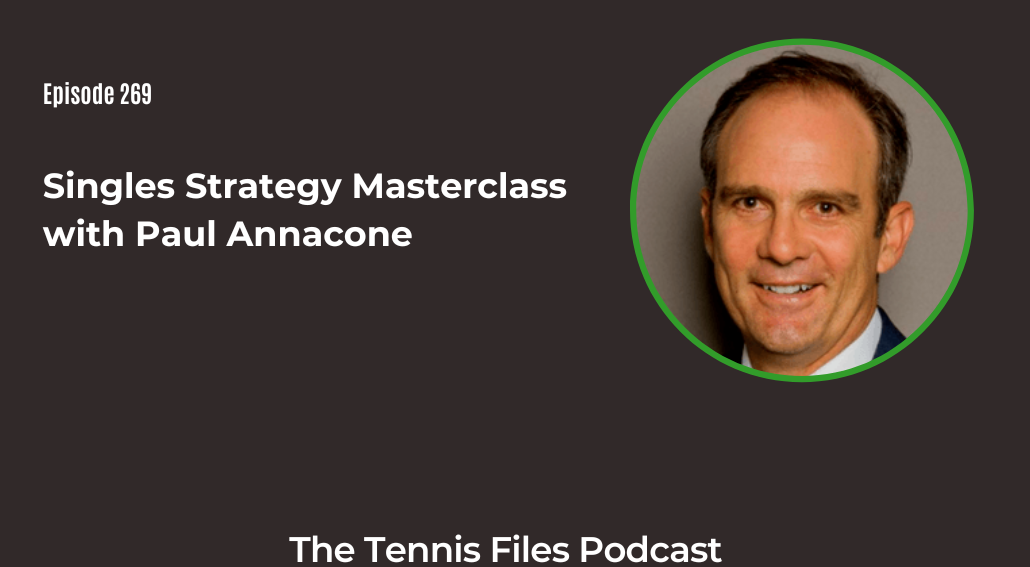 On Episode 269 of The Tennis Files Podcast, you'll learn the top singles strategies and tactics from grand slam champions with Paul Annacone.
Paul is a former professional tennis player and one of the world's leading coaches and commentators. During his 14 years on the tour as a player, Annacone won three ATP titles and reached a career high ranking of No. 12 in singles. He won the 1985 Australian Open doubles title and finished his career with 14 doubles titles. Annacone has worked with some of the most accomplished players ever to pick up a racket, including Federer, Sampras, Henman, and Sloane Stephens. He currently coaches ATP top 15 Taylor Fritz.
On the show, you'll learn how to use your strengths against your opponent's weaknesses, the mentality you must have before each point, the optimal pre-point routine, the best tactics against counterpunchers and serve and volleyers, the most common tactical mistakes that club level players make, and much more!
I hope you enjoy my interview with Paul! Let us know what you think about the episode in the comments below!
And be sure to subscribe to Tennis Files to receive the latest tennis content to improve your game straight to your inbox!
Subscribe to automatically download new episodes!

Click the icon above, click the blue "View in iTunes" button, then hit "Subscribe."

Or hit the subscribe button in your favorite podcast app!
Right Click Here to Download the MP3
Links Mentioned in the Show
Coaching for Life - Paul's Book!
Podcasts:
Check Out All My Podcasts Here!
Check Out All My Podcasts on Apple Podcasts!
My Youtube Channel!
Tennis Files Youtube Channel - Subscribe! You know you want to 😉
Note: Some of the links above are affiliate links, so if you make a purchase after clicking, I'll make a small commission that will help support the podcast. Thanks either way!
If you enjoyed this episode, subscribe to The Tennis Files Podcast in iTunes or your favorite podcast app!
For more tips on how to improve your tennis fitness, subscribe to my newsletter and download a free copy of my free eBook, The Building Blocks of Tennis Success below! Thanks for listening!