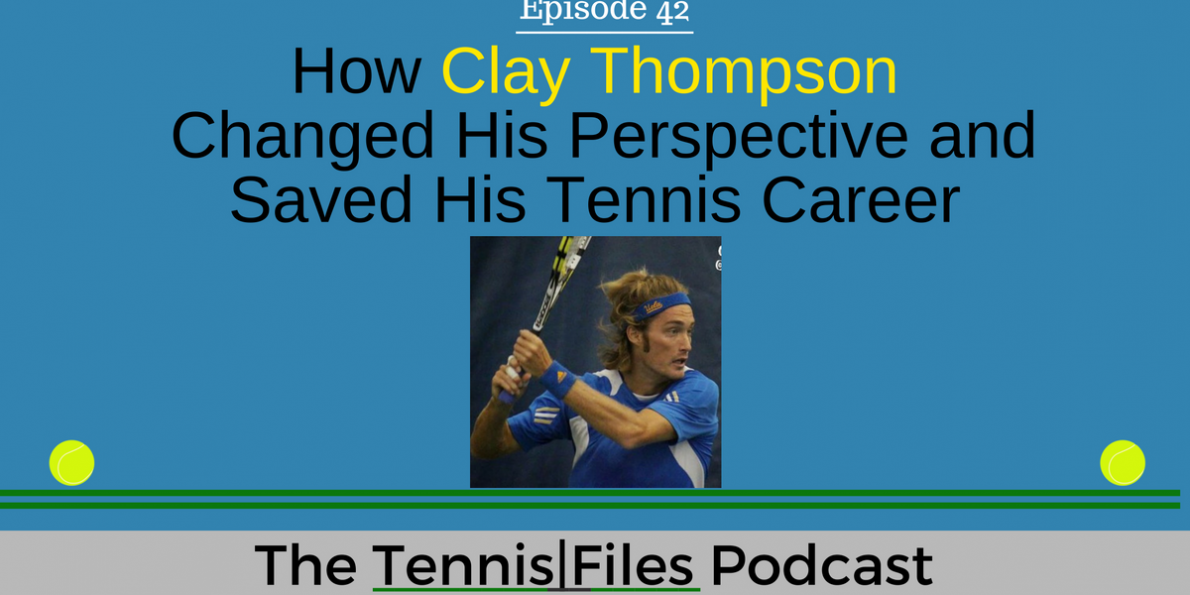 On today's episode I spoke with professional tennis player Clay Thompson, a serious contender for most interesting man in the world (move over, Dos Equis guy!). Clay grinds mostly Challengers and some Futures events as he pursues his dream of becoming a top-ranked professional tennis player.
Clay has been ranked as high as 408 in the world (last year) and is famous for a viral video of him smiling and fist-pumping his way to the semifinals of the Champaign Challenger last year. His high-energy and carefree approach is what makes Clay such an entertaining and enjoyable player to watch.
Even more impressive is Clay's business acumen and his outside interests, which include creative writing and helping grow the game of tennis.
If you dare press the play button above, you are in for two of the most entertaining and insightful hours of audio that I have produced on The Tennis Files Podcast so far. And it only took me 42 episodes to crack a decent joke or ten on the show!
Thanks again to Clay for coming onto the podcast and showing us how we can improve our tennis games with a more positive mindset and an attitude of gratitude for the game we love.
Time-Stamped Show Notes
Beginnings
[2:00] Clay's

 first memory of playing tennis

[3:09] P

laying other sports and how he decided on pursuing tennis

[4:33] Clay's

 tennis idols growing up

[6:55]

Clay on the importance of personality in tennis

[8:30]

What are 3 things most of the world doesn't know about Clay Thompson

Creative writing, screen writing, business ventures, alternative medicine

[12:41]

Favorite video games: Final Fantasy, League of Legends, Counterstrike
Junior Career
[14:42] T

he first tournament Clay played as a young kid

[15:55]

What it felt like to win his first tournament

[17:57] The

 highest ranking Clay reached as a junior player

[23:13]

Going toe to toe with Jack Sock in the Juniors

[26:50]

 Technical changes in the juniors.

[30:14] 

Unique

 stroke techniques – Gulbis, McEnroe
Transition to College Tennis
[31:27] A pivotal moment for Clay in 2012 in the All-American Championships that helped change his perspective on the game and save his career
[38:24]

The type of yoga Clay practices and how it helps Clay's tennis

[41:01] T

he most influential person in UCLA Tennis that helped grow his game and character.

[44:29]

A point away from winning the NCAA Championship match to UVA

[47:51]

Clay's impressions about Mackenzie McDonald, a fellow UCLA Bruin and teammate, on his prospects on the pro tour?
Pro Tour 
[50:33]

What is the hardest part about being a professional tennis player?

Being like a CEO and managing your finances.

[53:18]

Dealing with no job security in tennis

[57:38]

Solutions for the financial black hole for professional tennis players

[59:58]

A normal day of training when Clay isn't playing a tournament?

[1:03:49]

Typical workout day for Clay

[1:06:07]

Differences between working out for tennis and other sports

[1:08:29]

Shake-weight training for tennis! (just a joke 🙂 )

[1:09:12]

His experience reaching the semis at the Champaign Challenger last year

[1:11:24]

Plan to have an awesome year and executing on it with great results

[1:14:27]

How to plan financially as a professional tennis player; documenting expenses and your budget

[1:17:13] The importance of mind maps and Mind Meister (tennisfiles.com/mindmap)
[1:18:39]

The need for more business courses to teach professional players to manage their finances

[1:19:04]

The benefits of forming a company (i.e. LLC) as a pro

[1:20:58]

A fine example of a terribly-executed Chappelle-show joke

[1:21:57]

The key to succeeding on the pro tour

[1:26:00]

Clay's worst experience at a Challengers/Futures Event (hint: it involves food poisoning!)

[1:28:52]

How Clay feels being a combination of Bjorn Borg and John McEnroe in one body

[1:29:35]

What the camaraderie is like on the pro tour

[1:32:59]

The importance of having a strong team

[1:34:01]

Clay's favorite meal after a match

[1:35:59]

Cooking on the road

[1:36:54]

Clay's not the only one with a personal chef!

[1:37:54]

Training at the USTA National Facility

[1:41:43]

Traveling on the pro tour

[1:43:16]

Clay Thompson is not Klay Thompson

[1:44:25]

The key to having a huge serve like Clay

[1:46:37]

Clay's long-term goal in the sport

[1:49:10]

The need for marketing tennis more effectively to help it flourish

[1:53:43]

Three of Clay's favorite tennis books

[1:57:27]

Where can we follow Clay online?

[1:59:00]

One key piece of advice on how we can improve our tennis games

Structure your training in a way that keeps you happy and motivated to get better

Go from "have to" to "

want to."
Subscribe to automatically download new episodes!

Click this icon, click the blue "View in iTunes" button, then hit "Subscribe."

Or hit the subscribe button in your favorite podcast app!
Right Click Here to Download the MP3
Links Mentioned in the Show
Clay's Twitter Page (@ClarenceAThomp)
Note: Some of the links above are affiliate links, so if you make a purchase after clicking, I make 6 million dollars a small commission that helps support the podcast. Thanks either way! 🙂
If you enjoyed my interview with Clay, subscribe to The Tennis Files Podcast in iTunes or your favorite podcast app!
For more tips on how to improve your game, download a free copy of my eBook, The Building Blocks of Tennis Success eBook below! Thanks for listening!