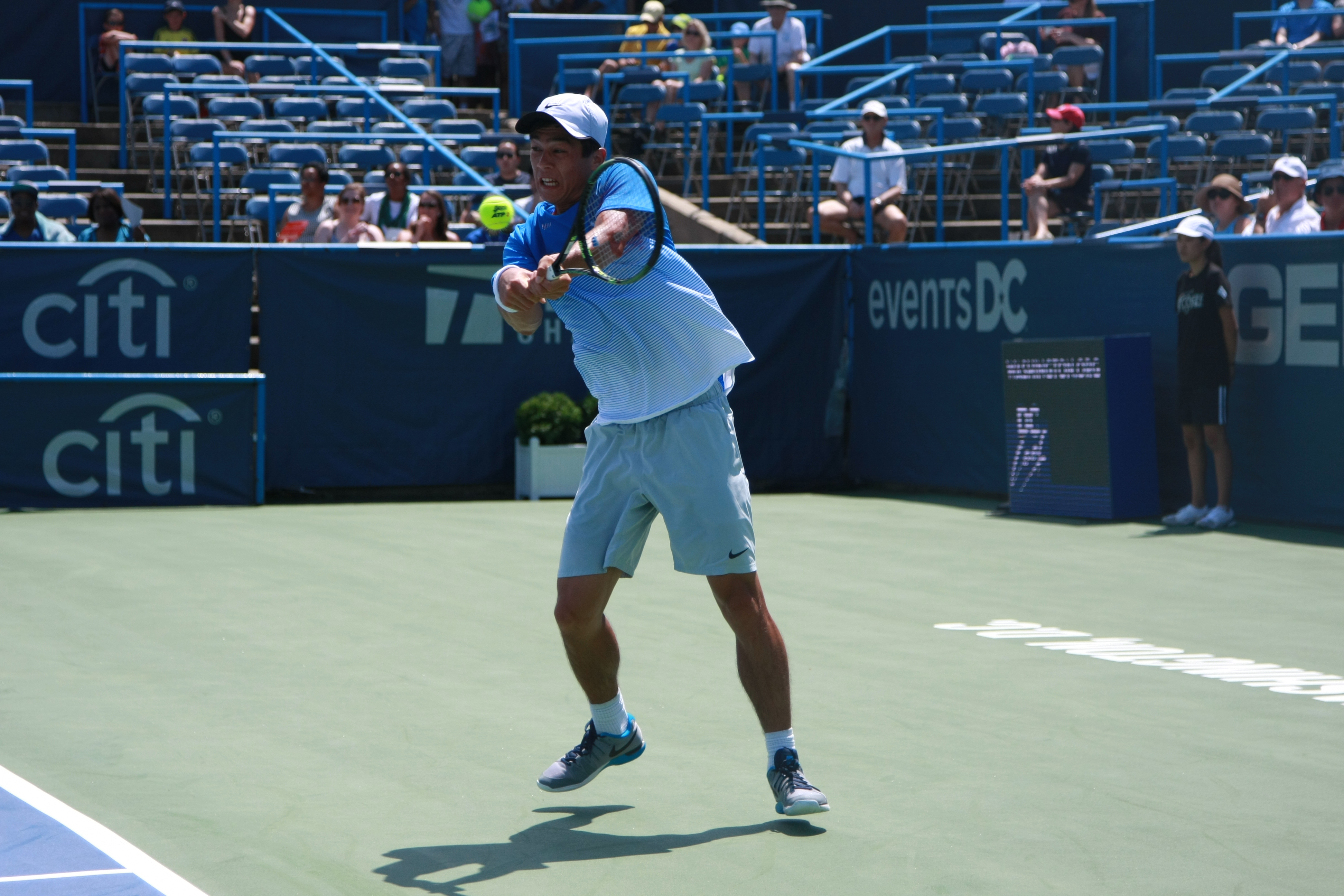 Mackenzie "Mackie" McDonald, the reigning NCAA singles and doubles champion, came tantalizingly close to defeating Alejandro Falla in the first round of qualifying at the Citi Open on Saturday. Falla, 11-years McDonald's senior and ranked 235 in the world, squeaked by the talented Californian to set up a match against French player Vincent Millot for a spot in the main draw.
A month and a half ago, McDonald achieved what hadn't been done in 15 years at the 2016 NCAA Division I Tennis Championships.  He blistered through the top seed in the singles final and teamed up with fellow-Bruin Martin Redlicki to win the doubles championship later that day. A couple weeks after completing his Junior year, McDonald turned pro, signing with Octagon and committing full-time to the tour.
The 21-year old former UCLA Bruin and world #419 fell 6-3 3-6 7-6 (4) to the 9th-seeded Colombian in sweltering conditions at the Rock Creek Tennis Center in Washington DC. McDonald used his improved serve to climb out of multiple deficits in his service games deep in the third set, and managed to break the Colombian for an opportunity to close out the match at 6-5.  However, Falla broke back, forcing a tiebreaker, and he rode the momentum to a big lead that McDonald could not recover from.
I spoke with McDonald after the match.  Despite the loss, he will take a lot of positives away from pushing a 16-year veteran of the ATP tour, ranked nearly 200 spots higher than the 1st-year pro, to the limit.
"It was a tough match today. I'm just trying to build my game, play aggressive, return big, and I think I executed my game plan pretty well today."
McDonald reflected on what he needs to do to take his game to the next level:
"I've been working in the practices on going for more on my first and second serves. I need to serve a little bigger to play at this level.  There were a lot of good things I did today. Unfortunately I did lose but I definitely see some improvement as each match is progressing."
At this rate, it won't be long before we see the 5'10" McDonald recording wins over top 100 players. McDonald's deft touch at net, agility, and lethal groundstrokes are already posing big problems for his opponents in his maiden year on the tour.
As for differences between college tennis and the pros, McDonald cited the bigger stages, especially being on center court in the premier ATP-tour level tournaments.
But he won't be a stranger to the big stage for long: McDonald earned a direct entry to the main draw of the U.S. Open by virtue of his NCAA triumph.
As for what's next for McDonald, he plans on playing the Lexington Challenger, Aptos Challenger, and the Cincinnati Masters to prepare him for the last Grand Slam of the year.
There's no question that after one of the most successful college tennis seasons of all-time, McDonald is ready to take the leap to the pro tour and face off against the best players in the world.
"It's always a tough decision when you make one of these life decisions. After thinking about it for a while, there wasn't a better time for me.  I'm ready to be here."
The Building Blocks of Tennis Success eBook
Subscribe to get my free eBook and learn about goal setting, training smart, proper technique, mental fortitude, the importance of competition, health and fitness, and more!
Thanks for being a valued Tennis Files subscriber! I am proud to serve you 🙂