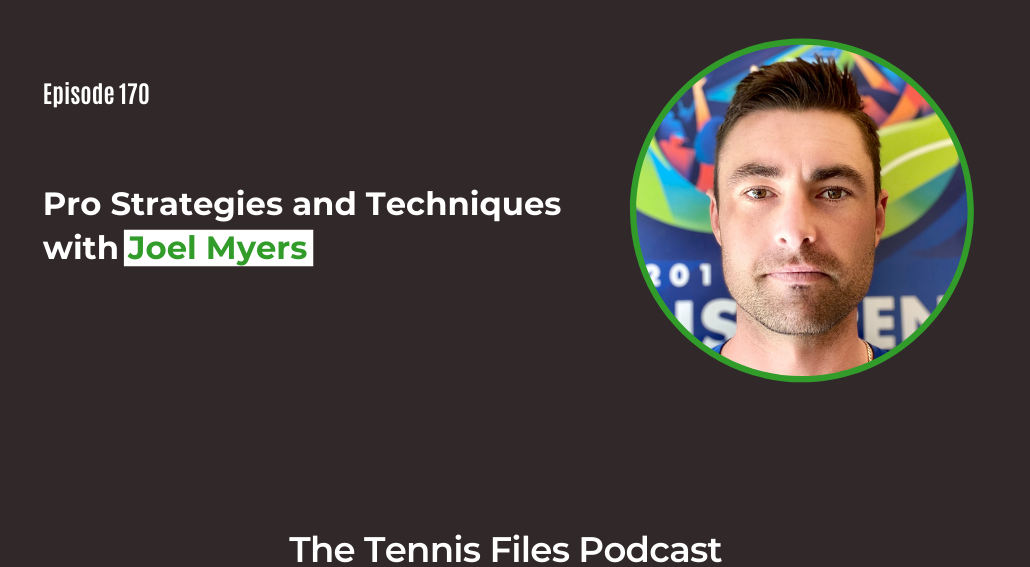 On Episode 170 of The Tennis Files Podcast, I spoke with USPTA Elite Professional Joel Myers about pro strategies and techniques to help you level up your tennis game.
Joel is a world-class tennis coach in San Diego at Coronado Tennis Center and was a 3-time collegiate All American. He was ranked in the Top 10 in singles and doubles in the NAIA and was the National Player of the Year 2010. Joel has almost 50k followers on Instagram thanks to all the fantastic strategies and techniques that he has shared with thousands of tennis players worldwide. He has received numerous testimonials and endorsements from other elite coaches and players including Coach Peter Smith, Craig O' Shannessy, Paul Annacone, Marcus Willis, Dr. Mark Kovacs and Allistair McCaw.
On the show, you'll learn the key technical change that helped Joel add 20MPH+ on his serve, how to improve your forehand and backhand technique, Joel's top winning singles and doubles plays that will win you more tennis matches, his journey from top junior player to elite tennis coach, how to prepare for matches and tournaments, the secret to Joel's explosive Instagram growth by sharing his tennis knowledge, and much more!
I hope you enjoy my interview with Joel! Let us know what you think about this episode in the comments below!
And be sure to subscribe to Tennis Files to receive the latest tennis content to improve your game straight into your inbox!
Subscribe to automatically download new episodes!

Click the icon above, click the blue "View in iTunes" button, then hit "Subscribe."

Or hit the subscribe button in your favorite podcast app!
Right Click Here to Download the MP3
Links Mentioned in the Show
Dr. Mark Kovacs Interview on the Serve
Tennis Files YouTube Channel (Subscribe!)
Podcasts:
Check Out All My Podcasts Here!
Check Out All My Podcasts on Apple Podcasts!
My Youtube Channel!
Tennis Files Youtube Channel - Subscribe! You know you want to 😉
Note: Some of the links above are affiliate links, so if you make a purchase after clicking, I'll make a small commission that will help support the podcast. Thanks either way!
If you enjoyed this episode, subscribe to The Tennis Files Podcast in iTunes or your favorite podcast app!
For more tips on how to improve your tennis fitness, subscribe to my newsletter and download a free copy of my free eBook, The Building Blocks of Tennis Success below! Thanks for listening!
The Building Blocks of Tennis Success eBook
Subscribe to get my free eBook and learn about goal setting, training smart, proper technique, mental fortitude, the importance of competition, health and fitness, and more!
Thanks for being a valued Tennis Files subscriber! I am proud to serve you 🙂