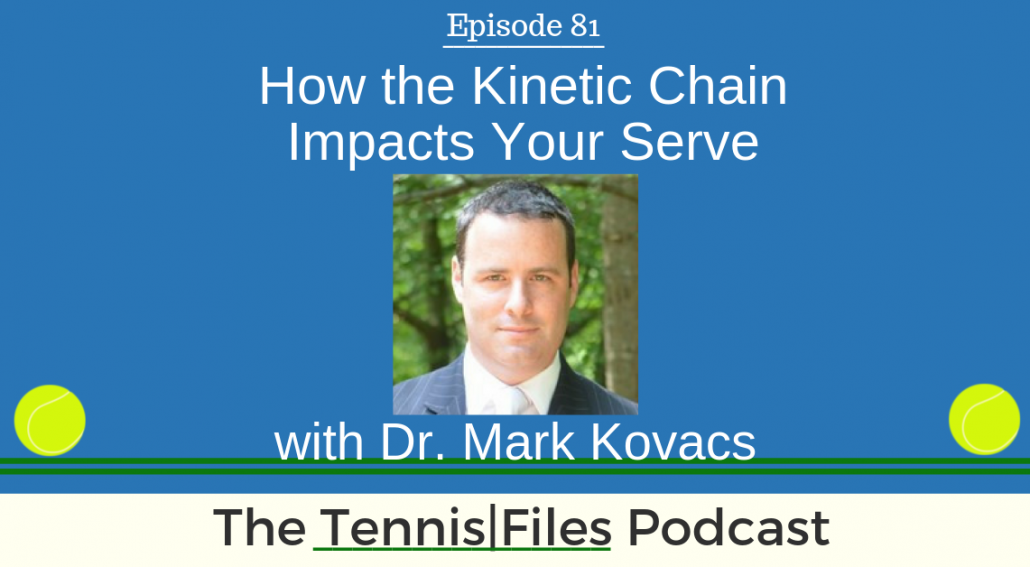 On Episode 81 of The Tennis Files Podcast, I spoke with world-renowned sports performance expert Dr. Mark Kovacs about the 8-stage model of the tennis serve. I spoke with Dr. Kovacs about the role of the kinetic chain in the serve on The Tennis Technique Summit that I previously hosted, and it was voted the most favorite session of the event. That's why I decided to bring the audio of that session to this episode's podcast to help you improve your serve and get more power, fluidity, and explosiveness on the most important stroke in the game.
Mark is a performance physiologist, researcher, professor, author, speaker and coach with an extensive background training and researching elite athletes. He has been featured in many of the biggest sports and news publications, including ESPN, the New York Times, and Tennis Magazine. Mark was also a top college player at Auburn and achieved a world ranking on the ATP Tour. I also have two of Mark's books: Tennis Anatomy and Complete Conditioning For Tennis (2nd Edition).
Mark is also the co-founder of the International Performance Tennis Association, of which I am a proudly certified Tennis Performance Trainer, and the founder of The Kovacs Institute. Mark routinely gives presentations around the world about sports performance and training, and I feel very lucky to have had his support on the podcast and my tennis summits.
On this episode, we talk about Mark's 8-stage model of the tennis serve and how using your kinetic chain fully and in the proper sequence is the key to having a great serve.
I really hope you enjoy my interview with Mark! Let us know what you think about this episode in the comments below!
Show Notes
The 8-Stage Model of the Tennis Serve:

Start
Release
Loading
Cocking
Acceleration
Contact
Deceleration
Finish
Subscribe to automatically download new episodes!

Click the icon above, click the blue "View in iTunes" button, then hit "Subscribe."

Or hit the subscribe button in your favorite podcast app!
Right Click Here to Download the MP3
Links Mentioned in the Show
Website and Resource Links
An 8-Stage Model for Evaluating the Tennis Serve: Implications for Performance Enhancement and Injury Prevention
Dynamic Stretching
The Flexible Stretching Strap Workbook
Mark's Facebook/Twitter/Instagram (mkovacsphd)
Books
Complete Conditioning for Tennis (2nd edition) - Dr. Mark Kovacs
Tennis Anatomy - Dr. Mark Kovacs
Note: Some of the links above are affiliate links, so if you make a purchase after clicking, I'll make a small commission that will help support the podcast. Thanks either way!
​If you enjoyed this episode, subscribe to The Tennis Files Podcast in iTunes or your favorite podcast app!
For more tips on how to improve your tennis fitness, subscribe to my newsletter and download a free copy of my Tennis Fitness Workout Guide below! Thanks for listening!
Get Your Free Tennis Fitness Workout Guide!
Sample workouts to improve your strength, power, endurance, and performance on the court. Enter your first name and email to download your free tennis fitness workout guide now!